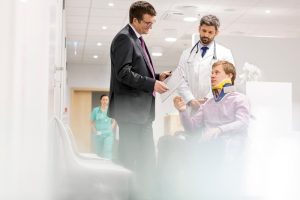 If you have been injured from a slip and fall accident that you did not cause, it can be challenging to know what to do next. You may wonder if the accident was partially your fault. You may not even be entirely sure what happened during the accident.
Those are some notable signs that you need a slip and fall attorney to represent you. Even if these do not all apply to your situation, you owe it to yourself to speak with one of our injury lawyers. They can help you understand your options. We know you want to make the best decisions for your future. For this reason, it's important to discuss your case with an attorney as soon as possible.
You Have Sustained Serious Injury
The National Floor Safety Institute estimates that slip and fall accidents each year account for about one million emergency room visits. These can be due to a variety of sustained injuries, including:
Broken bones
Sprained ankles
Spinal cord injuries
Knee injury
Neck or shoulder injury
Hip fracture
When these types of injuries are severe, your road to recovery will likely be longer. Sometimes, you may require long-term treatment, such as physical therapy or prescription medication. This can negatively impact your life for years to come. The associated costs can be staggering. You should not spend your life paying for someone else's mistake.
You Are Unable to Work Because of Your Injury
Your losses may add up quickly if you are out of work due to the accident and the resulting injury. Beyond just having to pay for medical treatment, you may also be out of your source of income. This may be more than just a short-term situation. Depending on the severity of your injury, it can also impact your future earning potential. You need to make sure that you will be able to support yourself in the long run.
There Were Unsafe Conditions At the Accident Scene
While there is no way to change the past, you may remember after the fact that the area where the accident occurred was unsafe. This can take many different forms that create a dangerous situation. These may include:
Wet floors
Poor lighting
Loose railings
Uneven walking surfaces
Lack of signage, such as for sudden steps or level changes
If these or similar circumstances were present in your accident, they might indicate negligence. In such situations, your attorney will use this data to establish an overall picture of the property condition during the accident. If the accident occurred on a provate property, make sure to report the incident to a manager.
The Property Is Not Well-Maintained
Beyond just the immediate area where your accident occurred, it's essential to evaluate the state of the rest of the property. Lack of proper upkeep in other areas can indicate general failure to maintain a property. This could include overgrown grass, damaged fences, broken windows, and leaky pipes. Although they may not have directly affected your accident, they can be a sign of property owner negligence. Take pictures whenever possible but do NOT post these pictures online.
It's Unclear Who Is At Fault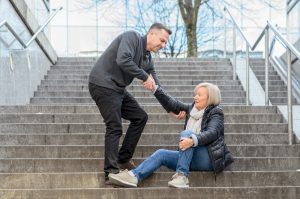 In a slip and fall accident, determining fault may not be as straightforward as other types of injuries. After all, there may not have been another person in the vicinity when the accident occurred. You will still need to prove that the other party's negligence caused your injury. It can be challenging because they are unlikely to admit to this – and you must be careful about what you say after the accident as well! This is one area where an experienced personal injury attorney can be beneficial. They can build a strong case on your behalf. In doing so, they will fight to hold the party at fault responsible for their negligence.
Contact Gibson Hill Personal Injury Today
If you have been hurt in a slip and fall accident in Texas that was not your fault, you may be entitled to compensation. You need to discuss your case with a personal injury attorney. You should not have to be financially responsible for an accident that you did not cause. Our compassionate attorneys have helped many prior clients who found themselves in similar situations.
Call Gibson Hill Personal Injury at 512-580-8334 to speak with a member of our legal team today. You can also submit a contact form online. We can guide you through this devastating time. Our lawyers are ready to answer your questions during a free consultation. Let us help you put this painful experience behind you as you move forward with your life.