Texas Attorneys for Truck Accidents Caused by Inadequate Maintenance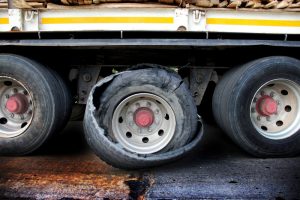 According to the Federal Motor Carriers Safety Administration (FMCSA), the two most common causes of truck accidents are driver error and mechanical issues with the truck itself. Problems with a truck's braking system, steering system, tires, and more can lead to serious accidents involving other vehicles on the road, and those in smaller passenger vehicles stand little chance of escaping a crash with a tractor-trailer unscathed.
If you suffered injuries in an accident with a commercial vehicle because of the truck's mechanical problems, you might be eligible to receive compensation. The Texas truck accident attorneys of Gibson Hill Personal Injury can help. We have served injured clients throughout Texas since 2013, and we will fight hard to help you get the full amount of compensation you deserve.
Contact us today at (713) 659-4000 or reach us through our contact form to schedule a free consultation.
Inadequate Truck Maintenance
Obviously, keeping any vehicle in proper working order is important to stay safe on the road and avoid accidents. However, for vehicles like 18-wheelers and other large trucks, it is vitally important to ensure that trucks are mechanically sound because they are typically carrying or pulling very heavy loads. They are also much larger and heavier than most other vehicles, and when a truck collides with a smaller passenger vehicle, it can destroy the car and severely injure or kill the occupants inside.
A poorly maintained truck has a much greater chance of system failure, and around six percent of fatal truck accidents in 2018 were caused by issues with the vehicle itself. Trucks spend many hours on the road, and they can rack up hundreds of thousands of miles each year. Also, the loads they carry create a great deal of wear and tear on the truck's components. The following are the areas of a truck that require the most maintenance and cause the majority of truck accidents when they fail:
Brakes – A fully loaded truck can weigh as much as 80,000 pounds. Understandably, a truck's braking system experiences enormous amounts of pressure trying to bring that much weight to a stop. When brakes fail, the results are nearly always disastrous. In fact, braking problems led to approximately 16 percent of fatal accidents involving trucks in a recent year.
Tires – Along with brakes, another top cause of truck accidents is the truck's tires. Many trucking companies use re-treaded tires to save on cost, but they can unravel or explode. In fact, any tire can fail for any number of reasons, and it can cause a truck driver to lose control and cause a wreck. More than that, if a large piece of a truck tire flies off and hits your car, it can cause you to crash, or it could even burst through the windshield and injure you or a passenger.
Steering – A truck's steering components experience tremendous stress around curves, and trucks pulling trailers can jackknife or swerve erratically. Any of these can cause the truck driver to lose control of the truck and collide with other cars.
Suspension – Trucks are designed to carry very heavy loads, and that kind of weight puts massive pressure on the truck's suspension. A failure of the suspension can lead to a loss of control, overturning, and more.
Powertrain – A truck's engine and driveshaft work very hard to get a truck up to speed and keep it moving. Also, truckers typically use downshifting and engine compression (jake braking) to help slow the vehicle. Failure of any component of the powertrain can lead to a serious crash involving other vehicles.
Lights – Trucks have headlights as well as many other lights around their cabs and trailers. These components not only help a truck driver see at night, but they also provide important visual indications to other motorists about the truck's size, trailer length, etc. Some truck accidents happen because an unsuspecting car driver collides with a truck's trailer that does not have working indicator lights.
Injuries Caused by Truck Accidents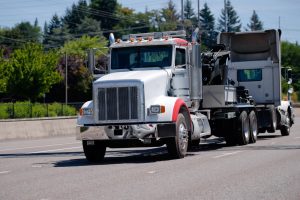 No matter the type of passenger vehicle you drive, your chances of sustaining serious injuries in an accident with an 18-wheeler are always high. A semi weighing 80,000 pounds could virtually demolish your car, and you or your loved ones can suffer any of the following injuries as a result:
Deep cuts and lacerations
Abrasions
Bruising
Broken bones
Paralysis
Head and neck injuries
Severe nerve damage
Crushing injuries
Orthopedic injuries
Internal bleeding
Traumatic amputation
Organ damage and failure
Since trucks are so much larger and heavier than other vehicles, you are likely to sustain more severe injuries in a crash with a commercial truck and face a longer, more expensive road to recovery.
Truck Maintenance Requirements
Truck drivers and their employers must perform regular maintenance on their trucks. The FMCSA created guidelines and requirements truck owners and operators must follow that involve a regular and systematic inspection, maintenance, and repair of all vehicles in their fleet. Truck owners must ensure all components of the truck are in proper working order, and they must maintain detailed records of the following:
All identifying information about the truck and the owner/operator
Dates of past and upcoming inspections, maintenance, and/or repairs
The nature of the maintenance or repair done to the components
A list of tests conducted on various components and systems
Along with the above, truck owners may also have records detailing the following:
Unsafe operations
Roadside inspections
Driver inspections of the vehicle
Annual inspections
Why You Need an Attorney
Unlike many passenger vehicle accident injury claims, injury claims involving truck accidents have the potential to include many more parties, and that could mean more documentation and evidence to gather. What's more, the industry itself is highly regulated.
The attorneys at Gibson Hill Personal Injury have handled hundreds of truck accident injury claims arising from inadequate vehicle maintenance, and we can help you understand your rights and options for obtaining compensation. We have the experience and resources necessary to help you gather all the evidence you need to support your claim and hold the truck's owner, the trucking company, the maintenance company, or another at-fault party responsible for their negligence.
Contact Us
We are also ready to fight hard to help you obtain the maximum amount of compensation possible. Contact a Texas truck accident lawyer from Gibson Hill Personal Injury at (713) 659-4000 or reach us through our contact form to request a free consultation.