Austin Road Hazard Accident Lawyers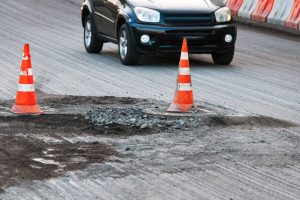 If a road hazard contributed to your injuries in a car accident, do not hesitate to contact Gibson Hill Personal Injury. You might be entitled to compensation for your medical treatment and other expenses resulting from the crash. We could help you hold the negligent party liable for their actions.
Hazards can exist on any roadway in Austin. Potholes, tree branches, and other dangers place drivers and passengers at risk of harm. Whether it's from poor maintenance or intentional misconduct, a hazard can cause a car accident and lead to severe injuries. You deserve to pursue compensation from the at-fault party for the losses you suffered in the crash.
Gibson Hill Personal Injury is ready to represent you in your case and fight for justice. Our Austin car accident lawyers have handled cases like yours since 2013. You can count on us to use our experience and resources to try to prove someone else was at fault and recover the money you're owed.
Call us at (737) 249-6300 today for your free consultation.
Common Reasons for Hazards in Roads
Road hazards come in many forms. Some are large and easy to spot, such as tree branches, debris from a car accident, and potholes. Others remain hidden and aren't noticeable until it's too late.
The people responsible for keeping roads safe might not take the necessary precautions to remove or repair hazards. Sometimes, drivers see the upcoming dangers but don't exercise diligence while navigating around them. Unfortunately, this can lead to traumatic accidents.
The most common causes of road hazards include the following.
Construction Areas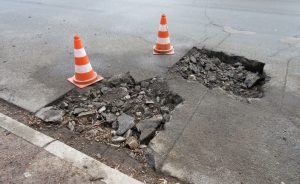 Construction workers are essential to the growing economy. They construct new buildings, roads, bridges, and other structures around the state. Although everyone in the construction industry must meet safety and quality standards, some employees are negligent in their duties.
Construction sites are inherently dangerous. Workers must remain diligent and keep the area around them safe for passing motorists. Failing to take the necessary steps to prevent accidents places others in the path of hazards, such as:
Poor lighting
Inadequate signs notifying drivers of upcoming lane shifts or sharp turns
Lack of barriers and traffic cones
Construction vehicles and equipment left outside the construction area
Missing warning signs and signals
Inadequate Maintenance
Governmental entities are typically responsible for repairs and maintenance of public roads. Government employees must perform adequate inspections and report damage to the appropriate authority. Removal of debris and repair of hazards should occur promptly to prevent accidents.
The most common hazards requiring proper maintenance include:
Malfunctioning traffic lights and signals
Missing or damaged street signs
Natural debris, such as large rocks and tree branches
Cracked pavement
Faded road markings
Potholes
Design Defects
Road hazards also result from defects in the design of the roadway. Common defects include:
Sloping or missing shoulder
Inadequate street lights
Narrow lanes
Lack of warning signs ahead of sharp turns, drop-offs, and steep hills
Missing guardrails
Blind curves
Obstructed street signs
If a road hazard contributed to the accident you were in, reach out to Gibson Hill Personal Injury today. We can investigate and determine whether you have a case to pursue.
Determining Liability for a Road Hazard Accident
Multiple parties could be at fault for the crash. Although certain entities are responsible for maintaining roadways, other companies and individuals could be partially to blame for what happened to you. Maybe the government failed to repair a pothole, but a driver didn't slow down while driving over it, causing an accident.
Below are different parties you could hold liable for your injury depending on the circumstances of your case.
Governmental Entity
Typically, sovereign immunity protects government agencies from liability for injuries their employees cause. The Texas Tort Claims Act waives immunity if the governmental employee's wrongful act or omission proximately causes personal injury, property damage, or death or the employee is negligent while acting in the course of their employment if:
The employee would be liable for the injury or death if they were a private individual; and
The injury, death, or property damage occurred while operating a motor vehicle or motor-driven equipment.
Business and Property Owners
A restaurant, store, or residential property owner could be liable for a car accident. They have the same responsibility as the government to maintain their properties and remove any hazards that could harm someone.
Another Driver
Sometimes, careless motorists contribute to accidents involving road hazards. Even though the hazard exists due to the government employee's negligent actions, drivers must proceed with caution.
Encountering a dangerous pothole, debris, defect, or sharp turn requires slowing down and carefully maneuvering around it. The driver could be partly at fault if they drove too fast for conditions or otherwise behaved recklessly.
Compensation for Injuries Caused by Road Hazards
The compensation available in an insurance claim will depend on the party at fault for the accident. State law requires motor vehicle drivers to carry liability insurance with minimum limits of $30,000 for bodily injury. If the negligent motorist has the minimum coverage on their policy, that's the most you could try to pursue.
Governmental entities and business owners often purchase high liability limits. Some have up to $1 million in coverage. You're not necessarily entitled to the full amount, but the available money is much higher than the standard auto insurance policy.
However, it's vital to understand the Tort Claims Act caps the maximum compensation you can receive from a state or local government agency. For example, if you pursue a case against the state, you can't recover more than $250,000 for losses related to bodily injury. Local governments limit compensation to $100,000.
When you file a liability claim, the settlement you receive could compensate you for various losses suffered in the accident, such as:
Loss of household services
Physical impairment or disfigurement
Medical expenses
Lost wages
Lost earning capacity
Pain and suffering
Mental anguish
Property damage
You might also have the option of filing a lawsuit and seeking exemplary damages. The jury might award this form of compensation if you show clear and convincing evidence of the at-fault party's malice, fraud, or gross negligence.
Contact Us
If you were injured in a car accident due to a road hazard, contact Gibson Hill Personal Injury to learn about your available legal options. Our Austin personal injury lawyers are ready to advocate for your rights and work towards the best possible result for you.
Contact us at (737) 249-6300 for your free consultation.