Contact our firm and you talk to an attorney IMMEDIATELY. We handle each case personally. For aggressive and caring representation, put Gibson Hill Personal Injury on your side today!
Austin
Personal Injury Lawyers
Sympathetic Advocates
During Trying Times
---
Did someone else's carelessness, reckless, or intentional actions cause you harm? If you suffered severe or catastrophic injuries in an accident caused by someone else's negligence, you could be eligible to pursue a personal injury claim, and could be owed significant compensation.
Severe and lasting injuries can happen in a wide variety of ways. Many of them are caused by another person, company, or manufacturer. If you or a loved one has been injured in Texas due to someone else's negligence, you need an experienced personal injury lawyer who will fight for the full and fair compensation you deserve.
At Gibson Hill Personal Injury, we will aggressively negotiate for a fair settlement that will account for all of the losses you've incurred or will incur. Our experienced trial attorneys are not afraid to take your case to trial if the settlement offered to you by the insurance company is less than what your case is worth.
We have the resources, skills, and experience necessary to handle complex personal injury matters while giving your case the personal attention it deserves.
Because insurance companies typically have a team of high-priced attorneys and vast resources, you need to level the playing field with a skilled and experienced personal injury attorney. If you or a loved one has been injured in an accident in Austin, contact the Gibson Hill Personal Injury today for a free and confidential consultation.
Our experienced and compassionated lawyers will handle all legal matters associated with your case, and we will keep you updated every step of the way. Call (737) 249-6300 today to set up a free and confidential consultation during which we will explain all your legal options.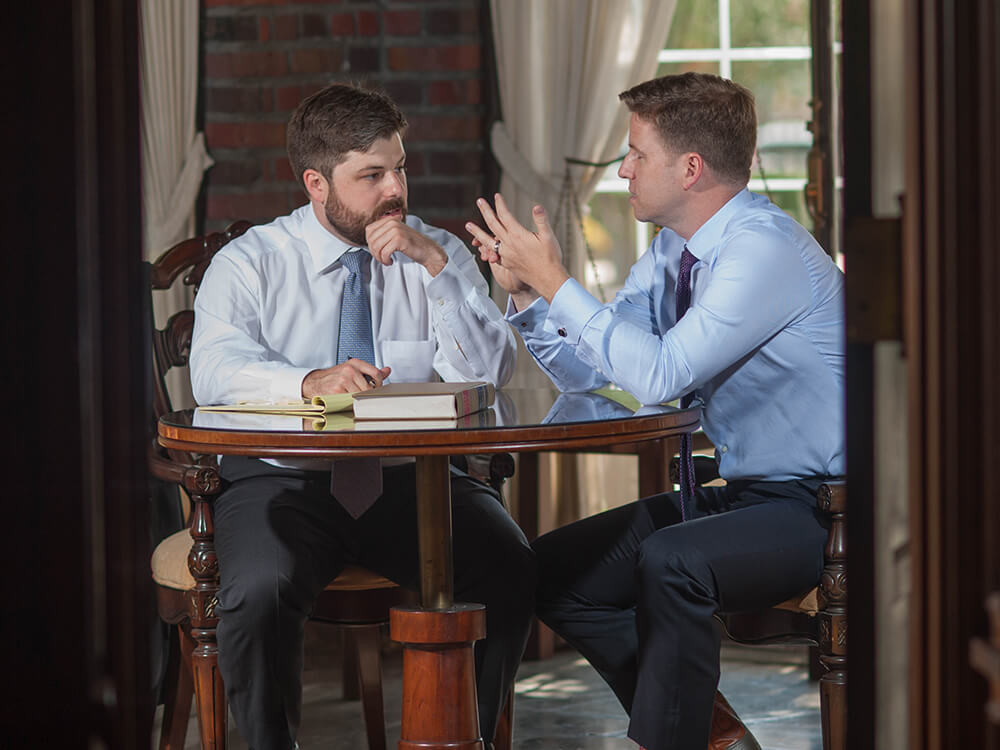 We treat our clients like family during the entire process.
With both attorneys working personally on each case, our team forms close relationships with our clients. We keep you up-to-date about your case and do everything we can to assist you throughout the entire process.
Why You Need a Lawyer?
If you have been involved in an injury accident, it is never a good idea to try to handle an injury claim by yourself. Although you could file the necessary paperwork and attempt to negotiate by yourself, your chance of recovering fair compensation increases dramatically when you hire a skilled Austin personal injury lawyer.
Dealing with severe injuries can be stressful and physically and emotionally draining. Allow a lawyer to take the burden off your shoulders by handling every aspect of your injury claim. This will allow you to focus on what's most important – your health and recovery. A skilled attorney will be able to level the playing field with the insurance companies by negotiating for a full and fair settlement. If your case goes to trial, your attorney will be able to navigate the complicated legal procedures as they fight for the maximum compensation you deserve your injuries.
Because filing a Texas personal injury lawsuit requires legal skill, knowledge, and training, you should never file a personal injury lawsuit without the help of an attorney. The attorneys at Gibson Hill Personal Injury will give you a much higher chance of a successful outcome for your case than if you were to represent yourself. Our attorneys have the skills, knowledge, and experience necessary to handle all the complicated legal matters that come with your personal injury claim.
Why Choose Gibson Hill Personal Injury?
Attorney Ty Gibson, founder of Gibson Hill Personal Injury, grew up in northeast Texas before coming to Houston to study law. After graduating from law school, he began to practice law and has since had the opportunity to help hundreds of clients deal with all types of personal injury matters. Gibson truly enjoys helping personal injury victims throughout the great state of Texas.
At Gibson Hill Personal Injury, we fight to protect the rights of our clients who have been injured in accidents. Our Austin personal injury lawyers represent clients throughout the greater Austin area in a wide range of accident claims.
Ty Gibson has been practicing law since 2012, helping hundreds of injury victims in Texas recover the full and fair compensation they need and deserve. Gibson knows what it takes to win a personal injury case. If you have been injured in an accident caused by another party's negligence, don't delay, call Gibson Hill Personal Injury today at (737) 249-6300 to schedule a free, no-obligation consultation.
Accidents in Austin
Were you hurt in an accident in Austin? Did someone else's recklessness, carelessness, or intentional actions cause you harm? If so, you are likely dealing with physical pain and financial stress and strain that you never anticipated and likely never planned to encounter.
When this happens, know that you do not have to pay out of pocket for the harm you've suffered, the blow to your finances, or damage to your personal property. Texas personal injury laws provide you the protection you need if you were hurt in a car accident, 18-wheeler collision, pedestrian accident, slip and fall, defective product, or another unexpected and devastating injury accident.
Unfortunately, recovering the compensation you're owed is not always easy or straightforward. While it might be apparent to you that another person's negligence caused the accident, it is likely that you'll face significant resistance when trying to recover the compensation you need and deserve.
The responsible party and their insurance company will likely do everything they can to avoid blame for the accident, even if you are visibly struggling with costly medical bills, lost wages, and other stresses. They will seek to deny, deflect, or diminish your valid injury claim to save themselves money.
Fortunately, help is available to you. The Austin injury attorneys of Gibson Hill Personal Injury have earned a reputation as aggressive defenders of those who've been hurt in our community. We fight to make you whole again, to ensure that your family doesn't struggle financially, and to send a message that those in our community deserve to be safe from harm.
We work on a contingency-fee-basis, which means that you won't owe us anything until we secure compensation for you. This means that you'll pay nothing upfront for a consultation or the cost of representation, and we'll only collect if we win money for you through a settlement or verdict.
Whether you were hurt in a car accident, as a cyclist, a pedestrian, a worker, or any other situation that could have been avoided had someone else been more responsible, our team will be ready to stand up and represent you in your time of need.
Injuries in Austin / Statistics
As anyone who has battled Austin traffic knows, driving in our city can be dangerous. From sudden stops on I-35 and MoPac during rush hour traffic, to distracted drivers and constant construction downtown, there is no shortage of hazards that could result in severe injury or fatal crashes.
In fact, Texas Department of Transportation (TxDOT) reported that there were 15,365 total motor vehicle crashes in Austin in 2018.
The Austin Police Department reported that there were 77 traffic fatality crashes involving 79 fatalities in 2016. Almost half of those totals were the result of motor vehicle accidents, with 34 fatal motor vehicle crashes causing 36 fatalities.
The number of pedestrian incidents was also high, as there were 28 fatal pedestrian crashes causing 28 fatalities. Additionally, the Austin Police Department also reported 13 fatal motorcycle crashes causing 13 fatalities and two fatal bicycle crashes causing two fatalities.
Workplace Injuries in Austin and Across Texas
People in Austin work hard for their paychecks. We want to get the job done right, and then spend time with our friends and family. An accident at work often leaves employees in Austin sidelined and unable to work to support themselves and their loved ones. These workplace accidents occur more often than you might think, and for a variety of reasons, including:
According to the Bureau of Labor Statistics (BLS), there were 534 fatal occupational injuries in Texas in 2017. Motor vehicle accidents were again the largest number of these injuries, with transportation incidents accounting for 234 fatal occupational injuries.
The next most common causes of fatal occupational injuries were falls, slips, or trips with 93 deaths, followed by the 74 incidents of contact with objects and equipment and then the 73 incidents of violence and other injuries by persons or animals. The BLS also reported 49 cases of exposure to harmful substances or environments and nine fires and explosions.
Austin Public Health reported that there were almost 6,000 injury-related deaths between 2006 and 2015, and 676 injury-related deaths for Travis County residents in 2015. From 2006 to 2014, the causes of death were split fairly evenly among four causes, including:
Suicide accounted for 1,100 deaths
Poisoning accounted for 1,015 deaths
Motor vehicle accounted for 932 deaths
Falls accounted for 901 deaths
Two other less frequent causes included homicide with 295 deaths and drowning with 118 deaths.
For injury hospitalizations in Travis County between 2010 and 2014, Austin Public Health reported that the three largest groups of individuals included:
7,225 victims, or 32 percent, who were 18 years of age to 44 years of age
5,856 victims, or 26 percent, who were 45 years of age to 64 years of age
5,608 victims, or 25 percent, who were 75 years of age or older.
2,211 victims, or 10 percent, who were 65 years of age to 74 years of age
1,776 victims, or 8 percent, who were 0 years of age to 17 years of age.
Bike Accidents in Austin
Austin is a great city for cycling, and many people enjoy riding their bikes for recreation, exercise, and commuting. Unfortunately, with so much bike and automobile traffic on our city's roads, car and bike accidents are a common occurrence, and the results can be devastating.
According to Share the Road, Travis County had the second-highest number of bicycle crashes with 1,112, which was only less than the 1,149 crashes in Harris County. Travis County ranked fourth in bicyclist fatalities with 11, which was fewer than the 46 fatalities in Harris County, 16 fatalities in Dallas County, and the 14 fatalities each in Hidalgo County and Bexar County.
Frequently Asked Questions (FAQs) About Personal Injury Cases
At Gibson Hill Personal Injury, we receive many questions from clients in Texas regarding their personal injury claims. Below are several of the most commonly asked questions. We hope you find our answers helpful. If you have any questions about your particular personal injury case, don't hesitate to reach out our knowledgeable Austin personal injury lawyers by calling (737) 249-6300.
Am I entitled to compensation if someone else caused my accident injuries?
If you were injured in an accident caused by someone else's recklessness or negligence, you may be eligible for compensation your injuries, pain and suffering, and other damages. It is critical that you speak with an experienced personal injury attorney about your legal options. Consult with an attorney before speaking with your insurance company. Your insurer will likely offer you much less than what your case is worth. A skilled Texas personal injury lawyer can help you seek the maximum compensation for all expenses associated with your accident.
What should I do if I have been injured in a car accident?
Your first priority should be the health and safety of you and your passengers. If someone has been injured, seek emergency medical care immediately. Then call the police so they can respond to the scene of the accident and file a report. Collect the contact information of the other driver or drivers involved in the accident. Make sure you record their full name, address, phone number, and insurance information. If possible, take plenty of photos of the accident scene. If there were eyewitnesses, ask them for their contact information. They could potentially be asked to testify in court. Finally, contact a Texas personal injury attorney as soon as possible.
How long do I have to file an injury claim in Texas?
The statute of limitations in Texas is two years from either the date your accident or two years after you become aware of the injury. Take legal action as soon as you can to ensure your case has the best possible chance of success. If you fail to take action before time runs out, you will forfeit your right to recovering compensation.
How long will it take to resolve my personal injury case?
The length of time it takes to resolve your personal injury case will depend on a number of factors. It's not possible to know exactly how long your case will take as each case is unique. If you are able to negotiate a full and fair settlement with the insurance company, your case could be resolved in just a few months. However, if your case goes to trial, it may take several years. Discussing your personal injury case with the experienced legal team at Gibson Hill Personal Injury will give you a better idea of how long your case may take.
Contact Us
When you call on Gibson Hill Personal Injury to help with your personal injury, you can rest assured that we will handle your case with diligence and care. Our lawyers will do everything they can to help you win your case.
If you or someone you love has suffered an injury due to someone else's fault in the greater Austin area, call Gibson Hill Personal Injury today at (737) 249-6300. Our attorneys work on a contingency fee basis, meaning that you won't owe any legal fees unless we win your case. Call now to schedule a free, no-obligation consultation with an experienced and compassionate Austin personal injury lawyer.
We also serve clients in Austin's surrounding areas, including Lakeway, Round Rock, Cedar Park, and Brushy Creek.
Request your
Free Consulation
You always talk to an attorney, not a case manager.
---
At Gibson Hill, you will always talk to an attorney about important case updates. You are more than just a number. We are your unwavering legal advocate from start to finish.
Request your
Free Consulation