Texas Distracted Driving Car Accident Lawyers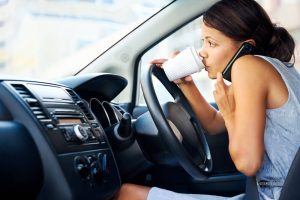 Distracted driving is one of the greatest dangers on the road. The prevalence of smartphones and the increasing incorporation of technology into vehicles means that drivers have more potential distractions than ever. A distracted driving accident can leave crash victims with life-altering injuries and losses. Turn to a distracted driving accident attorney when you need help holding a distracted driver accountable for their negligent behavior.
If you were injured in an accident caused by a distracted driver, reach out to the Texas car accident lawyers of Gibson Hill Personal Injury today for a free, no-obligation case evaluation to learn more about how our firm can help you obtain the financial compensation and justice you need and deserve.
What Causes Distracted Driving Accidents?
Distracted driving accidents occur when one or more drivers involved in a crash are distracted in the moments leading up to the crash, which causes them to make a mistake or commit some erroneous or dangerous act, like failing to stop for traffic or running a red light or stop sign. Drivers can become distracted when they take their hands off the wheel, their eyes off the road, or their attention off the task of driving.
Common behaviors that can lead to distracted driving accidents include:
Cell phone use, especially texting while driving
Eating or drinking
Grooming or applying makeup
Reaching around for an object
Adjusting the radio, climate control, or navigation system
Interacting with passengers or pets
Looking at signs or other objects outside of the vehicle
Reading maps, newspapers, magazines, or books
Watching videos on tablets or laptops
Daydreaming
Texas Car Accident Laws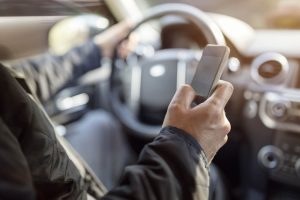 After you have been hurt in a distracted driving accident, you should familiarize yourself with state laws that impact your rights and options for recovering compensation from the at-fault driver:
Fault-based insurance system: Texas has a fault-based auto insurance system. This means that a person who is injured in an accident caused by a distracted driver is entitled to immediately pursue a claim for compensation against the at-fault driver and their insurance company.
Comparative negligence: Even if you are partially to blame for the accident, you are still entitled to pursue a claim for compensation against the other driver, so long as you were not more responsible for the accident than the party or parties you are seeking compensation from. However, your compensation can be reduced in proportion to the percentage of fault you have for the accident and your injuries.
Statute of limitations: Under Texas law, you typically have only two years from the date of a distracted driving accident to file a lawsuit against the driver or other parties responsible for causing the accident and your injuries. If you file a lawsuit after the statute of limitations has expired on your claim, you may lose the opportunity to pursue financial recovery for your injuries and losses.
Steps to Take After a Distracted Driving Accident
After a distracted driving accident, steps you should remember to take to help protect your rights for pursuing a claim for compensation include:
If possible, take photos or video of the accident site, including vehicle damage, skid marks in the road, and traffic signs and signals.
See a doctor as soon as possible, even if you haven't suffered any visible injuries. Get checked out for any injuries you may have sustained in the accident and make sure to follow your doctor's treatment instructions and recommendations.
Start a journal to document the pain and adverse impacts to daily living that you experience due to your injuries and medical treatment.
Keep copies of bills, invoices, and your income records.
Speak to a Texas distracted driving attorney from Gibson Hill Personal Injury about your case and what next steps you can take to pursue financial recovery.
Compensation You Can Receive for a Distracted Driving Accident
If you were involved in a distracted driving accident that was someone else's fault, you may be entitled to an award of compensation for expenses and losses that you incurred due to the crash, including:
Medical treatment and rehabilitation expenses
Lost wages/income or loss of future earning ability
Vehicle repair/replacement costs
Physical pain and emotional distress
Lost enjoyment and quality of life due to disabilities or scarring/disfigurement
Why You Need an Attorney After a Distracted Driving Accident
Pursuing financial recovery after a distracted driving accident can quickly become complicated and time-consuming, especially if you are already focused on trying to treat and rehabilitate injuries you sustained in the crash. A distracted driving accident attorney can take on the work of preparing and pursuing your claim for compensation. Gibson Hill Personal Injury can handle details such as:
Thoroughly investigating the accident and obtaining all available evidence.
Retaining accident reconstruction experts and medical and financial experts when needed to help us persuasively argue the technical aspects of your case.
Reviewing the evidence from the accident to identify who can be held at fault for your injuries and what insurance coverages can provide you with compensation.
Preparing and filing claims paperwork on your behalf.
Vigorously negotiating with insurance adjusters and defense lawyers to fight for a fair and full settlement.
Pursuing your claims in court and at trial if a fair settlement cannot be reached, fighting to win maximum compensation for you.
Why Choose Gibson Hill Personal Injury?
When you turn to Gibson Hill Personal Injury after being involved in a distracted driving accident, you will never feel like you are pursuing your case alone. Our firm will use our full resources and experience to hold distracted drivers and other at-fault parties accountable for the harm and loss that you have suffered. We work diligently to secure the best possible results in your case and to keep your interests at the forefront of everything we do. You will always be treated with the compassion and respect you deserve. Our firm is available 24/7, so you can reach out to us whenever may be convenient for you.
We also understand that being involved in an accident can have a financially devastating impact. That's why we offer free consultations and represent clients on a contingency fee basis, so that you won't have to pay anything upfront to get the legal assistance you need for your case.
Contact Us Today
When you have been the victim of a distracted driving accident in Texas, call Gibson Hill Personal Injury at (713) 659-4000 or fill out our contact form for a free, confidential consultation. Our Texas car accident attorneys can help you understand your options following the accident and discuss how we can help you pursue financial compensation for your injuries and losses.