Texas Speeding Car Accident Lawyers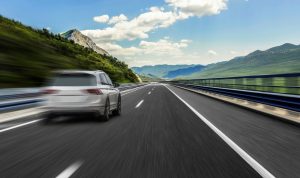 If you were injured in a car crash caused by a speeding driver, contact Gibson Hill Personal Injury right now to learn about your legal options. You might be entitled to compensation from the negligent motorist. We have experience holding people liable for their actions and recovering the money owed to our clients for their injuries and other losses.
When most people think of speeding, they imagine someone driving well above the posted speed limit. However, speeding can also involve driving too fast for poor road or weather conditions. Whenever anyone gets behind the wheel of their car, they should pay attention to the speed limit and environmental factors that can create hazards. Speeding could cause a driver to lose control of their vehicle and collide with another car, pedestrian, or stationary objects, such as a fence or streetlight.
At Gibson Hill Personal Injury, we understand the devastation of suffering injuries in an accident someone else causes. They behaved carelessly and placed you in harm's way. The other driver should be financially responsible for your injury and resulting losses. We are ready to fight for you and seek the justice you deserve.
For a free consultation with one of our Texas car accident lawyers to learn more about how Gibson Hill Personal Injury can help you with your case, call us at (713) 659-4000 today.
Why Speeding Is Dangerous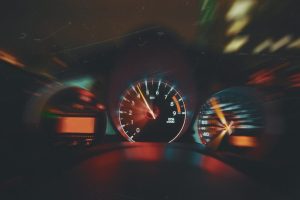 It becomes a challenge for a driver to react appropriately to perceived dangers and avoid an accident while driving too fast. They have only a split second to maneuver their vehicle out of the way of a pothole, pedestrian, stopped traffic, or another obstacle in their path. Speeding might not allow them the time they need to slam on the brakes or swerve to prevent a crash.
The dangers of speeding include:
Higher chance of sustaining a debilitating or life-threatening injury
Less time to react to adverse conditions, such as road debris
Airbags, seatbelts, and other safety features are less effective at high speeds
Increased risk of losing control of the vehicle
A longer stopping distance is necessary to bring the car to a complete stop
Exceeding the speed limit and driving too fast for conditions are reckless actions. When two vehicles collide, the violent impact can cause significant property damage and severe injuries to the occupants.
The most common injuries in speeding accidents include:
Loss of limb
Anxiety, phobias, and other psychological trauma
Internal injuries
Broken bones
Paralysis
Spinal cord injuries
Nerve damage
Permanent disfigurement or scarring
Disability
If you suffered an injury in a speeding car crash that wasn't your fault, do not hesitate to contact Gibson Hill Personal Injury. We can investigate the accident and determine who should be held accountable. Our legal team knows what it takes to build a solid case and reach a favorable outcome.
Compensation Available After a Speeding Accident in Texas
Texas is a fault car accident state. All drivers must show proof of their ability to take financial responsibility if they cause a crash. That means they have to buy and maintain auto insurance with minimum limits of liability. These liability limits could compensate for a range of losses, such as:
Loss of household services
Property damage
Mental anguish
Physical impairment or disfigurement
Medical expenses
Pain and suffering
Lost wages
Lost earning capacity
If the at-fault driver's auto insurance carrier denies your claim or offers a low settlement amount, you could file a lawsuit. Exemplary damages are a form of compensation meant to punish the defendant for their actions. You could receive this financial award if you can provide clear and convincing evidence of the other motorist's fraud, malice, or gross negligence.
Texas Statute of Limitations for Car Accident Cases
If you want to sue the speeding driver for the losses you suffered, you must file your lawsuit before the two-year statute of limitations expires. That means you have two years from the date of the crash to initiate your lawsuit, or you could lose your right to pursue compensation in court.
Steps You Need to Take After a Speeding Accident
It's crucial to follow specific steps if you sustain injuries in a car crash. The sooner you pursue legal action, the better chance you have of obtaining the evidence you need and adhering to strict deadlines.
Once you leave the accident scene, go to the hospital. Even if you have a minor injury, you should let a doctor examine you. Your doctor can determine the extent of your injury and the treatment necessary for your recovery. Follow their orders and continue to attend your appointments regularly until you heal.
You should hire a speeding accident lawyer from Gibson Hill Personal Injury immediately after the crash. We can take over the responsibility for your case so you can focus on treating your injuries. You shouldn't be forced to handle everything yourself when you're in pain and struggling to get your life back on track. Our team can determine the available insurance coverage, file a claim, and negotiate a settlement on your behalf.
Maintain any documentation associated with the accident. Medical records are especially valuable in a case like yours. If you don't have evidence of your injury, it will be challenging to prove the other driver should be held liable for your medical bills and other expenses.
Whenever you receive doctor bills, prescriptions, test results, or physician reports, keep copies of them all during your ongoing case. You should also forward them to us, so we can determine whether we can use them as evidence. Clients often forget about an imaging test they had or the treatment they received if they only saw a doctor one time. If we have access to all the documentation you have, we can ensure we provide complete records to the insurance company.
Contact Us
Gibson Hill Personal Injury has the experience and resources you need to receive quality legal representation and services. We will create a customized strategy to meet your needs and try to reach your desired result. You will be our top priority while we're working on your case to secure the maximum compensation possible.
If you sustained injuries in a car accident due to a speeding driver, call us at (713) 659-4000 today for your free consultation with one of our dedicated Texas speeding car accident lawyers.