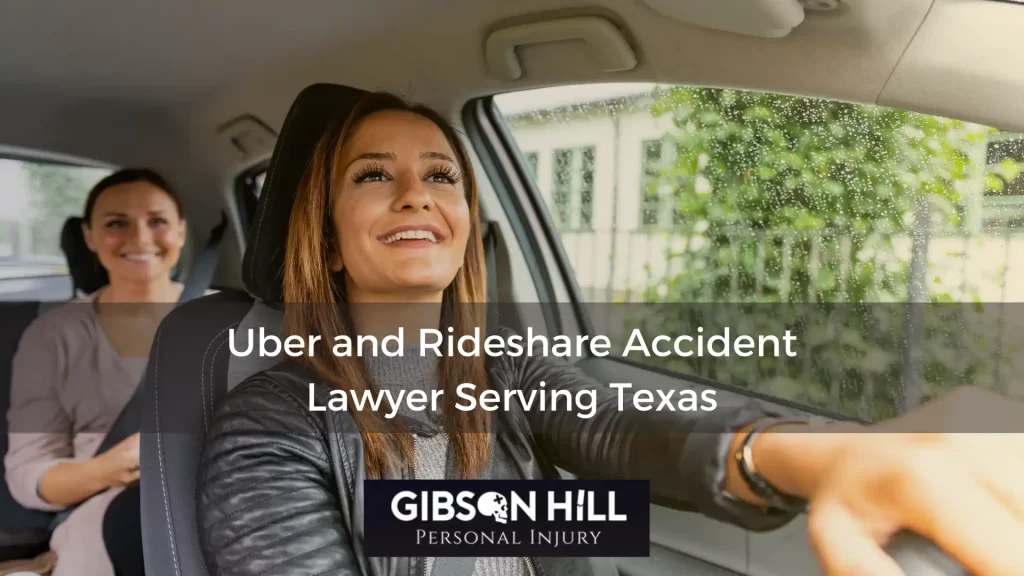 If you sustained injuries in an Uber accident due to someone else's carelessness, contact Gibson Hill Personal Injury immediately to learn about your legal options. You might be entitled to compensation for your pain and suffering, medical expenses, and more.
Uber is a rideshare service that connects drivers with passengers. People can request a ride from their pick-up location to a specific drop-off spot. The app calculates the estimated cost of the ride and automatically processes the payment from the rider's credit card. Although it's a convenient form of transportation, the drivers are not professionals. They're as likely to get into an accident as any other driver.
Gibson Hill Personal Injury could represent you in your case against the person responsible for your injury, whether it's the Uber driver or the other driver involved in the collision. Call us at (713) 659-4000 today for a free consultation with an experienced Texas Uber and rideshare accident lawyer.
Common Types of Rideshare Accidents
You could be injured in a rideshare accident in a variety of ways, such as:
As a rider – An accident could occur while you are a passenger in a rideshare driver's car. You could hold the driver liable if their actions contributed to the crash.
As the occupant of another vehicle – You could get hurt in a collision with a rideshare vehicle as a passenger or driver in another car. Any motorist involved in the accident might be at fault. If the rideshare driver is responsible, you could seek compensation from them or, in some cases, the rideshare company.
As another party – Non-motorists, such as pedestrians and bicyclists, could also be involved in the crash. A rideshare driver could hit you with their car, causing your injuries.
You should contact Gibson Hill Personal Injury no matter what situation you were in at the time of the rideshare accident. We can investigate and determine who could be held accountable for your injuries.
Common Causes of Rideshare Accidents
Uber is an excellent alternative to driving yourself. Texas residents and tourists use the service for many reasons. Some request rides to work or school. Others use rideshare services to get home safely after a night of drinking.
Unfortunately, Uber drivers don't have professional training. They're normal people driving others around to make money. That means they can make mistakes like anyone else and cause an accident.
The most common causes of rideshare accidents include:
Driving under the influence – Drunk driving impairs a person's normal faculties and increases the risk of an accident. According to the National Highway Traffic Safety Administration, 11,654 people died in alcohol-related car crashes in 2020. That's roughly 32 fatalities every day.
Fatigued driving – Driver fatigue is a common problem nationwide. Many people get behind the wheel of their car despite feeling tired. Fatigue often leads to a slower reaction time, poor judgment, and an inability to react appropriately to dangerous situations.
Tailgating – Tailgating occurs when a driver follows someone else's vehicle too closely. Stopping in time to avoid a rear-end collision is challenging when there isn't much space between cars.
Failure to yield – Yielding the right of way to others is necessary in many situations. Unfortunately, failing to yield when turning right at a red light or running a stop sign could cause an accident with someone in the driver's path.
Unsafe lane changes – Changing lanes without checking blind spots or using turn signals can cause a motorist to sideswipe a vehicle or run someone off the road.
Speeding – Driving above the speed limit is reckless. It also endangers people's lives. Traveling at high speeds makes it harder for a driver to control their vehicle. They could lose control and crash into anyone around them.
Distracted driving – Drivers can be exposed to multiple distractions. Anything that redirects their eyes, focus, or hands to something other than driving could lead to an accident.
Failure to follow traffic signs and signals – Signs and signals are everywhere on the road. They direct traffic so that people can maneuver around each other safely. However, when someone disobeys a traffic sign or signal, it disrupts the flow of traffic.
You have a right to hold the negligent party responsible for the harm they caused. Do not hesitate to reach out to a Texas Uber and rideshare accident lawyer from Gibson Hill Personal Injury for assistance.
Compensation for Injuries in Rideshare Accidents
Uber provides auto insurance on behalf of its drivers for covered accidents. The liability limits below are available under specific circumstances.
When the Uber driver is available or waiting for a ride request, Uber provides third-party liability insurance with these limits:
$50,000 in bodily injury per person
$100,000 in bodily injury per accident
$25,000 in property damage
When the Uber driver is picking up a rider or driving someone to their destination, Uber provides $1,000,000 in third-party liability.
If the Uber driver is offline or has their app turned off, their personal auto insurance coverage applies to the accident.
You can file a claim with the Uber driver's personal insurance company or Uber's liability insurer if the rideshare driver is at fault for the crash. You might also be able to file a lawsuit. The compensation you receive could cover your:
Medical bills
Lost wages
Lost earning capacity
Physical impairment or disfigurement
Loss of household services
Mental anguish
Property damage
State law requires minimum liability limits for every Texas motorist. If the accident occurred while the Uber driver was offline, you could file a claim with their auto insurance carrier.
In a lawsuit, you might also be able to pursue exemplary damages. This type of financial award isn't meant to compensate you for your medical bills and other losses. Instead, it punishes the defendant for their actions. You must show clear and convincing evidence of the at-fault driver's malice, gross negligence, or fraud for the jury to make this award to you.
Statute of Limitations for Rideshare Accidents
In Texas, the statute of limitations allows a two-year timeframe to file a lawsuit for a rideshare accident. That means you have two years from the date of the crash to file your lawsuit against the at-fault driver. Once the timeframe passes, you could lose your right to pursue compensation through the courts.
Steps to Take After an Uber Accident
You should take immediate action if you get hurt in a rideshare accident. It's critical to go to the hospital after leaving the crash scene. Let a doctor examine you and determine the type of treatment you need to heal.
Follow the initial physician's recommendations if they instruct you to seek additional medical care. You should follow up with your doctors regularly. Skipping appointments could negatively affect your case. An insurance company might look at your gaps in treatment as evidence of a minor injury. They could deny your claim or offer a low settlement that doesn't adequately cover your losses.
Be sure to maintain any documentation related to the collision. You should keep copies of your medical records, billing statements, the accident report, and anything else that could prove your injury. Medical evidence is valuable in a rideshare accident case. You must show that your injury happened in the crash and requires medical attention to heal.
It's also critical to consult with a rideshare accident attorney from Gibson Hill Personal Injury. You don't have to seek legal representation, but it could benefit your case. We can investigate and gather evidence so you can focus on your treatment. We will file a claim and negotiate a settlement with the insurance company on your behalf. We can file a lawsuit and take your case to court if necessary.
Contact Gibson Hill Personal Injury Today
If you sustained an injury in a rideshare accident someone else caused, contact Gibson Hill Personal Injury for your free consultation. We can review every detail of your case and create a strategy to hold the negligent driver liable. We will protect your rights and fight to try to achieve your desired outcome.
Call a dedicated Texas Uber and rideshare accident lawyer at (713) 659-4000 now. We're available 24/7 to speak with you.