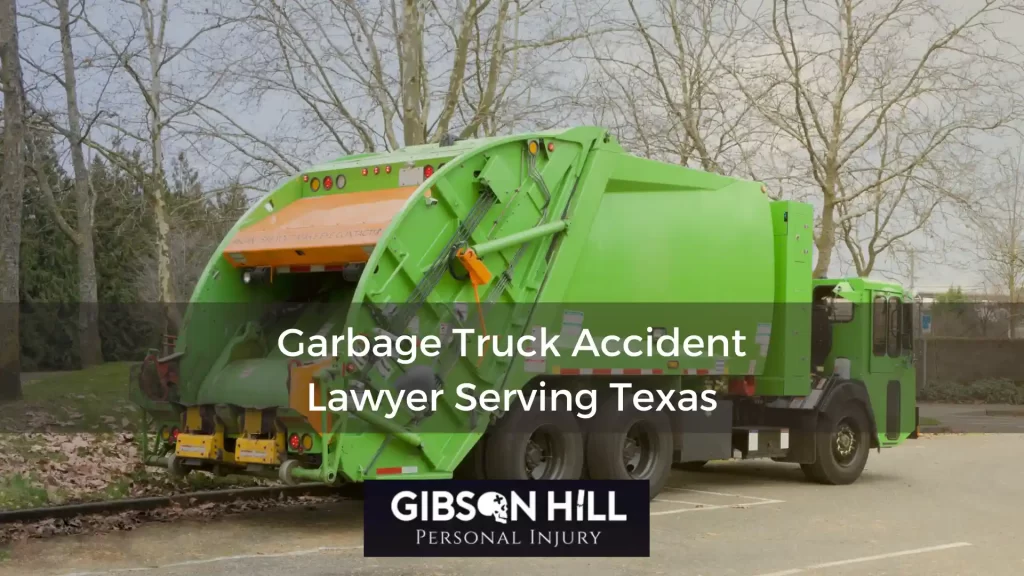 If you sustained injuries in a garbage truck accident, contact Gibson Hill Personal Injury to schedule a free consultation so you can learn about your legal rights and options. You might be entitled to financial compensation from the truck driver for their careless actions. We'll help you hold them liable for the harm they caused.
Garbage trucks are necessary to keep neighborhoods clean and to pick up trash from homes and offices. However, they're large vehicles that sit high off the ground and can cause major destruction if they crash into another vehicle. A smaller car could crumple like a piece of paper in a collision with a heavy garbage truck, and the occupants inside could suffer severe injuries.
Garbage truck accident cases can be complicated, but we have the experience needed to navigate cases involving large waste management companies. We'll provide the exceptional representation you need to recover the maximum compensation you're owed. Don't hesitate to contact an experienced Texas personal injury lawyer at Gibson Hill Personal Injury by calling (713) 659-4000.
Common Reasons Garbage Truck Accidents Occur
Various factors could lead to an accident between a garbage truck and another vehicle. Sometimes, it's driver error; other times, it's the truck's sheer size and weight that can create visibility issues. If the truck driver does something to cause the crash, they could be held liable for the victim's injuries.
Poor visibility is a major reason garbage truck accidents happen. The container on the back of the truck blocks their view of smaller cars traveling near them. They're also higher off the ground, so their blind spots are much larger than standard vehicles. The driver should always check for other cars and carefully change lanes or merge, so they don't crash into anyone.
Center of gravity poses an increased risk of a collision. Garbage trucks tend to be top-heavy and can easily roll if the weight isn't evenly distributed in the back, or the driver has to maneuver quickly to avoid a hazard. It can also be a challenge for them to make a sharp turn or brake for traffic ahead.
Other common causes of garbage truck accidents include:
Impaired or drowsy driving
Driver error or inattention
Failure to obey traffic signs and signals
Speeding or driving too fast for conditions
Tailgating
Failure to yield the right of way
Load Distribution and Securement Issues
Garbage trucks have a large compartment at the back that transports garbage and other discarded materials. It's a convenient service for residential and commercial communities; however, it can create a dangerous situation for truck drivers and other people on the road. When items aren't loaded properly, they can fall off the truck or become airborne and collide with another vehicle.
Garbage trucks must follow the same regulations as other commercial vehicles. The Federal Motor Carrier Safety Administration (FMCSA) creates guidelines to ensure the safety of trucking employees and other drivers and passengers:
Specialized containers to hold garbage, recyclables, and other discarded items.
Equip vehicle to prevent loose items from falling off the truck.
Drive no more than 14 consecutive hours in a single shift
Inspect for holes, cracks, and other openings that items can get through and make necessary repairs.
Ensure all waste is secure in the container during transport
How Trucking Companies Can Contribute to Garbage Truck Accidents
Even though the driver was the one involved in your accident, you might be able to hold their employer liable. Trucking companies are responsible for implementing inspection and maintenance schedules. They must routinely check for defective parts, damage, and malfunctioning systems. If they don't address a problem promptly, they could be at fault for a crash that occurs.
Employers are also supposed to perform thorough background checks on new drivers. They must ensure prospective employees have prior experience, proper qualifications, and a valid commercial driver's license. Additionally, they have to look into any criminal record they might have and perform random drug and alcohol testing. If they hire someone without going through the proper hiring procedures, they could end up with a driver who isn't qualified to operate a garbage truck.
Pursuing Compensation from the Truck Driver
If the garbage truck driver caused your accident, you could file a claim with their liability insurance company. All commercial drivers have a legal requirement to carry insurance with minimum liability coverage. That coverage provides the injured victim with compensation for their expenses if an accident occurs.
Texas follows a traditional fault system when it comes to motor vehicle accidents. That means the person at fault is automatically financially responsible for resulting injuries and damage. So if you have evidence that the truck driver's actions led to the collision, you can file a claim with their insurance company for compensation for your damages.
Economic damages are actual expenses, while non-economic damages are intangible losses. The damages available after a garbage truck accident may include:
Medical bills
Lost wages
Lost earning capacity
Pain and suffering
Mental anguish
Out-of-pocket expenses
Vehicle repair or replacement costs
Physical impairment or disfigurement
Loss of consortium
Garbage truck companies also carry liability insurance. Depending on the coverage listed on their policy, you might be able to file a claim if they're responsible for negligently hiring the driver involved in your accident.
Fortunately, liability insurance in the trucking industry is higher than standard auto insurance policies. That's because commercial vehicles tend to cause more damage than passenger cars. Significant coverage is necessary for the injured party's medical bills and other associated expenses.
How to Handle An Accident If the Truck Driver Doesn't Have Insurance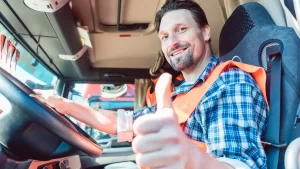 You could run into a situation where the garbage truck driver doesn't have a liability insurance policy. It's rare due to laws requiring coverage, but it could happen. If you discover the at-fault driver doesn't carry insurance, you have the option of filing a claim with your insurance company.
Uninsured/underinsured motorist is optional coverage auto insurance companies must offer to their policyholders. If you chose to purchase it, you could file a UM claim for some of your economic and non-economic damages. It's available when an accident victim can't file a liability claim because the other motorist doesn't have insurance coverage.
The damages available in a UM claim include:
Medical bills
Out of pocket costs
Car repair or replacement
Lost wages and earning capacity
Pain and suffering
If you don't have UM insurance, you can file a lawsuit against the truck driver or their employer. There's a strict deadline known as a statute of limitations you must comply with if you want to sue the liable party for damages. The statute of limitations in Texas is two years. That means you have two years from the accident date to file suit; otherwise, you'll lose your right to pursue compensation.
There are two specific situations where you could potentially toll, or pause, the statute:
The at-fault driver temporarily leaves the state before you're able to file a lawsuit against them. The two-year clock wouldn't start until they return.
You were under 18 years old or of unsound mind at the time of the crash. The clock wouldn't begin until you turn 18 or become mentally competent.
Economic and non-economic damages are available in insurance claims and lawsuits. There's a third type you could seek only in a lawsuit. It's known as punitive damages. Instead of compensating for your losses, it's a form of punishment against the liable party and attempts to deter similar actions in the future.
Juries rarely award accident victims with punitive damages. You must be able to provide clear and convincing evidence that the at-fault truck driver acted with malice, fraud, or gross negligence. Gibson Hill Personal Injury has extensive experience in litigating cases and can help you locate crucial evidence of these actions.
The Role of Modified Comparative Negligence in Accident Claims
If you got hurt in a garbage truck accident, you should not admit any level of liability to the other driver, the insurance company, or anyone else involved in the legal process.
Texas has a modified comparative negligence rule that reduces an accident victim's damages by their percentage of shared blame. If you held no fault in your accident, you could pursue $100,000 in compensation if you incurred $100,000 in damages. However, if it's discovered that you were 20% at fault, you would only be entitled to a maximum of $80,000 under this rule. Additionally, you wouldn't be allowed to seek any damages if you were more than 50% liable.
Injured in a Garbage Truck Accident? Contact Gibson Hill Personal Injury Today
Our Texas garbage truck accident lawyers understand the suffering you had to endure. Garbage trucks are much larger than passenger vehicles and can cause severe injuries and property damage. We know how important it is to recover the maximum available compensation so you can heal and move forward with your life. We'll use aggressive tactics to make sure the insurance company pays what they owe you.
At Gibson Hill Personal Injury, our legal team is available 24/7 to take your call. You can depend on us to remain by your side and fight for the justice you deserve. You won't be alone during this difficult time in your life. If you were the victim of a garbage truck accident in Texas, call Gibson Hill Personal Injury at (713) 659-4000 to find out how we can help.