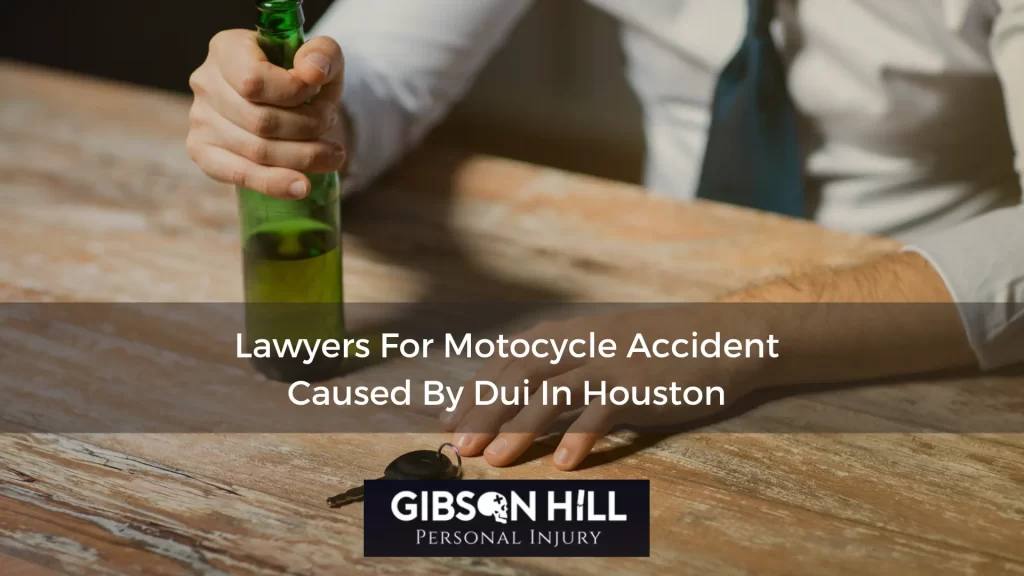 Were you involved in a motorcycle accident in Houston with someone who was driving under the influence? Did you sustain injuries and don't know the next steps you should take? If so, contact Gibson Hill Personal Injury so we can review your case.
Drunk driving is reckless and dangerous. It puts other people at risk of injuries and death. If there's an accident between a car or truck and motorcycle, it's typically the motorcyclist that suffers the most. The lack of protective equipment for the rider can result in devastating physical harm and ongoing psychological trauma.
The injuries you sustained because of another person's poor decision to drive under the influence probably led to expensive medical treatment. You might be struggling to afford these expenses while treating your injuries. The experienced Houston personal injury attorneys of Gibson Hill Personal Injury can help you hold the at-fault driver liable and pursue the compensation you need and deserve.
To find out more or meet with one of our Houston motorcycle accident lawyers for a free consultation, call us at (713) 659-4000 today.
The Dangerous Side-Effects Of Driving Under the Influence
Driving under the influence doesn't only refer to alcohol. It can also include drugs. According to state law, no one can legally operate a motor vehicle if they have a blood alcohol concentration (BAC) 0.08% or more, or if the drugs or alcohol in their system affect their driving abilities.
Believe it or not, even over-the-counter medication could affect someone's mental and physical faculties, preventing them from safely driving their car, truck, or motorcycle. When a person is under the influence of drugs or alcohol, they might exhibit the following symptoms:
Loss of coordination
Drowsiness
Poor judgment
Slower reaction time
Blurry vision
Reduced alertness
Impaired or loss of motor skills
Altered sensory perception
Loss of consciousness
It is your right to pursue a case against the other driver if their actions caused your injuries in a motorcycle accident. You shouldn't have to suffer because someone else made the wrong decision to get behind the wheel after consuming alcohol or drugs.
Take Immediate Action Following An Accident With A Drugged or Drunk Driver
After an accident with a car or truck, you might feel disoriented, in shock, and confused about what you should do next. Your injuries might be so severe that you're unable to process what just happened. You should go to the hospital immediately so a doctor can determine the extent of your injuries. You should also hire a personal injury lawyer that knows how to take on this type of case.
If your injury is only minor, you should try to collect some evidence at the crash site. Ask the at-fault driver for their auto insurance information and take pictures of the scene. If someone called 911, an officer should investigate what happened and write a crash report. You could request a copy of it online when it becomes available.
However, if you don't have the physical ability to gather evidence following the accident, let your lawyer from Gibson Hill Personal Injury handle that. Your primary focus should be on getting to a hospital and beginning your treatment. Insurance companies will review your records after you file a claim to determine if the injury is real and if you deserve a settlement to compensate for your expenses. If you don't attend ongoing doctor's appointments, that could affect whether you receive compensation.
Compensation You Could Seek After A Motorcycle Accident
Driving under the influence is illegal if the responsible party has a BAC of 0.08% or higher. They could face criminal charges but could also suffer the civil ramifications of their misconduct. If you choose to file a lawsuit or insurance claim, you could pursue compensation to cover your past and future losses. These losses might include:
Property damage
Loss of household services
Physical impairment or disability
Medical bills
Pain and suffering
Lost wages and future earnings
Mental anguish
Loss of consortium
Texas uses a fault system to determine who should be held liable after an accident. That means whoever caused the crash would become financially responsible for the victim's injuries and resulting losses. If we can prove that the other driver was under the influence and that's what led to your injuries, we could use that to recover the full settlement amount available in a liability insurance claim.
If the other motorist doesn't have liability insurance or the coverage listed on their policy isn't enough to cover your total losses, you might be entitled to compensation from a UM claim. Uninsured/underinsured motorist (UM) insurance could cover your medical bills, property damage, lost wages, and pain and suffering. It all depends on what's listed on your policy. We can request a copy of it from your insurer to determine whether you purchased UM coverage and how much coverage is available.
Handling A Civil Lawsuit In Houston
Texas laws require filing a lawsuit by a specific deadline if you want to recover compensation from the negligent driver. The statute of limitations in Texas is two years. That means you would only have two years from the date of the crash to sue. If the two-year timeframe expires and you haven't filed suit, you could potentially lose your right to seek a monetary award for your losses in court.
If either of these exceptions to this rule exists at the time of the accident, the statutory period may be extended:
You were of unsound mind when the crash occurred. The clock would start again once you gain mental competency.
You were a minor when you sustained injuries in the accident. The clock wouldn't begin until you turn 18 years old.
Besides compensation for your losses, you could also pursue punitive damages. Punitive damages are called "exemplary damages" in Texas law. These damages are a form of punishment against the other driver, and such an award aims to deter similar future behavior.
For a jury to provide this type of financial award, you must prove that the other motorist acted with malice, fraud, or gross negligence. It can be difficult to prove these kinds of facts, so your Houston motorcycle accident lawyer should handle your lawsuit.
Why Hire Gibson Hill Personal Injury?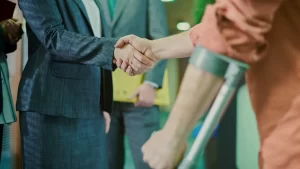 You might want to tackle your case without hiring a lawyer, but that could backfire on you down the road. At Gibson Hill Personal Injury, our team of Houston personal injury lawyers has the experience and resources to hold people accountable for the accidents they cause. If you don't know the steps you should take after getting hurt in a motorcycle crash, you could inadvertently ruin your chance of receiving the maximum available compensation.
Insurance companies typically try to avoid large settlement payouts. They want to save as much money as possible, even if that means offering an amount of money that doesn't adequately cover your losses. If you're unfamiliar with your rights, you might be quick to accept the first offer you receive without realizing you actually deserve more money.
When you hire Gibson Hill Personal Injury, we will protect your rights and fight for the compensation you need and deserve. We can review all available insurance policies to determine how much coverage there is and aggressively negotiate with the insurance company for a full and fair settlement.
We will also exhaust all resources to obtain critical evidence that proves what happened, such as:
Eyewitness statements
Crash report
Your medical records and bills
Reports from the damage to your bike and the other vehicle
Pictures from the accident scene
Receipts, bank statements, and other documentation showing the other driver was under the influence when the collision occurred
Video surveillance footage
We understand the aftermath of a motorcycle accident can be traumatic and devastating. It can be overwhelming when you're attempting to recover from your injuries while also pursuing a case. You don't have to worry about the legal process. Let Gibson Hill Personal Injury handle each step so you can focus on yourself and your family.
Our team knows how to effectively and efficiently take on insurance claims and use our knowledge of Texas statutes to reach a favorable result. We will not back down from a fight or allow the insurance company to take advantage of you. We will be by your side until the very end to fight for justice. You won't be alone during this difficult time in your life.
Speak To A Dedicated Lawyer Today
The Houston personal injury attorneys of Gibson Hill Personal Injury are dedicated to providing quality legal representation to the members of our community in Houston. Another person's negligence led to your injuries, and they should be the one forced to suffer the consequences of their actions. We will remain by your side in the fight for the compensation you need to pay for your medical treatment and other losses.
Whether your injury is minor or severe, you should reach out to a Houston motorcycle accident lawyer at Gibson Hill Personal Injury immediately so we can begin working on your case. We work on contingency, which means there are no upfront fees or costs for our clients. We won't expect payment of our legal fees unless we secure compensation for you. If we lose, you won't owe us anything.
Contact Gibson Hill Personal Injury at (713) 659-4000 right now if you sustained injuries in a motorcycle accident because someone else was driving under the influence. We're ready to help you get on the road to recovery.