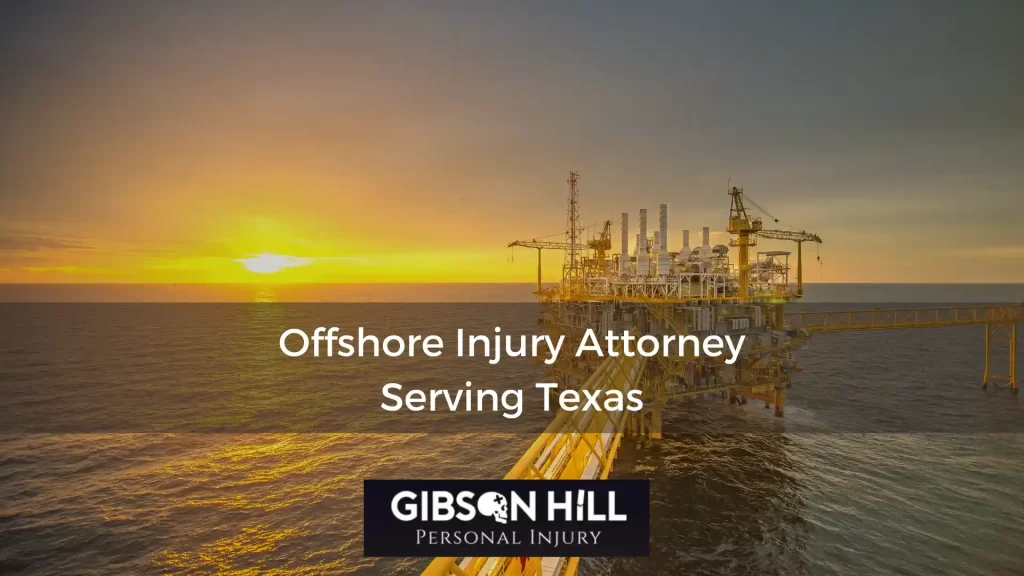 Did you suffer injuries in an offshore accident? Are you unsure of the legal options for pursuing financial compensation? If so, contact Gibson Hill Personal Injury immediately. We'll help you recover the benefits you need to pay for your medical treatment and additional expenses. You deserve payment for the suffering you endured while you were performing the duties of your job.
Offshore accidents are common in the oil and gas industries. Whether you're an oil rig employee, commercial fisherman, or dockworker, you face dangerous conditions each day. Injuries are often the result of exposure to hazardous chemicals, explosions, faulty equipment, and falls from great heights. If you sustain offshore injuries while on the job, you could file a claim for workers' compensation benefits through your employer's insurance policy.
To learn about your rights and how to collect benefit payments, call Gibson Hill Personal Injury at (713) 659-4000.
Accidents That Commonly Cause Offshore Injuries
Offshore workers encounter hazards that could cause severe injuries and fatalities. The most common causes of accidents include:
Slip and fall
Equipment malfunction or failure
Fires and explosions
Adverse weather conditions
Falling objects
Inadequate or defective safety gear
Lack of training
Hazardous chemicals
Exposed or damaged electrical wires
Faulty machine parts
The injuries that might qualify you for workers' compensation benefits include:
Traumatic brain injury
Significant scarring
Internal bleeding
Broken bones
Vision or hearing loss
Repetitive motion injuries
Crush injuries
Spinal cord injuries
Loss of limb
Burns
Electrocution
Damage from smoke inhalation or exposure to toxic substances
If you take certain precautions, you could avoid a dangerous situation that causes physical harm. Make sure you use appropriate safety gear and pay attention to your surroundings at all times. Offshore employees are at greater risk of injury and fatality than other job industries. If you follow state and federal regulations, you could potentially prevent harm to yourself and others.
What Should I Do If I Get Hurt in an Offshore Accident?
If you sustain injuries while performing your job-duties, follow the steps below to pursue workers' compensation benefits from your employer:
Step 1: Notify your employer, preferably in writing, of your injury within 30 days. Include your contact information, date, time, and location of the accident, and the type of injury you sustained. Make a copy for yourself.
Step 2: Your employer will provide you with a form to complete to begin the insurance claims process. If they don't, you can print one and submit it directly to the insurance company with a copy to your employer.
Step 3: Request a copy of the workers' compensation policy. There's important information on it, such as qualifying injuries, a list of doctors you can treat with, and deadlines you must follow.
Step 4: Make a doctor's appointment with someone from the WC insurance approved list. They only provide coverage to individuals who treat with the doctors they approve. If you choose to see someone who isn't on the list, you'll have to pay out of pocket.
Step 5: Keep a copy of all documentation related to your case.
Step 6: Get a physician letter. After evaluating your injuries, your doctor should write a detailed note that includes your diagnosis and a treatment plan. They should also state that you got hurt while performing your job. Without this type of letter, it will be difficult to prove your injuries resulted from an offshore accident.
Step 7: Hire a Texas offshore injury lawyer. Having an experienced lawyer represent you in your case could increase the chance of recovering the maximum benefits you deserve.
Workers' Compensation Benefits
When you apply for WC insurance through your employer, there are four main types you could receive.
Temporary Income benefits could compensate your lost wages until you recover or reach maximum medical improvement. You'll become eligible after missing seven consecutive days of work or earning less than usual due to your offshore injury. You won't receive coverage for the first week unless your disability lasts for 14 days or longer.
Your payment amount will be 70% of the difference between your average weekly wages before and after you got hurt. Even if you can return to work with limited capacity, you'll still receive TIB payments because you cannot perform the same duties you had prior to your accident.
Temporary income benefits end in one of the following situations:
Your doctor places you at maximum medical improvement;
You're earning your average wages before the accident occurred; or
104 weeks passed since the eighth day of your disabling injury.
Impairment income benefits begin once you reach maximum medical improvement and can no longer collect temporary income benefit payments. You have the choice of receiving a lump sum amount or weekly payments. If you make a full recovery, you won't be eligible for IIB.
The payments you receive will be 70% of your average weekly wages before the accident. They'll begin on the date after you reach maximum medical improvement.
The duration your coverage lasts will depend on the impairment rating your doctor gives you. An impairment rating is a percentage between 1% and 99% that indicates a limitation or permanent loss of function caused by an injury. Each percentage of impairment equals three weeks of pay. For example, if your impairment rating is 2%, you'll receive temporary income benefits for six weeks.
Supplemental income benefits can compensate you if you're still unable to return to work, or when your doctor releases you from care, your disability prevents you from completing all requirements of your job. The calculation for payments is 80% of the difference between your wages before the accident and what you're earning with a disability.
Payments will begin on the date you return to work and last for up to 401 weeks. To qualify for payments, you must meet the following requirements:
Impairment rating of at least 15%
You're earning at least 80% of your average weekly wages before the injury, or can't return to your job
You chose not to receive benefits as a lump sum
You're actively pursuing another job or entered a vocational rehabilitation program
You provide documentation of your eligibility every three months
Lifetime income benefits provide weekly payments for severe injuries, such as:
Complete blindness
Total loss of use of both hands, feet, or one of each or an amputation
A spinal injury that resulted in permanent paralysis of both legs, arms, or one of each
Third-degree burns that cover over 40% of the body, most of both hands or the face and one hand, and requires a skin graft
Benefit payments are 75% of your average weekly wages before sustaining the injury. Every year that you require coverage, the payment amount will increase by 3%. You'll continue to receive lifetime income benefits until death.
If necessary, you can recover some additional benefits through a workers' compensation claim:
Travel reimbursement: Payment for the cost of driving to and from doctor appointments at least 30 miles from your residence when there aren't available providers closer to your location.
Vocational rehabilitation: You can receive job training and assistance in finding new employment if you reach maximum medical improvement but can't return to the job you had before you suffered an offshore injury.
Death benefits: This is available for surviving family members who lost someone due to a fatal offshore accident.
Common Reasons Insurance Companies Deny WC Claims
When you apply for workers' compensation benefits, you must provide the insurance company with sufficient evidence of your disabling injury. They'll perform an investigation and review every document related to the offshore accident. If they discover any conflicting details or you miss an important deadline, they could deny the claim.
The most common reasons for a denied claim include:
Lack of witnesses: You'll have a greater chance of proving your injury happened at work if people were around to see it.
Failure to report the injury: You only have 30 days from the accident date to report it to your employer so they can submit an application to their insurer. If you wait, the insurance company will assume your injury isn't real, or wasn't serious enough to pursue coverage.
Lack of medical evidence: Your medical records will show the diagnosis of your injury, a treatment plan, and the progress you're making at each appointment. Without medical evidence, you'll have a hard time showing the insurance company that you suffered an injury that requires treatment.
Conflicting employer statements: The insurance company will communicate with your employer to determine if your injury happened while you were performing your job duties. They'll need to back up your claim to be eligible for WC benefits.
Why Choose Gibson Hill Personal Injury?
Our Texas offshore injury lawyers understand how stressful it is to get hurt on the job. When you're in pain and unable to maintain employment, you end up facing financial struggles. It can cause a strain on your relationship and prevent you from providing for your family.
When you hire us, we'll navigate the WC insurance claim process efficiently so you can start collecting the benefit payments you need. We'll make sure the insurance company pays you what they owe you and doesn't unfairly deny your application. You can depend on us to protect your rights.
If you're suffering from offshore injuries and don't know your legal options, call Gibson Hill Personal Injury at (713) 659-4000. We'll schedule your free consultation with one of our Texas offshore injury lawyers.