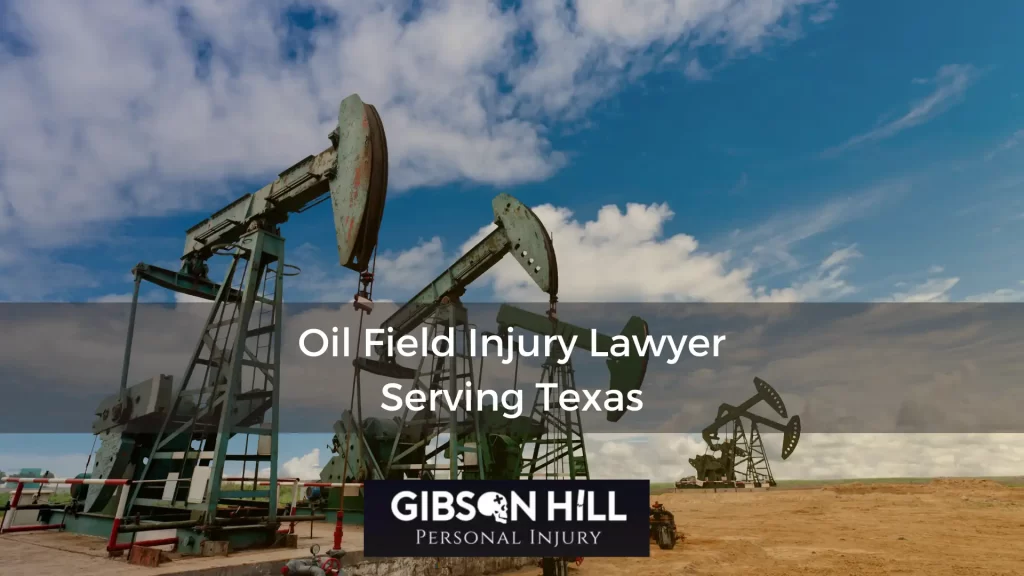 Oil workers face dangers every day on the job, and numerous employees are injured each year from hazards such as defective machinery, vehicle accidents, slip and falls, exposure to harmful chemicals, and even blowouts.
If you're an oil field worker and sustained injuries while performing the duties of your job, you are likely entitled to benefit payments through your employer's workers' compensation insurance. The highly experienced oil field injury lawyers at Gibson Hill Personal Injury can help you secure the maximum payments you need.
When you hire us, we'll work hard to ensure the insurance company pays you what you're owed. We know you're facing financial struggles. When you're unable to return to work, you can't pay for your medical treatment or household expenses. You might be in pain and don't want to deal with an intimidating insurance company while you're trying to recover.
Our Texas oil field injury lawyers will relieve your burden and handle everything for you. We have experience filing claims, appealing denials, and recovering the maximum benefits injured employees deserve. To find out more about the legal services we provide, call us at (713) 659-4000 for a free consultation.
The Dangers of Working in an Oil Field
Oil fields contain various hazards that could cause injury, illness, or death. When you're working in this industry, you expose yourself to heavy machinery, toxic chemicals, and flammable gases. Anything you encounter on the job site could lead to permanent damage or a disabling medical condition.
Situations that could cause oil field injuries include:
Fires and explosions
Rig blowout
Damaged pipeline
Confinement in small spaces
Damaged electrical wires
Working on an unstable ladder, crane, or elevated platform
Slippery surfaces
Equipment malfunction or failure
Lack of safety gear
Limb stuck in a machine or between equipment
Falling tools and other hazardous objects
Electrocution
Exposure to dangerous chemicals
Oil field employees can suffer a range of injuries from minor to life-threatening. The most common injuries include:
Chemical or fire burns
Internal bleeding
Broken bones
Burns
Inhalation of gases
Traumatic brain injury
Paralysis
Loss of limb
Permanent scarring or physical disfigurement
Psychological injuries, such as PTSD
Benefits Available in a Workers' Compensation Policy
When you apply for workers' compensation coverage, you could receive two main types of benefits. The payment amounts and duration will depend on the type of oil field injury you sustained and whether you can return to your job.
Medical Benefits
Medical benefits pay for all necessary medical treatment of an injury. If you get hurt while performing your job-related duties, you should seek immediate medical care. You must see a doctor on the approved list for coverage of your medical bills. You can choose to see a physician that isn't on the list, but you'll have to pay out of pocket.
If you're not satisfied with any providers you started treatment with, you can request a change of doctor with the Texas Division of Workers' Compensation by completing Form 053. The DWC will use specific criteria to decide if they approve of your new doctor:
The doctor's professional reputation;
Whether the treatment they provide is medically appropriate for your oil field injuries;
If you're receiving the necessary medical care to reach maximum medical improvement (meaning your condition won't improve any further with continued treatment); and
If there's a conflict between you and the doctor, that will cause bias.
Income Benefits
Income benefits fall under four categories depending on the extent of your injury and its effect on the wages you're earning: temporary income, impairment income, supplemental income, and lifetime income.
Temporary income benefits begin on the eighth day that you're unable to return to work because of your disabling injury. In workers' compensation, a disability doesn't necessarily refer to permanent damage. It indicates a level of physical or emotional impairment that prevents someone from performing some or all tasks of their job.
The payments you'll receive will be at a 70% difference between your average weekly wages before and after you sustained an injury. If you were making less than $10 an hour, you'll receive 75%. There's a minimum and maximum limit you're eligible for, depending on the date you got hurt. The limits change every year.
Coverage will last until one of the following events occurs:
104 weeks passed;
Your doctor places you at maximum medical improvement; or
You return to work and earn your pre-injury wages.
If you had or will need spinal surgery within 12 weeks of the deadline, you could collect temporary income benefits past the 104-week limit.
Impairment income benefits will begin once you reach maximum medical improvement. Payments are 70% of your average weekly wages before the accident occurred. Your doctor will evaluate your injuries and provide an impairment rating, which indicates whether your injury left you with a limitation or permanent loss of bodily function.
Impairment ratings are percentages between 1% and 99%, and each number signifies how long your payments will last. You'll receive three weeks of coverage for each percentage point. To clarify, if you have a 5% impairment, you'll be eligible for weekly benefits for a maximum of 15 weeks.
Supplemental income benefits begin when coverage for temporary income benefits end. If you meet the following qualifications, you'll receive weekly payments:
You're participating in vocational rehabilitation or actively look for employment
You can't return to work, or your current wages are a minimum of 80% of your pre-injury wages
You have an impairment rating of at least 15%
You opted against receiving benefits as a lump sum
You reapply every three months with proof of eligibility
Payments are 80% of the difference between your wages before and after the accident. They'll last up to 401 weeks as long as you qualify based on the factors listed above.
Lifetime income benefits begin once you use up all your supplemental income benefits. It's available to injured workers with total disability. To receive payments, you must have one of the following impairments:
Traumatic brain injury that caused an incurable mental impairment
Third-degree burns covering a majority of both hands or a hand and face, or at least 40% of the body and requires a skin graft
Amputation or loss of use of both feet, hands, or one of each
Total blindness
A spinal injury that resulted in paralysis of both legs, arms, or one of each
Take Immediate Action After an Oil Field Injury
It's important to take the following steps following your oil field injury to protect your right to benefits:
Notify your employer of the incident within 30 days. You should submit a notice in writing, so you have a record of it. Include your name, contact information, the date, time, and location of the accident, the injuries you suffered, and how it happened.
Fill out the form your employer provides and return it. They will submit it to their insurance company on your behalf. Follow up with them to ensure they filed the claim. If they didn't, you can print one from the Texas Division of Workers' Compensation website and submit it yourself.
Find a medical provider from the approved doctors list and seek immediate treatment. Continue showing up for your appointments until you recover or reach maximum medical improvement.
Obtain medical records from your doctors to provide to the insurance company. A detailed doctor's note should include a diagnosis of your injury, how it happened, a treatment plan, and prognosis. After each appointment, they'll add notes to your records regarding your progress.
Hire a Texas oil field injury lawyer from Gibson Hill Personal Injury. We'll ensure your employer files a claim promptly, and their insurance company pays you the maximum benefits you deserve. If your claim gets denied, we have the experience and resources to pursue an appeal or file a lawsuit.
Death Benefits for Fatal Oil Field Injuries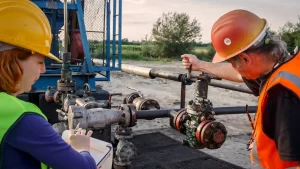 If you lost your loved one in an oil field accident, you could file a claim for death benefits. Payments are equal to 75% of the average weekly wages before the victim died.
The following surviving family members qualify for coverage:
Spouse
Minor children
Children under the age of 25 who are attending an accredited college or university
Dependent grandchildren
Non-dependent parents (if there are no other surviving family members)
Benefits begin on the date after the worker dies and continues until the beneficiary doesn't meet eligibility requirements anymore.
A surviving spouse can receive lifetime coverage. If they share children with the deceased, the payments will get equally divided between the spouse and children.
If the surviving spouse gets remarried, they'll receive two years of payments as a lump sum. If there are dependent children eligible for coverage, they'll receive equal amounts of the remaining benefits.
Children can receive benefit payments until they turn 18 years old or 25 years old if they're attending a university or college. If there's more than one surviving dependent child, the coverage gets distributed equally.
Disabled children will receive benefit payments until they die or recover from their disability.
Grandchildren can collect payments until they reach the age of 18 as long as they were at least 20% dependent on the deceased grandparent.
There's also reimbursement for the individual who paid for the cost of burial services. You must submit copies of all bills to the workers' compensation insurance company within twelve months of the death.
Contact Gibson Hill Personal Injury
If you sustained injuries while working in an oil field and need help pursuing workers' compensation benefits, call us today. Our legal team will work hard to ensure the insurance company treats you fairly throughout the legal process. We'll protect your rights to the maximum payments you deserve.
To schedule your free consultation with one of our experienced Texas oil field injury lawyers, call (713) 659-4000.