Texas Distracted Driving Truck Accident Attorney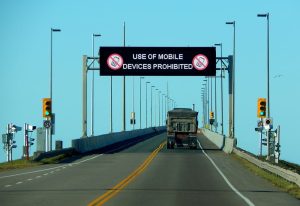 Accidents caused by distracted drivers are a major problem on Texas roads and roads throughout the country. Of those accidents, many involve large semi-trucks where the truck driver was distracted in some way. A study conducted by the Federal Motor Carrier Safety Administration (FMCSA) in 2009 showed that around 71 percent of crashes involving large trucks were the result of the truck driver focusing on tasks other than driving the semi. A pervasive problem, to say the least, accidents caused by distracted truck drivers lead to serious damage to other vehicles in accidents, and they can cause catastrophic and fatal injuries to their occupants.
If you suffered a serious injury due to a commercial truck accident caused by a distracted truck driver, you are likely dealing with the costs associated with treatment and therapy along with missed income for having to take time off work to focus on your recovery.
Since the accident was not your fault, you could pursue compensation for your injuries and any other losses you suffered. To increase your chances of success, you should contact Gibson Hill Personal Injury at (713) 659-4000 to schedule a free consultation with one of our experienced Texas truck accident attorneys.
Truck Driver Distraction
According to the FMCSA, driver distraction occurs when a driver's attention is diverted from operating their motor vehicle safely. Although many people regard cellphone use and texting as the only forms of driver distraction, the use of mobile technology behind the wheel is only one aspect. In fact, drivers can be distracted by things inside the vehicle as well as outside, and any distraction can lead to an accident.
Internal driver distractions include things like cellphone use, eating and drinking, adjusting the radio, and even talking with someone in the car. From the outside, drivers can be distracted by billboards, buildings and structures, pedestrians, other vehicles, vehicle accidents, and even the surrounding landscape.
While truck drivers can be distracted by any of the diversions that distract passenger car drivers, truck drivers also have other items in their cabs that may require their attention, and the rig itself is usually pulling a large trailer and/or carrying a load that the driver must also keep an eye on.
The instrument panels of most truck cabs contain far more gauges, lights, and knobs than a regular passenger car. Furthermore, truck drivers have radios and other communication devices to keep in touch with their employers and clients, and they must also use GPS, maps, and other methods to plan their routes and find their destinations.
Types of Distractions
The following are some of the most common causes of distraction for commercial truck drivers:
Texting and using phones and other mobile technology – Texas and almost every other state have laws banning texting while driving. Those who hold CMV licenses, such as commercial truck drivers, are also prohibited from texting while driving, and they are greatly restricted in their use of mobile technology behind the wheel. They are not allowed to dial a handheld phone, and they can only use hands-free technology when the phone is close by. They are also not supposed to reach around and try to retrieve a phone or other item if it takes their eyes off the road.
Using dispatch devices – Unlike the drivers of most other passenger vehicles on the road, truck drivers are literally driving for a living, and they must communicate with their employers and dispatchers, other carriers and truck drivers, their clients, and more. In order to facilitate this communication, most truck drivers use so-called "portable data terminals" or other mobile devices. While they are convenient and often necessary, using the device while driving diverts the driver's physical and mental concentration to something other than the traffic ahead. Drivers should only use the technology when safely parked. If not, they can cause a serious and even fatal accident on the highway.
Maps and GPS – Obviously, truck drivers need to know where they are going so that they can deliver their cargo. Many times, they plan their routes before getting on the road, but any number of issues can arise during the trip that affects their plan. Understandably, a truck driver may need to look at a map or re-enter a destination into GPS. However, they should not do so while also driving at the same time. They should pull to a safe area or onto the shoulder and resume their trip only after they have determined a new route.
Paperwork – Whether they are owners/operators of the truck, a contracted carrier, or an employee of a trucking company, virtually all truck drivers have to deal with paperwork. From various forms and regulatory documentation to contracts, invoices, and other items they must read, sign, and fill out, truck drivers typically have a lot of paperwork associated with their deliveries and business. While it's important that they complete and turn in the documentation properly, they should reserve those tasks for times they are not traveling on the roads.
While all distracted drivers increase the likelihood of accidents on the road, crashes caused by distracted truck drivers hold the potential for causing horrendous and deadly collisions that may involve multiple vehicles.
The average fully loaded semi weighs around 80,000 pounds, and most passenger cars only weigh around 4,000 pounds. Not only that, but a tractor-trailer is also likely carrying a load that itself can cause even more devastation should the cargo come loose and strike other vehicles or bystanders at the accident scene.
Let Us Help You After a Distracted Truck Driver Caused Your Injuries
Here at Gibson Hill Personal Injury, our nationally ranked personal injury attorneys, Ty Gibson and Brett M. Hill, have been fighting for the rights of innocent victims of distracted truck driver accidents since 2013. During that time, we have recovered millions in compensation for our clients, and our lawyers have received designation from our peers as among the top in the country.
Contact us today at (713) 659-4000 or through our firm's contact page for your free consultation about the injuries and losses you suffered in a truck accident caused by a distracted truck driver. We'll discuss your case and advise you about your legal options for pursuing compensation.