Texas Head-On Truck Accident Injury Lawyers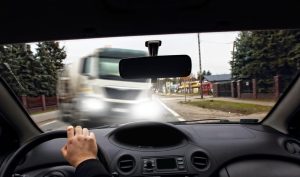 When you've been injured in a crash with a commercial truck that wasn't your fault, you might be eligible for compensation from the at-fault party. You are probably dealing with your pain and the medical costs associated with your treatment, and you are concerned with how you can make ends meet now with the additional expenses, especially since you have had to take time off of work to recover.
Unfortunately, head-on collisions involving semi-trucks and other large commercial vehicles happen all too often throughout the United States. Many of these accidents cause catastrophic or fatal injuries to victims in smaller passenger vehicles simply due to the truck's large size and heavy weight.
Our Texas truck accident attorneys have obtained substantial compensation for injured victims and their families. We understand the complexities involved with negligent truck accident claims, and we will fight tirelessly to help you get the full amount of damages you need.
If you were hurt in a head-on collision with a tractor-trailer caused by someone else, you could contact Gibson Hill Personal Injury at (713) 659-4000 for a free consultation to discuss your options for obtaining compensation.
What Is a Head-On Truck Accident?
Merriam-Webster defines a head-on collision as "a crash of two vehicles that are moving directly toward each other." The collision itself can occur in the dead center of each vehicle's front or slightly off-center, affecting mostly one side of the front of the vehicles. Regardless, these types of collisions can be especially devastating to the vehicles' occupants because of the sudden and complete stop of the vehicle that may have been traveling at or close to highway speeds.
While head-on collisions are devastating between two passenger vehicles, the devastation to a passenger vehicle is significantly increased in a head-on collision with a large commercial truck.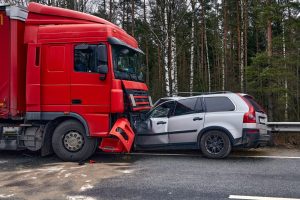 A fully loaded semi can weigh up to 80,000 pounds, according to JD Power, and most regular passenger vehicles only weigh around 4,000-6,000 pounds. Just the semi-truck cab itself can weigh up to 25,000 pounds, and an unloaded trailer alone can weigh around 10,000 pounds. So even if the truck is not carrying a load but pulling a trailer, it can still weigh about 35,000 pounds.
Not only that, but a tractor-trailer does not have the ability to maneuver quickly to avoid a collision and traveling at highway speeds, a truck can require the length of two football fields (or about 600 feet) to stop. A regular passenger car under similar conditions can stop in half that length.
Causes of Head-On Truck Accidents
For the most part, the reasons for head-on collisions involving commercial trucks and cars are the same as the reasons for many head-on collisions between passenger vehicles. Some of the causes of head-on collisions with commercial trucks include the following:
Injuries Caused by Head-On Truck Collisions
All types of head-on motor vehicle accidents can cause serious injuries, but injuries sustained in head-on collisions involving commercial trucks can be especially devastating. Not only can a semi weigh 80,000 pounds, but if it is carrying a load on its trailer, that material can come loose and contribute to the damage as well, since it can be thrown forward after a sudden stop.
The occupants of passenger vehicles can suffer catastrophic injuries in a head-on crash that could include:
Paralysis
Whiplash
Broken bones
Head and neck injuries
Spinal cord injuries
Internal injuries
Lacerations
Burns
Road rash
Facial and dental injuries
Limb loss
Contact Gibson Hill Personal Injury Today for Help
The Texas truck accident attorneys of Gibson Hill Personal Injury are here for you following a head-on collision with a large, commercial truck that wasn't your fault. Our attorneys have years of experience dealing with these types of complex personal injury claims, and have helped many accident injury victims obtain the compensation they deserve. To speak with us at no cost, you can contact us at (713) 659-4000 or schedule a consultation through our website's contact page.