Texas T-Bone Truck Accident Lawyers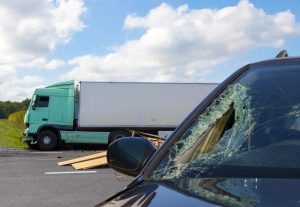 There are few things in life more terrifying than seeing an 80,000-pound tractor-trailer barreling towards the side of your vehicle when you are helpless to stop it or get out of the way. Imagine the destruction such a large truck could have on the typical car, which currently averages just 4,166 pounds, according to the U.S. Environmental Protection Agency. Sadly, some people do not have to imagine this scenario. They have experienced it or seen it happen to a loved one, and they are now suffering the consequences.
If you or a loved one were involved in a T-bone accident with a large truck that wasn't your fault, you should not have to suffer because of this terrible collision. The experienced Texas truck accident attorneys at Gibson Hill Personal Injury have helped countless clients with chilling stories just like this to recover financially from devastating T-bone accidents.
Our team of knowledgeable Texas truck accident lawyers understands the legal complexities involved in T-bone truck accidents and the repercussions for your health, occupation, family, and future. We will listen to you and learn all the details of your accident, investigate your case for evidence of liability, and pursue the responsible party so that you receive the compensation you need to recover.
Do not wait another day wondering how you will put your life back together after a T-bone truck accident. Call Gibson Hill Personal Injury today at (713) 659-4000 or contact us online for a free consultation about your case.
What Is a T-Bone Accident?
A T-bone accident occurs when one vehicle collides with the side of another vehicle, forming a "T" shape. It is also referred to as a side-impact collision.
T-bone accidents can be dangerous for the occupants in the car that is side-impacted because there is little structure to protect them from the colliding vehicle. As of 2014, the vast majority of new passenger vehicles must incorporate some side-impact protection, often in the form of airbags, according to the Insurance Institute for Highway Safety. Even with this safety measure in place, that still leaves a lot of cars on the road without any protection from T-bone accidents.
If your vehicle has side airbags, they typically deploy within the first ten to 20 milliseconds of a side impact to protect your head and chest from striking the side of your vehicle or intruding objects, such as the other vehicle. The head-protecting side airbag is especially important because, in a T-bone accident, it may be the only thing protecting your head from the colliding vehicle.
What Happens in T-Bone Truck Accidents?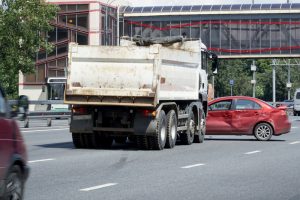 T-bone accidents can happen between all types of vehicles, but they are particularly devastating when they occur between a large tractor-trailer and a passenger vehicle, especially a small car. First, the average tractor-trailer is 20 times heavier than the average passenger car. That disparity in size can be incredibly dangerous to the occupants of a passenger car. Second, tractor-trailers are usually carrying large loads, which can either become detached from the cab after a collision or fling debris across the highway, causing significant road hazards to surrounding vehicles in the wake of the accident.
If you or a loved one were injured in a t-bone truck accident that was not your fault, you may be eligible to file a personal injury lawsuit. Our lawyers are empathetic and dedicated to aggressively defending their clients' interests. Our goal is to help you get the maximum compensation possible so that you can recover from your injuries and get back on your feet. Contact Gibson Hill Personal Injury immediately to discuss your case.
Why Do T-Bone Accidents Happen?
T-bone accidents are almost always caused by someone or something failing to act properly. Here are some of the common reasons why T-bone accidents happen:
Problems with the driver, such as driving while distracted, driving under the influence of drugs or alcohol, falling asleep, driving at unsafe speeds, running through stop signs or traffic lights, or failing to perform proper maintenance on their truck
Problems with the truck, such as defective brakes or a blown-out tire
Problems with the road, such as wet or icy conditions from inclement weather, broken traffic lights, or missing traffic signs
What Should You Do After a T-Bone Truck Accident?
If you are involved in a T-bone accident with a tractor-trailer, there are certain steps that are important to follow:
Contact a T-Bone Truck Accident Lawyer Today
If you or a loved one were involved in a T-bone accident with a tractor-trailer in Texas, you need an experienced Texas truck accident attorney on your side. The lawyers at Gibson Hill Personal Injury will fight for your rights, interests, and well-being. We understand how destructive and distressing T-bone accidents can be because we've helped clients just like you to get through them. We're ready to help you, too. Call Gibson Hill Personal Injury today at (713) 659-4000 or fill in the online form to begin the process with a free consultation.