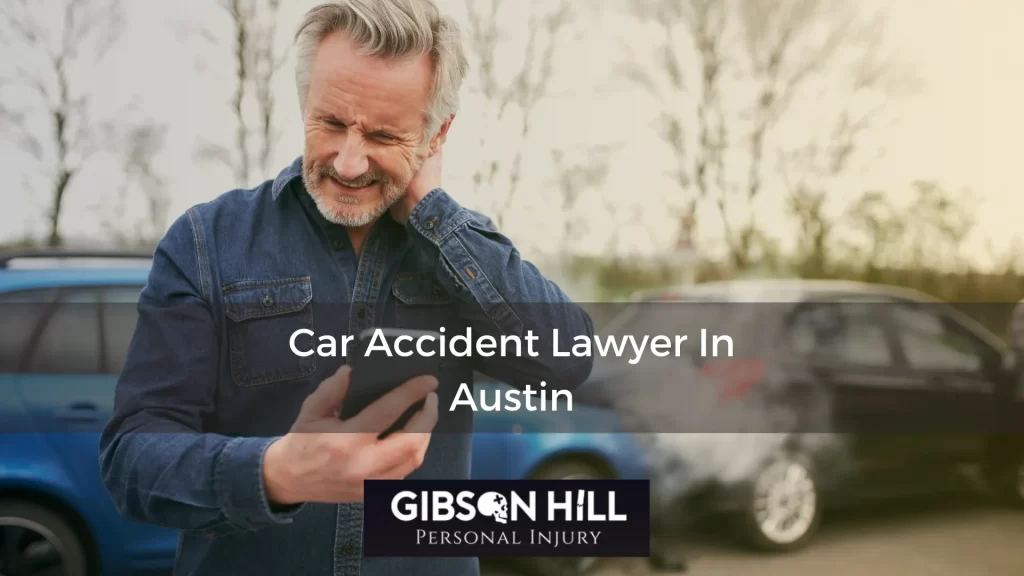 Were you or a loved one seriously injured in an auto accident? If so, you may be entitled to compensation. Car accidents can cause catastrophic damage, far-reaching injuries, and emotional trauma. At Gibson Hill Personal Injury, we can help you obtain the compensation and justice you deserve from the responsible driver.
Many drivers fail to follow the rules of the road and can cause devastating accidents. These accidents can create life-long injuries, lost income, and financial hardship, anxiety, and more. All of this can be made even more stressful if a negligent or reckless driver caused the accident. Car accidents are frighteningly common and can happen to anyone at any time. If you or a loved one has been injured in this way, we are here to help.
At Gibson Hill Personal Injury, we are dedicated to serving Texans and have a passion for justice. Our firm has the powerful resources to take on any case and can help ensure that you have the most favorable outcome possible after your accident. Our team gives you and your loved ones the personal attention needed to get your life back on track with peace of mind knowing your case is being handled properly. If you or a loved one has been injured in a car accident in Austin, call us today at (737) 249-6300 or reach out to us online to schedule a case review with our compassionate team of Austin personal injury attorneys.
Do I Need a Lawyer After a Car Accident in Austin?
When a negligent or reckless driver gets behind the wheel, there can be catastrophic and even fatal consequences. For the victim, recovering from a car accident can become a full-time job, especially if the injuries are severe. Emotional and mental stress can also take its toll because car accidents can be incredibly traumatic. On top of all of this, you may have unpaid medical bills piling up when you're out of work due to the care required after your injury. Hiring a personal injury attorney can help you through these issues.
While you focus on your recovery, a car accident lawyer can build a case on your behalf to help you gain the compensation you deserve. No amount of money can make up for the pain and suffering you have dealt with after your accident, especially if you have tragically lost a loved one. However, financial compensation is an important part of our legal system and can help you mitigate or minimize the post-accident ordeal.
If you or a loved one has been injured in a car accident by a negligent driver, we are here to help. Let our team take on all the legal logistics, gather evidence, file paperwork, meet deadlines, negotiate with insurance companies, and take your case to trial, if necessary. We can do all of the necessary work to help you maximize your compensation, so you and your loved ones can focus on resuming a normal life.
Why Should I Choose Gibson Hill Personal Injury to Handle My Case?
Choosing the appropriate law firm is a deeply personal process. The immediate aftermath of a car accident can be incredibly nerve-wracking. At Gibson Hill Personal Injury, we understand that stress and your pain. We take delivering justice for all Texans very seriously. We are committed to holding at-fault drivers responsible for their actions. You and your loved ones should not suffer financial hardship after being injured in a car accident. Our team-oriented approach can allow you to focus on your recovery while we handle the insurance companies, defense lawyers, courts, and other aspects of the often-complicated process. We have the skills and resources necessary to help deliver you maximum compensation for your injuries.
Our team will never accept anything less than full and fair compensation for our clients. We won't take the easy way out and go for a quick settlement like some other firms. Our goal is to advocate for you and your needs, which means making sure you have adequate compensation to cover your injuries and expenses. Our team understands the pain you are going through, and we are here to help. We will work tirelessly on your behalf to seek the compensation you require. We care deeply about all of our clients and will treat you and your case with the care and respect you need and deserve.
What You Do After A Car Accident Is Crucial to Your Case
The best way to protect your rights after a car accident is to hire an experienced Austin car accident lawyer from Gibson Hill Personal Injury. You should also seek immediate medical care. Medical records are vital in car accident cases and could prove someone else was at fault for your injuries.
You must attend all doctor's appointments while you're recovering from your injuries. If you skip any or allow too much time to pass in between, the insurance company could use that as evidence that your injury doesn't exist or isn't serious enough to require ongoing treatment.
The doctor might recommend that you follow up with a specialty provider, undergo imaging tests, or get surgery. Follow their orders exactly until they release you from their care.
They will decide you're finished with treatment if you make a full recovery or reach maximum medical improvement (MMI). MMI means additional medical intervention won't improve your condition any further. At that point, your doctor could recommend physical therapy, chiropractic adjustments, and other treatment plans to manage ongoing pain or impairments you have. We could request an estimate from the doctor for the cost of any future treatment to determine how much of a settlement we should demand from the insurance company.
Sufficient evidence could mean the difference between recovering the maximum settlement amount and a denied claim. Don't throw out any documentation you receive that's associated with your case. We can request copies of all your medical records and locate other evidence to prove your injuries and the losses you incurred.
Compensation You Could Seek In Austin
Accident victims typically suffer a range of physical, emotional, and financial losses. The monetary value of your past and future losses could determine how much compensation it is possible for you to recover from the at-fault party or their insurance company.
Texas requires all drivers to purchase auto insurance with minimum liability limits. These limits are meant to cover the injured party's losses after an accident. The minimum required liability limits are:
Bodily injury per person – $30,000
Bodily injury per accident – $60,000
Property damage – $25,000
Depending on the coverage listed on the other motorist's policy, you could end up with an adequate settlement amount that compensates for your total losses, such as:
Medical bills
Disfigurement
Lost wages or earning capacity
Property damage
Pain and suffering
Physical impairment
Mental anguish
Out of pocket expenses
Unfortunately, not all drivers have auto insurance. If you discover the driver who hit you didn't purchase liability coverage, you might be able to seek compensation through a UM claim.
Uninsured/underinsured motorist (UM) is optional coverage available on all drivers' insurance policies. It compensates for an injured person's losses when the at-fault driver doesn't have liability coverage or high enough limits. If you purchased UM insurance on your policy, you could file a UM claim.
When you file a UM claim, you could pursue the following losses:
Out of pocket expenses
Medical bills
Property damage
Gibson Hill Personal Injury could review all available insurance policies to determine the coverage and whether it's sufficient to cover your losses. If an insurance settlement isn't adequate, we might be able to file a lawsuit for additional compensation.
Besides various physical and emotional losses, you could also seek punitive damages in a lawsuit. Punitive damages do not compensate for a person's losses. Instead, these damages punish the careless driver for their actions and aim to deter similar misconduct in the future. A jury will only award punitive damages if you can provide clear and convincing evidence that the at-fault party acted with malice, fraud, or gross negligence.
Most Common Types of Car Accidents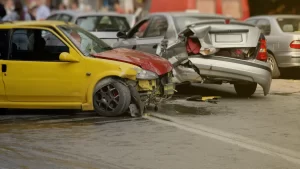 Car accidents can happen at any time of day under various circumstances. Whether you're driving to work, on your way home, or traveling on vacation, you could collide with another vehicle. One minute you're singing along to the radio and enjoying your day; the next minute, you're sitting in the middle of crumpled metal, injured and in pain.
There are numerous different types of car accidents. Head-on collisions are by far one of the most devastating types of crashes and pose a serious risk of death. Rollover accidents and T-bone collisions can also cause significant damage. Depending on the nature and severity of the wreck, severe injuries and fatalities could result.
At Gibson Hill Personal Injury, we handle various car accidents and help injured victims recover the maximum financial compensation they deserve. Whether you suffered minor or life-threatening harm, you can depend on us to advocate for your rights and fight for the justice you deserve. We'll ensure the at-fault driver is held accountable for their careless actions.
The most common types of car accident collisions include:
Car/mechanical defects: Vehicles contain various moving parts and systems that must work correctly so the driver can operate their vehicle safely. However, when something becomes damaged or defective, the driver can lose control of their car, resulting in an accident.
Diagonal parking accidents: Collisions in parking lots are usually at low speeds; however, they can involve pedestrians. A driver who backs out of a space without looking can cause severe injuries to a person walking by.
Distracted driving accidents: Distractions can take many forms, such as texting, looking at a passenger, daydreaming, and reaching for an item. Anything that takes someone's attention, eyes, or hands away from the task of driving is a form of distracted driving.
Drunk driving accidents: Anyone who gets behind the wheel of a car after consuming alcohol significantly increases the chance of an accident. It's irresponsible and illegal.
Head-on collisions: When the front ends of two cars collide, that's known as a head-on collision. They're often fatal if speeding is a factor. Motorists who aren't paying attention to the road ahead might not realize they're driving into oncoming traffic and can cause a head-on collision.
Hit-and-run accidents: Leaving the scene of an accident is illegal. When it comes to hit-and-runs, we'll work hard to prove fault and track down the liable driver.
Intersection accidents: These types of motor vehicle crashes happen near or in the middle of intersections. Typically, motorists don't check for oncoming traffic or think they have the right of way and cause an accident with other vehicles.
Left-turn accidents: Many left-turn collisions are the result of a driver who cuts off someone else. They're either not paying attention or believe they have adequate time to make the turn. A person turning left must have a green arrow or proceed only when they have enough time to make the turn safely.
Multi-vehicle accidents: When more than two cars are involved in a crash, that's a multi-vehicle accident. It's also referred to as a pile-up. Under these circumstances, multiple drivers and passengers sustain injuries.
Rear-end collisions: This is the result of one car colliding with the back of another. Common causes are tailgating, distracted driving, and slippery roads.
Rollover accidents: These types of accidents can be particularly violent. Vehicles with a high center of gravity are more likely to roll; however, any car could end up in a rollover crash. Many times, speeding is involved.
Single-vehicle accidents: This occurs when there's only one car involved in the crash. Most of these accidents are the result of road defects, adverse weather conditions, and driver error. Some people roll their vehicles or run off the road, trying to avoid a pedestrian or hazard.
Speeding accidents: Driving above the speed limit or too fast for conditions is dangerous. It's necessary to drive safely and slow down if there's inclement weather, hazardous roadways, or traffic congestion.
T-bone collisions: Also known as a side-impact collision, T-bone accidents occur when one vehicle crashes into the side of another. These typically happen in intersections when one driver fails to yield the right of way or runs a red light or stop sign.
Work zone accidents: When there's construction, traffic cones, barriers, and warning signs redirect traffic safely around it. However, there are times when construction workers don't take the necessary precautions to prevent drivers from harm. This type of accident is most common at night when it's difficult to see the designated work zone.
Injuries You Could Sustain In A Car Accident
Crashes involving multiple vehicles can lead to devastating injuries, fatalities, and property damage. You could suffer long-term effects of an injury that doesn't heal properly or end up with a mental or physical disability.
Common injuries associated with car accidents are:
Internal bleeding – Substantial trauma to internal organs, major arteries, and other body parts can cause bleeding. It's life-threatening without immediate medical care.
Broken bones – Broken and fractured bones are common in car crashes. You could become pinned in the vehicle, leading to significant crush injuries.
Burns – Explosions and fires after a collision can lead to burns. If the damage is severe, you might require a skin graft.
Spinal cord injuries – Injuries to the spinal cord could result in paralysis or limited mobility. Permanent disabilities are a common result of this type of injury, requiring daily assistance completing routine tasks.
Brain injuries – Concussion, traumatic brain injury, and other brain trauma can occur from the violent impact between two vehicles in an accident.
Neck and back injuries – Whiplash is common in many car accidents. It happens when there's a rapid movement of the neck forward and backward. It can lead to muscle strain, nerve damage, and permanent medical issues.
Post-traumatic stress disorder – PTSD and other psychological injuries could result. The victim might fear getting into another car or suffer extreme anxiety when thinking about what happened to them.
Chronic pain – Injuries that don't heal can cause ongoing pain that a person must live with for the rest of their life.
Death could also occur in a car accident. According to statistics gathered by the National Safety Council, 38,800 people died in car accidents in 2019. Fatalities can result from the impact of the crash or injuries that aren't immediately tended to by a doctor. If you sustained any of these injuries, you must seek immediate treatment and speak with Gibson Hill Personal Injury about your legal options.
Gibson Hill Personal Injury Provides Quality Representation Without Upfront Fees
Our Austin car accident lawyers take all cases on a contingency fee basis. That means you don't have to pay upfront fees or costs for a dependable and experienced attorney to represent you. We don't collect any legal fees unless we win compensation for our clients. If we lose your case, you won't have to pay.
Car Accident Laws In Texas
If a car accident case doesn't reach a fair insurance settlement, you can file a personal injury lawsuit in court. While focusing on your recovery should be your top priority, it is important to know the legal deadline to sue the responsible party or parties. In Texas, the statute of limitations is two years. That means you have up to two years after the date of your accident to file a personal injury lawsuit. However, it is never advisable to wait until the last minute to obtain legal counsel; instead, you should begin the process of retaining a car accident attorney as soon as possible after the incident.
Texas law provides several exceptions that extend the deadline to file a personal injury lawsuit. If the injured party is a minor, the deadline is extended to two years after the victim turns 18. If the injured person is ruled to be not of sound mind, the deadline is two years after they are judged to be mentally competent.
An additional exception includes a situation where the alleged plaintiff leaves Texas. The period of their absence would not count towards the two-year time limit. These are limited exceptions, and there is no guarantee that a court will be willing to hear your case once the statutory two years have elapsed.
Modified comparative negligence, also called proportionate responsibility, could impact the amount of compensation you're entitled to receive. If a jury determines you share blame for the car accident, they could diminish your financial award by your percentage of assigned fault.
For example, let's say your past and future losses add up to $50,000. The jury finds the other driver 80% at fault for speeding, but you were 20% at fault for texting while driving. The total amount of damages is $50,000. However, you would only be allowed $40,000 in compensation in this situation because of your portion of fault for the accident.
Car Accident Frequently Asked Questions
Gibson Hill Personal Injury often meets clients who don't understand their legal rights after a car accident. They have questions about the legal process, state laws, and other relevant information. We answer the most frequently asked questions below:
Is there anything I should avoid doing after a car crash?
Absolutely. Some things could negatively affect your case. You should always avoid the following:
Don't speak to the at-fault driver's insurance company. They could ask you questions to determine if you're partially at fault for the accident or didn't suffer as severe of an injury as you claimed. If you say the wrong thing, they could use that as a basis for denying your claim or providing a low settlement offer. Let your Austin car accident lawyer handle the communications on your behalf to avoid these common pitfalls.
Don't post anything associated with the accident on social media. Insurance companies and defense attorneys might comb through your social media for evidence that disproves your injury. If you claimed you broke your leg but posted a picture of yourself playing soccer, you could lose your case.
Don't admit any degree of fault. Even if you believe your actions were partly responsible for the accident occurring, don't admit it to anyone. Under the proportionate responsibility law, you could end up with lower compensation than you need to cover your losses.
How will you determine the value of my case?
There are multiple factors we might consider while reviewing your case to determine how much money you deserve. They could include:
Type and severity of your injury
Daily life disruptions, such as missed work or canceled vacations
The emotional impact of the crash
Duration of the recovery period
The total cost of medical treatment and other expenses
The estimated cost of necessary future treatment
Amount of evidence proving the other driver was at fault
Insurance coverage limits listed on the policy
How do I request a copy of the crash report?
The Texas Department of Transportation gathers all crash reports associated with car accidents in Texas. Go to their online portal and enter the required information.
Contact Us Today
If you were hurt in a car accident in Austin, know that you are not alone. Forceful legal advocacy is available to you to help you get your life back on track. You may be dealing with injuries or may have tragically lost a loved one due to another driver's misconduct.
We understand that these challenges can be difficult, and our team at Gibson Hill Personal Injury is ready to guide you through your legal journey. We are fully equipped to pursue justice and the financial compensation you need to recover and regain your quality of life.
Call us today at (737) 249-6300 or reach out to us online to schedule a free consultation. You can also take our quiz to find out if you qualify.