Austin Blind Spot Truck Accident Attorneys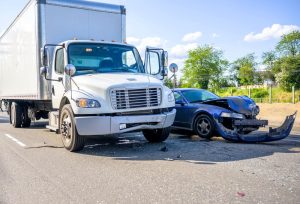 Have you or a loved one suffered injuries in an accident where a truck collided with you while changing lanes? Was your vehicle damaged in an accident caused by a large truck? If you have sustained damages in a collision you believe was caused by a trucker overlooking to check their blind spots, contact an experienced attorney as soon as possible.
Blind spots remain a hazard, despite recent advances in trucking equipment and technology. Even so, truck drivers have a responsibility to remain aware of them. When an accident occurs due to a failure to check blind spots, the truck driver is often liable. If you have been injured in an accident, the Austin truck accident attorneys of Gibson Hill Personal Injury can assist you in filing an insurance claim or a lawsuit to hold the truck driver or their employers responsible. We are ready to fight on your behalf so that you can receive full and fair compensation for the injuries and losses the truck accident has caused.
Contact us today at (737) 249-6300 for a free initial consultation to see how we can help you with your case.
What Is a Blind Spot for a Truck Driver?
Drivers of large commercial vehicles such as semi-trucks tend to have substantial blind spots in the front, back, and sides of the vehicle. A commercial truck's blind spots are:
About 20 feet in front of the truck – Within this 20-foot zone, vehicles that are directly in front of a semi are not visible to the truck's driver.
About 30 feet behind the vehicle's trailer – If another vehicle is less than 30 feet away from the back of the trailer, the driver cannot see it.
Between the driver's side door and the back of the vehicle in the left lane of the truck – Vehicles in the left lane next to the semi but behind the driver's side door are not visible to the driver.
Across the two lanes from the right side of the semi cab – Vehicles that are driving on the truck's right side, from one to two lanes over, may not be visible to the driver.
The areas listed above are often called the "No Zones" because the truck's driver is unable to see vehicles that are in these positions. This lack of visibility increases the risk of collision.
Common Blind Spot Truck Accidents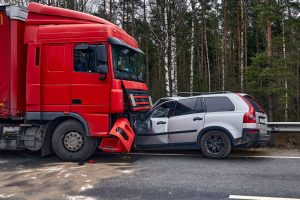 Blind spots are one of the major causes of truck accidents. The legal team at Gibson Hill Personal Injury is equipped to handle all types of blind spot accidents, including:
Lane change and merging accidents – If a trucker is not keeping track of surrounding traffic and fails to check their blind spots, they may attempt to change lanes when another vehicle is present. This can cause sideswipe accidents.
Head-on collisions – A trucker who merges left into other vehicles can end up sending them into a lane of oncoming traffic, which can lead to head-on vehicle collisions.
Override and underride accidents – Override accidents occur when truckers do not see a car and run over the smaller vehicle. If a trucker must stop suddenly and a smaller car is in the trucker's rear blind spot, the smaller car may slide under the trailer. This is called an underride accident.
Why Trucking Blind Spot Accidents Occur
Blind spots do not cause truck accidents in and of themselves. Ultimately, it is the truck driver's responsibility to be aware of the possible presence of vehicles in the No-Zones. Additionally, the truck should have sufficient equipment to assist the driver in maintaining this awareness.
At Gibson Hill Personal Injury, we have seen blind spot truck accidents happen for the following reasons:
A trucker does not have the appropriate training or sufficient qualifications.
The truck does not have appropriate mirrors.
The trucker did not properly align the mirrors to cover the blind spots.
The trucker failed to maintain an awareness of traffic.
The trucker did not check the blind spots in advance of maneuvering the vehicle.
The trucker was distracted.
The trucker was fatigued.
The trucker's judgment was impaired because of an intoxicating substance.
The trucker or the trucking company did not install accident-avoidance technology.
Blind Spot Accident Liability
In theory, drivers can avoid being in the blind spots of semi-trucks. However, this is not as easy as it might seem. It is common for drivers to lack awareness of the extent of the No-Zone areas, and they often do not know how to determine whether they are in one of these zones. Additionally, heavy traffic can make it impossible to keep out of a truck's blind spots because drivers must use all the space that is available to them.
For these reasons, truck drivers are the ones who are ultimately responsible for avoiding blind spot accidents. They should maintain an awareness of traffic, the number of cars on the road with them, and when another vehicle might slip into a blind spot. Truckers should also use their mirrors, as well as advanced video and sensor technology, to diligently check their blind spots before changing lanes, merging, or turning.
Therefore, it is possible that the trucker is liable for injuries that occur due to blind spot accidents. Working with the seasoned truck accident attorneys from Gibson Hill Personal Injury means that you will have someone who can thoroughly investigate the accident. We will collect and analyze all the available evidence to determine the nature and source of the accident. We'll determine what party might be responsible for paying compensation for your injuries.
If the trucker was an employee, it may also be possible to file a claim against the trucking company. Furthermore, if the accident happened because of faulty equipment, the truck's manufacturer or a third-party maintenance vendor might be responsible.
Contact an Austin Truck Accident Attorney Today
If you have been injured in a crash with a truck that was caused by a driver's failure to check their blind spots, Gibson Hill Personal Injury is here to help. Our team of Austin truck accident lawyers has the experience and knowledge necessary to hold the responsible parties accountable. We will make you our priority and will fight hard every step of the way to help you get full and fair compensation you deserve.
Call us today at (737) 249-6300 for a free consultation.