Texas Work Zone Accident Lawyers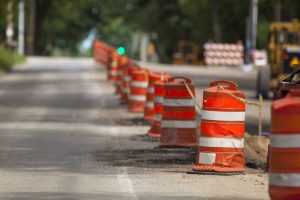 Work zones are one of the most common places where auto accidents occur on the highway. With changing traffic patterns, narrowed lanes, and trucks and construction equipment near moving traffic, work zones pose a substantial risk of crashes. If you were injured in a Texas work zone accident that was caused by another driver's or party's negligence, you deserve to seek financial recovery for your medical bills, lost income, physical and emotional trauma, and reduced quality of life.
Turn to the Texas car accident attorneys of Gibson Hill Personal Injury for a free, no-obligation consultation to talk about your legal rights and options. Call us at (713) 659-4000 or fill out our website contact form today. We will use all our resources to pursue accountability from those at fault for the harm and loss that you have suffered.
What Is a Work Zone Accident?
A work zone accident is an auto accident that takes place within a designated highway work zone, or while approaching or immediately after exiting a work zone. Work zone accidents may also be vehicle crashes that are caused in whole or in part by the traffic controls used to help traffic safely maneuver through a work zone.
Common Causes of Work Zone Accidents
Some of the most frequent causes of work zone accidents in Texas include:
Speeding, including exceeding the lower speed limits typically imposed in work zones
Distracted driving, including texting while driving
Tailgating
Careless or reckless driving, including weaving in and out of traffic or crossing over solid traffic lines in work zones
Driving under the influence of alcohol or drugs
Drowsy or fatigued driving
Laws Governing Work Zone Accidents in Texas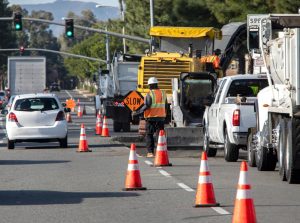 If you have been involved in an auto accident in a work zone in Texas, you should know about certain laws that govern your right to recover compensation from a driver or other party at fault for the crash:
Fault-based insurance. Texas is considered a "fault-based" state for auto accidents. This means that a person who is injured or suffers property damage in an auto accident may pursue a claim for financial compensation from the driver or party at fault for the accident or from their liability insurer.
Comparative negligence. Texas also follows what is known as the comparative negligence or comparative fault rule. This rule says that an injured party who shares some of the blame for the injuries and losses they have incurred is not automatically barred from pursuing a claim for compensation from others who were at fault. The injured party may still pursue a legal claim so long as their share of fault does not exceed the percentage of fault borne by the party or parties they are seeking compensation from. However, any compensation award may be reduced in proportion to the injured party's percentage of fault.
Statute of limitations. Texas law typically gives you only two years from the date of a work zone accident to file a lawsuit against those who caused your injuries and losses. If you file suit after the statute of limitations has expired on your claim, you run the risk of having your claim permanently dismissed. If that happens, you will lose the right to hold those at fault for the accident accountable through the court system.
What Should You Do After a Work Zone Accident?
To give yourself the best chance at recovering compensation for injuries and property damage that you incurred in a work zone accident, you should remember to take the following steps:
Document the accident scene by taking photos of the vehicles and other property damage, traffic controls at the work zone, skid marks on the road, and any visible injuries you may have suffered.
See a physician for a physical exam to get checked out for any injuries you may have sustained. Make sure to follow through on all treatment instructions that your doctors give you.
Keep copies of your bills and invoices of expenses that you incurred due to the accident, as well as records of your usual income if you have to miss work.
Keep a journal to record the pain and distress and physical limitations that you suffer due to your injuries.
Hire a work zone accident attorney to begin investigating your case and preparing your claim to compensation for your injuries and losses.
If you have a work zone auto accident claim, you don't have to face the insurance companies and defense law firms on your own. Turn to the attorneys of Gibson Hill Personal Injury for help with all the aspects of your case, including:
Investigating the accident and obtaining photos, witness statements, and other evidence we can use to build your case.
Working with accident reconstruction experts to review the evidence and identify the party or parties who should be held liable to compensate you for your expenses and losses.
Documenting your injuries and losses by collecting your medical records, bills and invoices, and income statements.
Preparing and filing insurance claims to demand compensation on your behalf.
Aggressively negotiating with insurers to try to reach a settlement that provides you with fair financial recovery.
Fighting on your behalf in court and at trial if necessary to pursue the compensation you need and deserve.
What Compensation Might You Be Entitled to for Work Zone Accident Injuries?
When you were involved in an auto accident in a highway work zone, you may be entitled to recover compensation for the expenses and losses that you incurred due to the accident. In a work zone accident case, you might demand financial recovery from the party or parties at fault for the accident for:
Expenses for medical treatment and rehabilitation, including for hospital stays, surgeries, doctor's appointments, and physical/occupational therapy.
Costs of long-term care services, such as home health services, to help with permanent disabilities you might suffer because of your accident injuries.
Repair bills for your vehicle's damage, or the cash value of your vehicle if it was totaled in the accident.
Loss of wages or income when you miss work during your recovery, or loss of future earning ability if you are permanently disabled from returning to your job.
Pain and emotional suffering.
Loss of quality of life due to disabilities or disfigurement/scarring.
Contact Us Today
Don't put off beginning your claim for compensation for injuries and losses that you suffered in a work zone accident. Call Gibson Hill Personal Injury at [phone-name] today for a free initial case evaluation with a knowledgeable car accident attorney from our legal team. Let us help you understand what to expect during the claims process and how we can offer you the advice and guidance you need through this critical time.