Texas Wrong-Way Crash Lawyers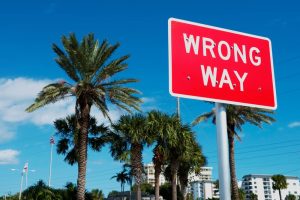 When a motorist drives on the wrong side of the road, everyone's safety is at risk. Wrong-way crashes can result in severe and even fatal injuries. At Gibson Hill Personal Injury, we understand the seriousness of a wrong-way crash. You deserve the opportunity to hold the negligent driver accountable and recover compensation for your hospitalization, physical therapy, and other expenses.
Gibson Hill Personal Injury has represented clients like you since 2013. We are ready to take on the negligent individual responsible for the suffering you were forced to endure. You can depend on our legal team to advocate for your rights and fight by your side for justice. We will provide personalized services to meet your needs and try to achieve your desired outcome.
For a free consultation with one of the wrong-way crash lawyers of Gibson Hill Personal Injury, call (713) 659-4000 today.
Factors Contributing to Wrong Way Car Accidents
A wrong-way accident can happen when a driver travels in the wrong direction on the road and crashes into oncoming vehicles. It is typically the result of driver inattention or error. Whether they're not focused on the task at hand or ignore a one-way traffic sign, they end up in the path of approaching motorists.
The most common causes of wrong-way car accidents include:
Driving under the influence – Drug and alcohol impairment are often factors in wrong-way crashes. When drivers are impaired, they may not realize that they are driving on the wrong side of the road. 
Ignoring traffic signals and signs – Sometimes, a motorist will disobey signs to cut down travel time. Maybe they're in a rush to get to work and proceed in the wrong direction down a one-way street to avoid taking a longer route. This split-second decision could put them on a collision course with fast-approaching traffic.
Unsafe passing – No-passing zones are necessary to prevent drivers from passing each other around sharp turns or on dangerous stretches of road. Unfortunately, navigating around someone in a no-passing zone can put motorists right in the path of oncoming cars. 
Distracted driving – Using the wrong lane isn't the only reason wrong-way collisions occur. Sometimes, distracted driving is to blame. Someone might look at their cell phone, not realizing they're veering into the path of oncoming traffic.
This is not an exhaustive list of causes. If you were involved in a wrong-way accident, do not hesitate to contact Gibson Hill Personal Injury. We will review the circumstances of your case and discuss your legal options with you. Our legal team has the knowledge and resources to investigate the accident, locate crucial evidence to prove liability, document damages you are owed, and aggressively pursue the compensation you are entitled to. 
Common Injuries in Wrong-Way Crashes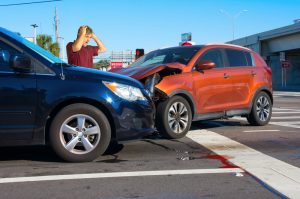 Wrong-way car accidents often result in debilitating injuries and fatalities. Colliding with a vehicle head-on, particularly at high speeds, can be deadly. The most common injuries sustained in wrong-way crashes include:
Significant disfigurement
Traumatic brain injury
Loss of limb
Paralysis
Broken bones
Psychological trauma
Internal bleeding
Permanent disability
Spinal cord damage
Neck and back injuries
Many victims face a long and painful journey to recovery. Recovering from severe injuries often requires expensive medical treatment. Ongoing medical treatment can lead to financial strain and emotional struggles while trying to cope with the aftermath of a catastrophic accident. The negligent driver should be financially responsible for all your expenses if they were solely at fault for the collision.
Possible Compensation for a Wrong-Way Crash
Texas follows a traditional fault system. That means the at-fault motorist becomes liable for the injured party's losses. Since state law requires all drivers to carry auto insurance with liability coverage, you could file a liability claim with the other driver's insurance carrier.
The settlement you receive could compensate for losses suffered as a result of the accident, such as:
Medical expenses
Pain and suffering
Lost wages
Lost earning capacity
Mental anguish
Physical impairment or disfigurement
Loss of household services
Property damage
You could also pursue compensation through a lawsuit. Additionally, you might be entitled to exemplary damages. Exemplary damages are designed to punish the at-fault party for their misconduct. You must show clear and convincing evidence of the defendant's gross negligence, malice, or fraud for a jury to consider this financial award.
Texas Statute of Limitations
A statute of limitations is the timeframe in which you must file a lawsuit against another person. If you want to sue the other motorist for the injuries you suffered in the wrong-way car accident, you must adhere to Texas's two-year statute of limitations. That means you have two years from the crash date to initiate your lawsuit, otherwise, you could lose your right to compensation.
Pursuing a Wrongful Death Case
Sadly, fatalities are common in wrong-way crashes. If you lost your loved one in this type of accident due to another driver's negligence, you could pursue a wrongful death case.
A surviving spouse, child, or parent is eligible to file the lawsuit in court. However, if no one initiates their case within three months of the victim's death, the personal representative of the estate can file suit as long as none of the surviving family members specifically asks them not to.
The compensation sought in a wrongful death lawsuit could compensate for a range of losses, including:
Mental pain and anguish surviving relatives suffered
Lost earning capacity
Loss of love, comfort, society, and companionship
Lost inheritance, including anything the deceased could have saved if they survived
Loss of maintenance, care, support, services, counsel, and advice
Exemplary damages might also be available. However, you must prove your loved one's death was due to the defendant's gross negligence, willful act, or omission.
Contact Us
The Texas wrong way crashes lawyers of Gibson Hill Personal Injury will be there for you every step of the way. You face a challenging legal road, and can count on us to guide you. We will treat you as a priority throughout the entire case to try to reach a favorable outcome.
If you sustained injuries in a wrong-way car accident in Texas, call Gibson Hill Personal Injury at (713) 659-4000 immediately for a free consultation.