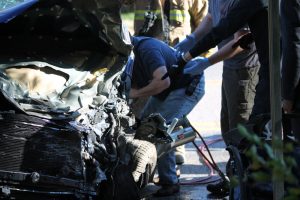 Collisions involving commercial trucks are often incredibly severe, causing catastrophic property damage and serious injuries. They can also be deadly for the occupants of small vehicles. In 2019, only 16% of the 4,119 deaths in these accidents were drivers and passengers of large trucks. However, 67% were the drivers and passengers of small cars.
Truck accidents are in a category of their own. They're destructive, costly, and sometimes fatal. Survivors typically require emergency medical care and ongoing treatment to heal. Many end up with a permanent disability, preventing them from performing their jobs or routine tasks. Below, we'll review some of the most common reasons truck accidents differ from other auto accidents.
If you were injured in a truck accident, contact the truck accident attorneys at Gibson Hill Personal Injury as soon as possible to discuss your case.
Massive Trucks
Tractor-trailers are much larger and heavier than a typical passenger vehicle. Many trucks are up to 60-feet long and can weigh as much as 80,000 pounds with a full cargo load. Even if an accident occurs at low speeds, there's significantly more weight contributing to the force of the impact.
The difference in size between a commercial truck and a passenger vehicle makes extensive damage all the more likely. Whether it's a head-on crash, fender bender, or T-bone collision, the small car could be totaled or require expensive repairs.
Poor Visibility
Large trucks have bigger blind spots than passenger vehicles do. Unlike regular cars, which usually have small blind spots on either side, a commercial truck has blind spots on all four sides. The blind spots are also much larger, making it harder for a trucker to see small cars driving around them.
Truck drivers must thoroughly check their blind spots before turning, merging, or changing lanes. If they don't notice a motorist traveling next to them, they could sideswipe the vehicle when making a lane change.
Life-Threatening Injuries
Property damage isn't the only concern during an accident between a large truck and a small car. The force of the impact in a tractor-trailer collision can cause catastrophic, life-altering injuries.
Common injuries in truck accidents include traumatic brain injuries, broken bones, internal injuries, back and spine injuries, paralysis, whiplash, and more. Unrestrained occupants could even become ejected from the car.
Dangerous Cargo
The initial impact isn't the only thing to worry about during an accident with a large truck. If the truck contains any cargo, loose or unsecured items could fall from the truck. Large items become obstacles for cars traveling behind, sharp objects can become projectiles, and hazardous substances could cause fires and explosions.
Multiple Parties Could Be at Fault
The commercial truck driver isn't the only person you could hold liable for an accident. Although they were driving at the time of the crash, their employer could be just as much to blame for an accident.
Everyone in the truck industry must follow federal regulations and state laws regarding driving hours, vehicle maintenance, cargo securement, and more. If any party violates these standards, they may be liable for any accidents that occur as a result of their negligence.
Since multiple parties could be financially responsible for the victim's resulting injuries and losses, it can be challenging to determine who to file your claim against. Depending on the circumstances of your accident, you could potentially hold the truck driver, truck company, maintenance worker, cargo loaders, and a range of other parties liable.
Higher Expenses
Collisions between two passenger vehicles can lead to severe injuries and costly bills. However, when there's a large truck involved, the resulting expenses are often even higher.
You might need to take time off from work to recover, causing a loss in income. You also have to pay for hospitalization, rehabilitation, prescriptions, and other medical bills. Additional costs include repairs to your damaged car and a rental vehicle.
If you can't afford the expenses you incur following a truck accident, it can lead to financial strain and debt. That's why it is imperative that you consult with an attorney and determine your legal options for pursuing compensation.
Contact Gibson Hill Personal Injury
Gibson Hill Personal Injury has represented Texas truck accident victims since 2013. We have the experience and resources to provide quality legal representation to individuals in need.
You will receive the guidance necessary to help you through this devastating time in your life. We understand the importance of collecting the maximum compensation possible and will work tirelessly to achieve your desired outcome.
If you were involved in an accident with a commercial truck, do not hesitate to contact Gibson Hill Personal Injury. We can meet with you during a free consultation to discuss the circumstances of your case and create a plan to help you hold the negligent party accountable. You can depend on us to advocate for your rights and aggressively pursue the compensation you are entitled to.
Call us at 512-580-8334 today.