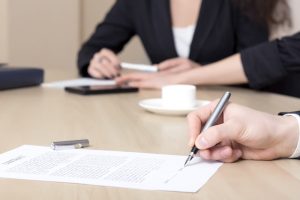 One of the most critical steps in the pre-trial stage of a lawsuit is the deposition. Because this is the first time many people will be face-to-face with a lawyer from the opposing side, the deposition can bring up a lot of nerves and anxiety. Fortunately, working with a skilled personal injury attorney can help you know what to do to feel prepared for the event. They can also give you a good sense of if your deposition went well afterward.
If you were injured in a traffic collision, a slip-and-fall, or a workplace accident, your life may feel overwhelming right now. If someone else's negligence caused the accident, you might file a personal injury lawsuit against the responsible party.
Filing a lawsuit can be complicated, and it isn't something you should do on your own. Having an experienced personal injury lawyer on your side is crucial. This is especially true if your case is heading to court.
What Is a Deposition?
A deposition is a recorded interview that occurs during the pre-trial discovery portion of a civil case. In this interview, a member of the opposing party's legal team will ask you questions about the facts and circumstances of your lawsuit. At the same time, a court reporter will be there to write down the questions and your answers. This question-and-answer session will take place under oath, so you must provide true and correct information to the best of your knowledge.
Related reading: How a Deposition Works
You will receive information about the date, time, and venue in advance of the deposition. Usually, it will occur in a lawyer's office or a neutral setting.
It can feel difficult to know how well your deposition has gone based simply on how the opposing side's attorney conducted themselves. That being said, a few factors can give you confidence that the deposition has gone well.
How You Know Your Deposition Went Well
You Told the Truth
The most important thing to remember about a deposition is that it occurs under oath. This means saying anything untruthful could potentially expose you to charges of perjury. The opposing side's legal team will have researched your situation and will know very easily whether or not you have exaggerated anything or given false testimony. Doing so will make you less credible in the eyes of the court, which can hurt your case immensely.
You Communicated the Facts Clearly
Being under oath can make people feel somewhat nervous, which can easily lead to some degree of forgetfulness. While you can certainly say that you do not remember specific details, it is generally a good idea to be as thoroughly familiar as possible with the facts about the accident, your injury, and your work history.
When it comes to the accident itself, you should be able to recall facts such as:
The time, date, and location
Information about what automobiles or pieces of equipment were involved
Relevant safety, road, and weather conditions
Relevant information from the police report, if there was one
Conditions on the property that caused you to fall, if it was a slip and fall accident
Details about the dog attack, if that was how you were injured
Other information concerning the accident
Furthermore, you should be able to convey the following details about your medical history:
The number of times you went to seek treatment or tests
What types of injuries you were diagnosed with
The amount of money you have spent on medical costs
How your injuries and the associated pain have affected your life
Finally, you should be able to answer questions about your work history for the last 10–15 years and how your injuries have affected your ability to earn a living.
Your Lawyer Gave You Positive Feedback
You are allowed to have your personal injury attorney with you. They will be there to ensure that the opposing lawyer's questions remain relevant to the matter at hand. When they prepare you for your testimony beforehand, they can help you answer the questions in a way that does not lead to you inadvertently admitting fault.
Your attorney will be able to give you an honest assessment of how well the deposition went. They may also be able to tell you whether the interview might have put your case in a stronger position.
Contact an Experienced Texas Personal Injury Attorney Today
If your personal injury case is heading to trial, you need an excellent attorney on your side. Gibson Hill Personal Injury is committed to helping injured Texans recover the full and fair compensation they deserve.
We have skilled personal injury lawyers in Houston and Austin who are ready to help you. Call us today at 512-580-8334 or contact us online for a free consultation.
Keep reading: What Happens After A Deposition