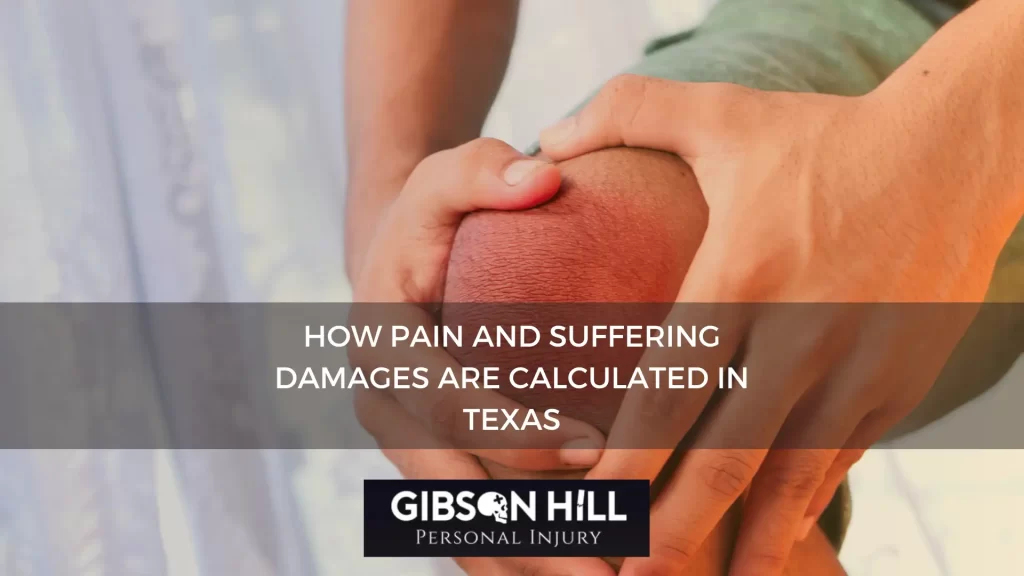 You've been hurt in an accident you didn't cause and hired an experienced Houston personal injury lawyer to handle your case. You hear your attorney asking you about your "pain and suffering" but aren't sure what they mean. How does a personal injury lawyer put a dollar amount on the effect of your changed physical abilities or your pain and trauma?
What Are Pain and Suffering Damages?
Texas law covers the types of damages that personal injury plaintiffs may claim:
Economic damages, or compensation for specific losses, which includes medical bills, property damage, and lost wages
Non-economic damages, or consideration for the effect of the injuries and emotional distress of the accident on your life
Punitive or exemplary damages, which are damages assessed against an exceedingly negligent defendant, malicious, or fraudulent defendant as punishment
It's the middle type, non-economic damages, that provide compensation for your pain and suffering and other intangible losses after an accident.
The most common method of calculating how much money your lawyer should demand for your pain and suffering is the "multiplier" method. After all of the economic damages are totaled, your lawyer will multiply that amount by a number between one and five. They'll use one if your injuries are less severe. If your injuries were devastating, they'd use five. The number that results is the amount they'll include in their settlement demand for your pain and suffering.
Pain and Suffering Settlement Examples
Does your case qualify for non-economic compensation? Probably. If you were physically injured, your injury probably hurts. You may not be able to enjoy the activities you used to, like working out, gaming, or playing with your kids.
Some of the common personal injury cases where a claim for non-economic damages may be warranted include:
Is Pain and Suffering Compensation Taxable?
Texas doesn't levy a state tax on personal injury settlements. Let's turn instead to what the IRS says about federal tax on settlements and non-economic compensation.
Most personal injury settlements are not taxable. That includes compensation for economic losses as well as compensation for non-economic losses. If you're eligible to pursue exemplary damages because of the egregious, malicious, or fraudulent acts of the at-fault party, any compensation that is labeled "exemplary" or "punitive" damages is taxable at the federal level.
How to Prove Pain and Suffering
Your attorney may ask you to keep a journal after the accident. Why? So, they have documentation of how your pain and suffering impact your life. Your journal could log:
Daily pain levels, on a scale of 1-10
Activities you can no longer complete, like personal care or chores
The impact of your injuries on your career
Any mental health problems, like insomnia, trouble eating, or mood changes
In addition, your lawyer may call upon your friends and family to testify about the differences in your abilities now and pre-accident. Your lawyer may rely upon your doctor's medical records to help prove the extent of your post-accident capabilities, and if you are seeing a psychiatrist or psychologist, their testimony could help bolster your case for pain and suffering compensation.
Types of Pain and Suffering
What are some common types of non-economic losses people have in a personal injury case?
Loss of enjoyment of life or inability to enjoy activities you once loved
Mental anguish, including reliving the accident or feeling anxious or depressed
Emotional distress, like the onset of PTSD or situational anxiety as a result of the accident
Our Texas Personal Injury Lawyers Fight for Your Pain and Suffering Compensation
At Gibson Hill Personal Injury, we believe that you deserve full and fair compensation for all the losses you suffered, both tangible and intangible. We have the experience necessary to properly value your claim and fight for the money you need. Contact us today at 512-580-8334 for a free consultation.
Related posts
How Car Accident Settlements Work
Do I Have a Claim If I Was Injured by an Uninsured Driver?