Understanding what happens during and after a deposition can help you feel prepared for the next steps in your case, whether they lead to settlement, mediation, or trial.
Immediately after suffering injuries in an accident, the first stage is dealing with insurance companies. Negotiations with the at-fault party's insurance company will follow if you file a claim for compensation. If you have an excellent personal injury attorney on your side, they will take care of most of these conversations, so you will probably not need to interact with the insurance company at all.
However, if the negotiations do not lead to a settlement offer that fully covers your losses, you and your attorney may choose to take the case to trial with a lawsuit. In this situation, you will need to meet with the opposing side's attorney face-to-face in a deposition.
What Happens During a Deposition?

A deposition is a vital part of the pre-trial discovery process in a civil lawsuit. It is a recorded interview in which the defendant's attorney will ask you questions under
oath about the facts and circumstances of the accident that caused your injuries. It will take place at a specific time and location, and you'll receive advance notice of the event. A court reporter will be in the room to write down the lawyer's questions and your answers.
Because you will be under oath at the deposition, it is vital that you answer the questions truthfully and to the best of your knowledge so that you remain credible. You are allowed to have your attorney there with you, who can ensure that the line of questioning remains relevant to the matter at hand. Furthermore, your attorney can rehearse with you before the deposition to keep you from inadvertently admitting fault while answering the opposing attorney's questions.
Read more: What Happens At A Deposition
What Can I Expect After A Deposition?
After the deposition, the court reporter will create an official transcript which they will submit to the court and the attorneys for both sides. This process may take several weeks. When it is finished, your lawyer can review the transcript and ensure that it accurately reflects what occurred on the day. If necessary, they can make efforts to correct the record.
When your deposition is complete, the defendant's insurance company may also request that you undergo an independent medical examination. In general, they will choose the medical professional who conducts the examination. In advance of this, your lawyer can help you prepare by ensuring you know how to provide the doctor with the necessary information without volunteering irrelevant details that might hurt your case.
Your attorney may continue negotiating with the insurance company when the examination is complete. If the medical examination found further evidence of a correlation between the accident and your injuries, your claim may be more robust.
Read more: How Do You Know If Your Deposition Went Well
Mediation After A Deposition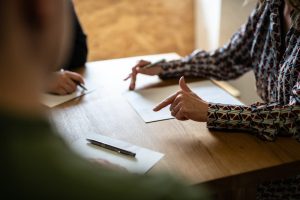 Mediation is an option when the ongoing negotiations between your legal team and the other side have not culminated in a satisfactory settlement. Mediation is a type of Alternative Dispute Resolution conducted by a mediator who is often either a retired judge or a third-party lawyer with significant personal injury experience. The mediator will attempt to help you and the defendant find a way of agreeing to a settlement before a trial is necessary.
While the mediator will offer suggestions about how the two sides can settle, these suggestions are not legally binding. You or the defendant have the right to reject the proposals. In most cases, however, both parties are vested in finding a resolution during mediation to avoid the significant amount of time and money a trial would require.
Read more: When Is Mediation Not A Good Idea
Settlement After A Deposition
A settlement agreement is possible right up to the time the judge or jury decides on a verdict in the case. However, if significant differences remain even after mediation, the only course of action to recover the compensation you are owed may be to argue the case's merits before a judge or jury.
Trial
If further negotiation and mediation efforts fail, you and your attorney may decide to take your case to trial. A good personal injury attorney is one who prepares every case with this option in mind. A personal injury attorney with a strong record of successful trial experience is usually able to pressure insurance companies and defendants to act more justly during the negotiation phase of the case. If they don't, they know the attorney will be ready to try the case in front of a judge.
Contact an Experienced Personal Injury Attorney From Gibson Hill Personal Injury
If you are filing a personal injury case, you must have a skilled and knowledgeable attorney with lots of trial experience on your side. Gibson Hill Personal Injury has personal injury lawyers in Houston and Austin who are committed to fighting for the rights of injured Texans, and are ready to do that for you.
Call us today at 512-580-8334 or contact us online for a free consultation.