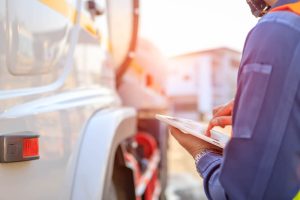 An accident with a commercial truck can cause expensive property damage, catastrophic physical injuries, and even fatalities. If you have been injured in a truck accident, then it is critical to consult with an attorney who will have the resources to conduct a full investigation of the accident. Your attorney will gather crucial evidence to help establish liability. One piece of evidence that could be vital to your case is the truck driver's logbook.
Hours of Service Regulations
The Federal Motor Carrier Safety Administration (FMCSA) regulates the number of hours a truck driver can spend on the road. The hours of service regulations include:
Maximum driving limit – Truckers cannot spend more than eleven hours driving after ten consecutive hours off duty.
Maximum on-duty limit – Truck drivers cannot drive beyond the fourteenth consecutive hour spent on duty after ten hours off duty.
Breaks – Every truck driver must take a thirty-minute break after driving for eight cumulative hours if there hasn't been at least a thirty-minute interruption.
60/70 hour limit – Truckers cannot drive beyond 60 hours in seven days or 70 hours in eight days. The seven or eight-hour period can begin after spending at least 34 consecutive hours off duty.
Sleeper berth – A driver must spend at least ten hours off-duty between shifts. They can split time between at least seven consecutive hours in the sleeper birth and at least two hours of off-duty time whether or not spent in the sleeper birth.
Adverse conditions – If a trucker encounters adverse weather conditions during their driving shift, they can extend the driving limit by two hours. That means the eleven-hour driving limit can increase to thirteen hours, and the fourteen-hour on-duty limit can increase to sixteen hours.
Hours of service regulations and other rules are meant to prevent fatigue and mitigate the risk of an accident. Since operating a commercial truck can be dangerous, the FMCSA aims to ensure truckers get the rest and sleep they need to be at full-functioning capacity. Violating these rules can place the driver and occupants of other vehicles at risk of serious harm.
Information in a Truck Driver's Logbook
The FMCSA requires anyone who operates a commercial motor vehicle that is subject to federal safety regulations to complete a record of duty status using a twenty-four-hour graph grid with the information below:
Month, day, and year of the start of the twenty hours
Total number of hours driven during the period
The vehicle number or license number and licensing state for the truck or tractor-trailer used
Name of the motor carrier
Main office address
Driver's signature
Name of a co-driver, if applicable
Time zone of the home terminal, regardless of crossing time zones during the shift
City, town, or village, and state abbreviation during a change of duty status. Additionally, unusual log entries or circumstances, such as adverse conditions while driving should be listed.
The total number of hours spent off-duty, on breaks, and in the sleeper birth, within twenty-four hours
Shipping document name or shipper name and the contents being hauled
Limited exceptions exempt certain truck drivers from completing a logbook. For example, someone operating within a 150-mile radius might not have to document their driving time under specific circumstances.
Commercial Truck Electronic Logs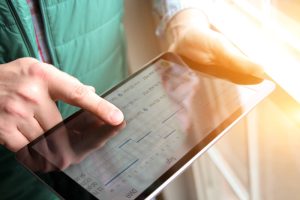 Many commercial vehicles have devices installed to record a driver's traveling hours and additional information electronically. Truck drivers could use the Automatic On-Board Recording Device (AOBRD). This device can record:
Date and time of day
Road speed
Number of miles driven
Engine use
The driver must manually enter other details required by the FMCSA.
An Electronic Logging Device (ELD) is another device motor carriers can install in their trucks. Like the AOBRD, it records information related to the driver's activity while operating a commercial truck.
How a Driver Log Could Help Following a Truck Accident
A truck driver's logbook could prove incredibly useful following a truck accident. Anyone investigating the cause of the crash could review it to determine if the trucker's actions contributed in any way. Maybe they traveled beyond the maximum driving limit or didn't take necessary breaks. You could argue they were fatigued, resulting in impaired driving abilities.
The ELD or AOBRD could also provide crucial evidence during a legal case against the truck driver. If the device shows they were on the road for longer than they should have been or traveled outside the location they were supposed to operate, that would be a violation of the law.
If the paper log or electronic device shows a violation of federal regulations, the truck driver could be held liable for the accident.
Contact Us
If you were involved in an accident with a commercial truck, contact Gibson Hill Personal Injury immediately. We can review the driver log or electronic recording device to determine if fatigue was a factor.
Our team of experienced and dedicated truck accident attorneys will gather all available evidence to prove the truck driver or another negligent party should be financially responsible for your resulting injuries and losses. You can depend on us to fight for the justice and compensation you deserve.
Call us at 512-580-8334 right now for a free consultation.