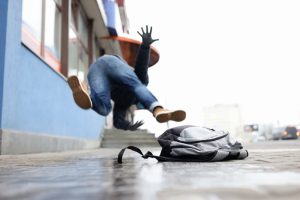 When you go to the store, go to a park, visit the library, or attend a sporting event at an arena, you're not usually thinking that you might get hurt while you're there. Accidents happen, though, and you could slip, fall, and injure yourself while you're on someone else's property. When that happens, if you slipped because of an unsafe condition on the property, you could pursue compensation for your injuries. Play it safe – remain silent and speak to an attorney about your case.
Who Is Responsible?
In Texas, slip and fall injuries belong to the premises liability category of legal actions. The owner of the property is responsible for making sure their property is in a safe condition for people to walk around and use.
For instance, a store owner is responsible for ensuring that floors are clean and clear of debris, that aisles are well-lit, and that staff members follow maintenance schedules so that everything stays clean. In a public area like a grocery store, things are going to fall on the floor now and then. But the owner and employees have a responsibility—in legal terms, a duty—to keep their premises as safe as is reasonably practical.
When You Take a Fall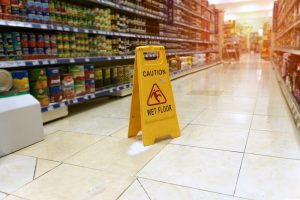 If you do slip and fall because of a hazardous condition on someone else's property, you should seek medical attention. This is always true any time you are injured, even if the fall or injury seems minor. The report your doctor generates will be evidence that you were injured and that your injuries resulted from your fall on someone else's premises.
There are some other things you need to know about slip and fall accidents. After the accident, if you're able, take pictures with your phone (but do NOT post them on social media). If you're not able at the time, have a friend go back shortly thereafter to record the scene of your accident and capture anything that contributed to your fall before management has time to fix the problem.
Take note of the lighting in the area where you fell. Try to get photos of the location before you leave. If it was unusually dark or bright, make a note of it.
If there was anything on the floor or ground besides what you slipped on, take a picture, or make a note of that as well.
Liquids should not be on floors at any time, but sometimes are unavoidable, especially during off-hours when cleaning crews are working. If there are no signs warning of cleaning or wet floors in the area, make a note of the fact.
Be sure to make a report to the property manager about your accident before you leave. Put it in writing and take a copy away with you.
Slipping and falling can be embarrassing, and it's tempting to brush yourself off and hurry back to your car. However, many injuries don't appear right away. Your sore elbow could be sprained, or your bumped head could result in a concussion. Take care of your health first.
What To Do Next
If you have slipped and fallen in a public location, you should contact an attorney. An attorney can advise you on the best way to proceed with your case. Most stores and businesses have security cameras and procedures for reviewing customer injury claims. Under Texas law, if you were less than 51% responsible for your injury, you can recover compensation for your injuries.
Your attorney will find out which insurance company covers the at-fault party's property. They will investigate your accident and gather evidence. Your lawyer will prepare your insurance claim and make sure that everything the insurance company needs to make a determination about your claim is sent to them. Many claims are denied simply because they lacked documentation or other paperwork or were sent in after the deadline. An attorney can ensure your paperwork gets filled out properly and sent in right away.
Your attorney can negotiate with the at-fault party's insurance company on your behalf to obtain an appropriate amount of compensation for your slip and fall-related injuries and losses. If no settlement can be agreed upon, your lawyer can take your case to court to get the money you deserve.
Contact Us
If you've suffered a slip and fall injury and need some legal advice, call the Texas personal injury lawyers of Gibson Hill Personal Injury at 512-580-8334 for a free consultation. We'll review your case and help you get the compensation you deserve. Whether your injury was a minor sprain or a major fall, we'll work with you to get your case resolved.
Our attorneys have the skills and experience to get the job done. Get in touch with us today so we can get started working on your claim right away.