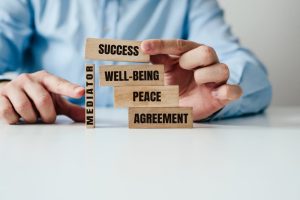 Most personal injury claims are settled through negotiation between an attorney for the injured party and the insurance company of the person at fault. However, if your negotiations have not brought you to a settlement that will cover the losses you have suffered due to the accident, you may have the opportunity to reach a settlement agreement with the other side in a mediation session.
The mediation phase of an injury claim is a process overseen by a neutral third party, often a lawyer or a retired judge, who attempts to help the two parties find an outcome that both sides will find acceptable. If the mediator's attempts are successful and the parties accept the offered recommendations, they can avoid going to court. Both sides generally find this outcome preferable to a trial for many reasons.
However, there may be situations when mediation may not be the best option.
What Are the Benefits of Mediation?
Agreeing to a mediation session has many benefits over going to trial. These include:
Informal communication – A courtroom can be an adversarial environment. The pressure of laying out a case before a judge and jury can add great tension and stress. The informal atmosphere of a mediation session can pave the way for more creative solutions between the parties.
Reduced cost – While mediation is not free, it is usually far cheaper than going to trial.
Saving time – Mediation can often yield the desired result within a day, whereas trials can take several months or even years.
Non-binding – A mediator's suggestions are non-binding, meaning that either party is free to reject them if they feel the proposed solution is not in their best interests.
When Might I Choose to Avoid Mediation?
While these benefits might be strong enough to convince most plaintiffs that mediation offers a positive way forward, there are some circumstances where the process may not be suitable in a personal injury case. These include:
No suitable mediator – For a mediation to be successful, the mediator overseeing the session must have the experience and impartiality that can allow them to guide the process in a way that is fair and profitable for both sides. If you cannot agree on a suitable mediator with the other side, mediation may not be an appropriate option in your case.
Bad-faith operators – Insurance adjusters' jobs are to try to avoid paying out large sums of money. Nonetheless, they are required to operate in good faith and in a reasonable manner when dealing with claims. Sometimes, however, an insurance company may unreasonably refuse your claim, insist that your losses are far less substantial than they are, or try to drag out the process simply to wear you down. If you notice any of these signs of a bad-faith operator, it may not be worth attempting to engage in mediation.
Recklessness or malicious intent – While most accidents are caused by mere negligence, some injuries result from recklessness, maliciousness, or a blatant disregard for human life. If the at-fault party behaved in such a way, you might be eligible to seek punitive damages in addition to compensation for your economic and non-economic losses. A court trial may be the only way to recover those damages in such situations.
How Do I Know?
Knowing whether mediation is a good idea in a given personal injury case is not always easy. For this reason, you should have an experienced personal injury attorney who can guide you through the process. A good lawyer will be able to see the signs that mediation may not be appropriate for your case, and they will be ready and willing to take your case to court if that is the most suitable option.
Read more: How Long Does Mediation Take In A Lawsuit?
Contact Gibson Hill Personal Injury Today
When seeking compensation for accident-related injuries, having an excellent personal injury lawyer on your side can make all the difference in the world. Gibson Hill Personal Injury is dedicated to helping injured Texans recover the full and fair compensation they deserve. We have personal injury lawyers in Houston and Austin who are ready to do the same for you. We promise to treat you compassionately and fight aggressively for your best interests.
Call us today at 512-580-8334 or contact us online for a free consultation. We are ready to get to work for you.