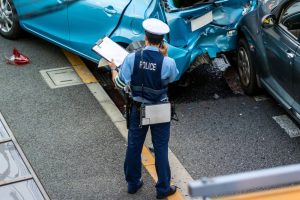 State law determines when a driver in a car crash must report what happened to the police. Typically, you don't have to notify law enforcement if the accident doesn't prevent your vehicle from operating safely and normally. However, if the accident causes someone's injury or death, calling the police after an accident and waiting for them to arrive is a legal requirement.
Regardless of the severity of the accident, you should always call 911 after a car wreck. Even if you don't get hurt or your injury appears minor, informing law enforcement puts the incident on record. A physical report outlining the accident date, people involved, and other relevant details can be helpful if you pursue action against the at-fault motorist.
Here you can learn when and how to report a car accident, the benefits of a police report, and crucial steps to take if someone else causes your injuries in a crash. 
Legal Requirements for Reporting an Accident
In Texas, a vehicle operator involved in a crash that results in death, injury, or damage preventing safe and normal driving of the car must notify one of these parties using the quickest form of communication:
Sheriff's office or the nearest department office if reporting the collision isn't required
Local police department if the accident is in a municipality
Local police department or sheriff's office if the crash occurs no more than 100 feet outside a municipality's limits 
State law also requires motor vehicle drivers in accidents leading to someone's death or injury to follow these steps:
Stop the car immediately at the scene or as close to the scene of the accident as possible
Immediately return if they didn't stop at the scene
Determine whether anyone is involved and if they require medical care
Stay at the scene until all requirements are met 
Fleeing an accident scene without reporting what happened to local law enforcement or following other requirements under state law is a felony. It can lead to a fine and imprisonment if the person who flees is convicted of a hit and run.
The Benefits of Calling the Police After an Accident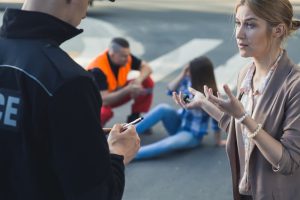 Calling 911 to report a car crash is essential, even if the wreck doesn't cause significant property damage, injuries, or death. Minor fender benders can cause injuries that aren't immediately apparent, like whiplash. You might leave the accident scene believing you don't need medical treatment, only to discover pain and other symptoms days later.
When you report an accident to law enforcement, an officer can investigate the scene, take your statement, and speak to witnesses. They might issue a traffic citation if anyone involved violated a traffic law, such as speeding or driving under the influence. The officer should write a crash report and file it with the Texas Department of Transportation.
The crash report isn't factual evidence in an injury claim. The insurance adjuster might conduct an independent investigation and disagree with the officer's findings. Crash reports contain opinions and observations of an accident.
Seeing a determination of fault written in the report doesn't necessarily mean the insurer will draw the same conclusion and pay your claim. However, submitting a copy of the crash report with other evidence, such as accident scene photos, traffic camera footage, and eyewitness statements, can support your allegations against the other driver. 
How Long Do You Have to Report a Car Accident in Texas?
You must report a car accident immediately, according to state law. However, that leaves the timeframe up for interpretation. There isn't a specific deadline mentioned anywhere in the Texas Transportation Code. The safest option is to call 911 at the scene so the police can write a report promptly after the accident.
Read more: How Long After A Car Accident You Can Claim Injury
Additional Steps You Must Follow After a Car Crash in Texas
There aren't other legal requirements you must comply with after an accident besides notifying law enforcement, checking on others involved, and waiting at the scene for an officer. However, you should take immediate action to build a case against the negligent driver and improve your chances of recovering compensation.
The steps you should take include:
Seek medical treatment after leaving the scene for a diagnosis of your injury. Follow up with all recommended medical providers and attend doctor's appointments until you heal.
Maintain adequate records during your pending claim, such as billing statements, diagnostic tests, physical therapy notes, and other documentation.
Hire a lawyer to represent you. They can file a claim and negotiate a settlement on your behalf.
Contact an Experienced Car Accident Lawyer Today
The Gibson Hill Personal Injury team understands the trauma you endure due to a car wreck. Holding the other driver accountable for their actions can be challenging, especially without legal representation. However, you don't have to face the legal process alone. We are dedicated to protecting the rights of our clients and fighting for the best possible outcome.
If you sustained injuries in an accident due to someone else's negligence, call us at 512-580-8334 for a free consultation with one of our car accident lawyers in Houston or Austin.
Related posts: