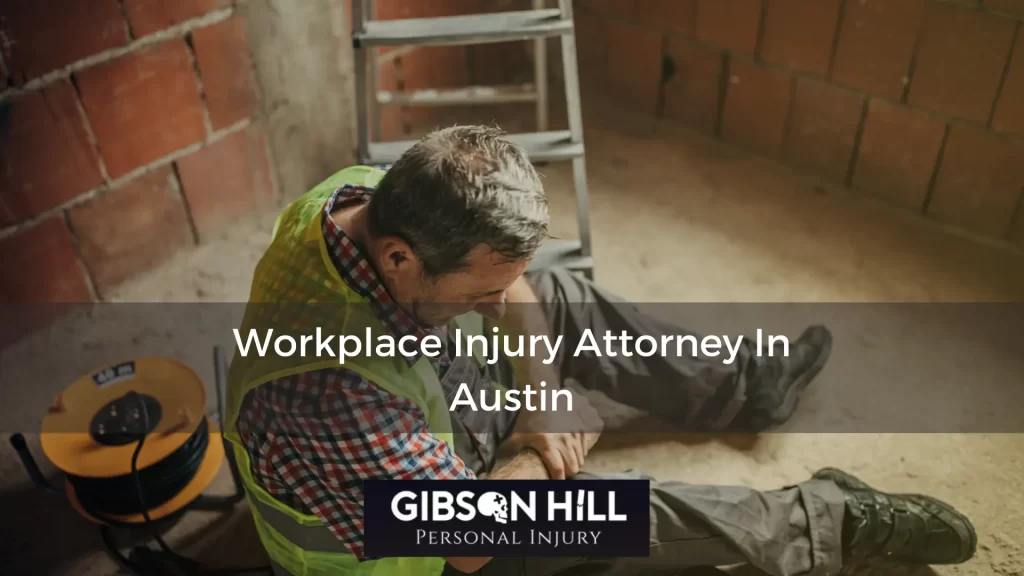 Austin-area residents work in a variety of different industries, and some professions are more dangerous than others. Accidents can occur in any line of work, however, and each one has the potential to lead to severe injuries.
If an accident is job-related, workers in Austin may be eligible to file for workers' compensation to recover a portion of their regular wages and other benefits. If the employer has opted out of the workers' comp system, however, an employee can take that employer to court in a personal injury lawsuit. An employee can also sue a third party that may have caused or contributed to the workplace injuries.
Did you suffer severe injuries, or was your loved one harmed or killed on the job in the greater Austin area? If so, it is essential to obtain guidance from an experienced workplace injury attorney who can determine what compensation you might be owed.
Gibson Hill Personal Injury assists clients with all kinds of injuries who are engaged in many different jobs. Call (737) 249-6300 or contact us online to schedule an appointment for free consultation.
Do I Need A Workplace Injuries Lawyer?
Many workers may assume that they will not need an attorney to file for workers' compensation, assuming their employer participates in this state-regulated system. Some injury victims, however, struggle to get their claims approved, possibly because of paperwork errors, inadequate documentation, missed deadlines, or other issues regarding how injuries occurred.
Among the first actions that a workplace injuries attorney will take after you hire them is to thoroughly investigate the accident to determine the cause and also secure the evidence needed to prove an accident was not your fault. Further, the attorney will seek to determine if another party shared responsibility for your accident.
An experienced workplace injury attorney can sort through the technicalities and determine which insurance coverage or coverages to access on your behalf. The attorney will then take charge of making the appropriate legal filings, thereby relieving you of that responsibility.
Unlike a personal injury claim which often provides a fuller range of money damages, workers' compensation benefits may only provide a fraction of your regular income depending upon the circumstances. There are advantages and disadvantages of both, and again, it depends on whether your employer carries workers' comp coverage.
Another primary reason for turning the matter over to a skilled lawyer concerns potential settlement negotiations with an insurance carrier. An attorney is going to have a far better understanding of the actual value of your claim and will be motivated to see that you recover as much as possible. An Austin workplace injury attorney will also represent you at any agency hearings or court proceedings that may become necessary.
Why Choose Gibson Hill Personal Injury To Handle My Case?
At Gibson Hill Personal Injury, we give every client that we represent an unparalleled level of representation and personal attention, providing regular updates on progress in each case. We make ourselves readily available to answer all of your questions while your case is pending.
Both Ty Gibson and Brett Michael Hill earned their Juris Doctor degrees from South Texas College of Law in 2011. Together, they have more than ten years of combined experience handling a wide variety of injury cases.
Mr. Hill received the Heart of Advocacy award from the South Texas College of Law. He is also a member of the Austin Trial Lawyers Association.
Gibson Hill Personal Injury handles workplace injury cases on a contingency fee basis, so you don't have to worry about upfront legal fees. Instead, you only pay us if you receive a financial award.
Types of Workplace Injury Cases We Handle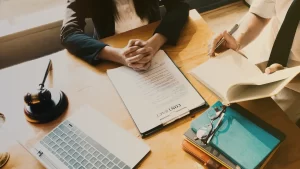 Workers face different dangers, depending on their particular occupation. Some of the most common kinds of workplace or job-related accidents include, but are not limited to, the following:
Motor vehicle accidents
Forklift accidents
Failure to properly train employees
Backhoe accidents
Slip and fall accidents
Crane accidents
Defective equipment
Scaffolding collapses
Failure to provide fall protection
Construction accidents
Explosions
Exposure to toxic substances
Carpal tunnel
Workplace violence
Accidents can cause a wide range of possible injuries. While many people will be able to recover from their injuries and return to work, many others suffer injuries that can have potentially lifelong complications and limitations.
Some of the different kinds of injuries that Gibson Hill Personal Injury handles include:
Lacerations
Traumatic brain injuries (TBIs)
Muscle strains
Spinal cord injuries
Burn injuries
Back or hip injuries
Paralysis
Sprains
Neck injuries
Fractures
Internal organ injuries
Some workers tragically do not survive the injuries they suffer in workplace accidents, particularly in an industrial setting. In such cases, the victim's family could file a wrongful death lawsuit depending upon the facts. Workers' comp also provides death benefits to the families of deceased workers.
Frequently Asked Questions (FAQs) About Workplace Injuries
We understand that you have concerns when you're looking for legal counsel, which is why we've compiled some frequently asked questions about workplace injuries. Review them and call us at (737) 249-6300 today to schedule an appointment to discuss your case in more detail.
What should I do if I am involved in an accident on the job?
Seek medical attention immediately after any workplace accident. This is true even if you do not think you were hurt. Also, use your smartphone to take pictures of the scene of your accident or hazardous condition to preserve evidence that is likely to disappear quickly.
You must also report your accident and your injuries to your employer as soon as possible. If your employer participates in the workers' comp system, you have 30 days to report an injury in writing to that employer. Failure to do so will usually result in you being deemed ineligible for workers' compensation.
An employee must also complete and submit an Employee's Claim for Compensation for a Work-Related Injury or Occupational Disease (DWC Form-041) to the Texas Department of Insurance Division of Workers' Compensation (DWC) within one year of the date of injury.
In a personal injury claim for a workplace injury, i.e., when workers' comp is not implicated, a worker has a maximum of two years to file a lawsuit in Texas court. Given the scope of the evidence gathering that is usually required, waiting until the last minute to seek legal counsel is highly undesirable.
What is a Letter of Clarification (LOC)?
A Letter of Clarification is a document drafted by the DWC and sent to a designated doctor requesting clarification on specific issues contained in a prior report the doctor submitted after examining an injured employee. Either party in a workers' compensation case is entitled under 28 Texas Administrative Code §127.20 to seek clarification on a doctor's report. The parties can only request clarification on issues addressed within a report or issues the doctor was asked but failed to address.
What kinds of wage replacement benefits am I entitled to?
In a workers' comp case, temporary income benefits (TIBs) replace wages a worker loses because of job-related injury or occupational illness. In addition to TIBs, income benefits may include impairment income benefits, supplemental income benefits, or lifetime income benefits. The maximum and minimum benefit amounts are based on the state average weekly wage. Benefits also cover approved medical care, and some employers may require employees to seek treatment from specified doctors. Burial and death benefits are also available for families who have lost a loved one in a job-related fatality.
Austin Workplace Injury Statistics
As reported in an October 2015 Texas Tribune article, the number of serious work-related injuries counted each year represented "undoubtedly only a fraction of the true number," according to the Occupational Safety and Health Administration (OSHA). The agency said less than 40 percent of eligible workers file workers' compensation claims.
According to the Texas Department of Insurance, there were 48,490 nonfatal occupational injuries and illnesses involving days away from work in 2017, which was a decrease from the 51,470 reported in 2016. The median number of days away from work was seven in 2017 after being eight in 2016.
Of the nonfatal occupational injuries and illnesses involving missed workdays in 2017, 12,370 were in goods-producing occupations,1,570 in natural resources and mining, 4,550 being in construction, and 6,250 in manufacturing. Another 36,120 injuries were in service providing, including 17,830 in trade, transportation and utilities, 1,220 in information, 1,510 in financial activities, 3,800 in professional and business services, 5,860 in education and health services, 4,580 in leisure and hospitality, and 1,320 in other services.
The TDI reported that 30,750 victims were males, and 17,620 were females. The employee had been with the employer less than three months in 6,150 cases, three to 11 months in 10,840 cases, one to five years in 18,170 cases, and more than five years in 13,100 cases.
The Bureau of Labor Statistics (BLS) reported that there were 534 fatal occupational injuries in Texas in 2017. These incidents included 73 acts of violence and other injuries by people or animals, 234 transportation accidents, nine fires and explosions, 93 falls, slips, and trips, 49 cases of exposure to harmful substances, and 74 cases of contact with equipment.
Of the fatal injury victims, 441 were wage and salary while 93 were self-employed. Of the victims, 496 were men, and 38 were women. 491 fatalities in private industry included 218 in goods-producing and 273 in service providing.
Contact a Workplace Injury Attorney in Austin Today
If you sustained serious or catastrophic injuries or your loved one was harmed or killed on the job in Austin or the Travis County area, know that you have rights and could be entitled to fair compensation for your losses. Contact Gibson Hill Personal Injury as soon as possible to discuss the specifics of your case.
Our firm can handle all of the legal legwork so you can focus your recovery. We can assess all of your legal options when you call (737) 249-6300 or contact us online to set up a free consultation with our Austin workplace injury attorneys.