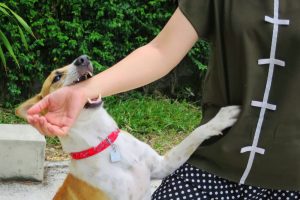 Did you sustain a dog bite injury? Was it due to the dog owner's negligence? If so, contact a dog bite injury lawyer from Gibson Hill Personal Injury in Houston to discuss your case. You might be entitled to compensation.
A dog's teeth are sharp. They can tear through flesh and damage the nerves, tissue, and muscle. Many dog bite victims require stitches and antibiotics to prevent infection. The situation is terrifying and often has long-term psychological effects. Some people develop phobias of dogs or depression from disfiguring wounds. Although pursuing legal action can be overwhelming, you don't have to do it alone. Working with an attorney from Gibson Hill Personal Injury will simplify the process.
Call us at (713) 659-4000 for a free consultation with an experienced Houston dog bite injury lawyer for more information. 
Houston Laws Regarding Dog Attacks and Bite Injuries
In Texas, the one-bite rule allows a dog bite victim to hold the owner liable if the dog bit someone else in the past or acted like it wanted to and the owner knew of the previous conduct.
Recovering compensation from the dog's owner is also allowed if they don't handle their dog as a reasonably prudent person would.
There isn't a statewide leash law in Texas. However, Harris County imposes its own regulation requiring dog owners to keep their dogs restrained in unincorporated areas of the county. Owners are also responsible for their dog's behavior.
Classifications of Dog Bites
According to the Dunbar Bite Scale, dog bites fall under multiple classifications depending on the type of injury and the dog's behavior. The classifications include:
Level 1 – A level one dog bite means the dog acts aggressively but doesn't contact a person's skin with its teeth.
Level 2 – A level two dog bite refers to a dog's teeth contacting the victim's skin but only causing a minor nick on the skin's surface.
Level 3 – A level three dog bite leaves one to four punctures in the victim's skin. The puncture is no deeper than half the length of the dog's canine teeth. There might also be a laceration going in one direction from the victim pulling their hand away or away from the dog.
Level 4 – A level four dog bite results in one to four punctures. At least one is deeper than half the length of the canine teeth. There can be deep bruising around the wound and lacerations in both directions.
Level 5 – A level five dog bite refers to the dog attacking multiple times and causing at least one level four bite or multiple bites, with at least two being level four bites.
Level 6 – A level six dog bite means the dog is extremely dangerous. It mutilates the victim's body, leading to death.
Common Injuries in a Dog Attack
Puncture wounds and minor scratches aren't the only types of injuries a person can sustain during a dog attack. Other injuries that commonly occur include:
Nerve damage
Torn muscle or tissue
Fractured bones in the arms or hands
Wounds and disfigurement of the face
Neck and head injuries
Permanent scarring
Eye injuries
Emotional or psychological trauma
Severe complications such as tetanus or rabies can result from a dog bite.
Tetanus
A toxin-producing bacterium causes tetanus. It is a disease of the nervous system. The most common type is generalized tetanus. It typically causes symptoms that begin at the jaw and move down the body. Symptoms also gradually worsen in a couple of weeks.
The most common symptoms of tetanus include:
Seizures
Fever and sweating
Headache
Painful, stiff muscles
Jaw cramping
Changes in heart rate and blood pressure
Trouble swallowing
Sudden, involuntary muscle spasms
Rabies
Rabies is a virus that can enter a break in someone's skin. Typically, symptoms don't start until weeks later. The virus can cause various symptoms when it reaches the central nervous system, such as:
Sore throat
Muscle pain
Nausea and vomiting
Diarrhea
Fever
Numbness, pain, itching, or burning at the bite wound
Fatigue
Acute neurologic symptoms categorized as paralytic or furious begin as the virus progresses. Paralytic symptoms can include:
Paralysis
Tingling or other strange sensations
Neck stiffness
Headache
Fever
Weakness, especially in the affected body part and spreads to other parts of the body
Coma
Furious symptoms come and go, with calm periods between each episode, such as:
Seizures
Fever
Delirium
Muscle twitching
Fast breathing
Racing heart
Different sized pupils
Hallucinations
Restlessness
Facial paralysis
Excessive salivating
Agitation and aggression
Fear of drinking or water
Compensation Available After a Dog Bite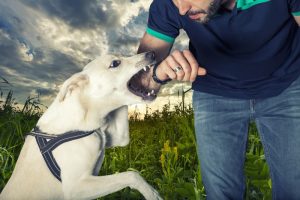 You can hold the dog's owner liable if they are at fault for your injury. You might be able to file a claim with their renter's or homeowner's insurance carrier. However, you should request a copy of the policy to review. Some insurance policies don't cover dog bite injuries or incidents involving specific breeds.
The business or property owner might be liable if the attack occurred on commercial property such as a restaurant or public park. You could file a claim with their liability insurer.
Filing a lawsuit is another option to recover compensation.
Whether you file a claim or lawsuit, the money you receive might compensate you for your:
Mental anguish
Prescriptions, emergency room visits, and other medical bills
Lost wages
Loss of earning capacity
Lost future earnings
Loss of household services
Disability or disfigurement
Time Limit to File a Lawsuit After a Dog Bite
The Texas statute of limitations allows a two-year timeframe to file a lawsuit. That means you must file your lawsuit against the dog's owner or another liable party within two years of sustaining an injury from a dog bite.
Get Started on Your Dog Bite Injury Case Today
You can bring legal action against the negligent party with help from a trusted attorney. The legal team at Gibson Hill Personal Injury is ready to represent you in your case and seek the compensation you deserve. We have a reputation for professional service and aggressive representation that gets results.
If you sustained a dog bite injury due to someone else's negligence, call Gibson Hill Personal Injury at (713) 659-4000 today. One of our skilled and knowledgeable premises liability lawyers that specializes in dog bite cases can discuss the incident with you during a free consultation and advise you on your legal options.
Related reading: