Fire or Explosion Injury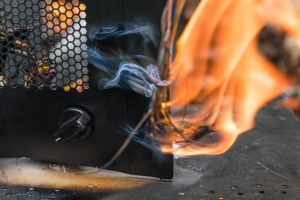 Injuries from fires and explosions can be painful or life-threatening and could result in severe burns or impairments that change your life forever. Building fires and explosions can be caused by gas leaks, faulty wiring, furnaces, clogged chimneys, or defective products. When the explosion or fire was caused by a property owner's error or negligence, one of our premises liability attorneys specializing in fire and explosion injuries could help you seek compensation.
If you were injured in a fire or explosion accident caused by someone else's wrongdoing, contact Gibson Hill Personal Injury in Houston for a free case evaluation and to learn more about your legal options. Call (713) 659-4000.
Common Fire and Explosion Injuries
Fires and explosions can have serious, long-lasting consequences because of the severity of the resulting injuries. Injuries common in fire and explosion cases include:
First, second-, and third-degree burns
Smoke inhalation
Tissue and organ damage
Hearing loss
Vision loss
Blast injuries
Exposure to toxic and hazardous substances
Disability and disfigurement
Fire and Explosion Laws in Houston
For a property owner to be held liable for injuries caused by fires and explosions under premises liability law, the plaintiff must establish the following:
The property owner owed a legal duty to the plaintiff;
There was a breach of that legal duty; and
The breach of legal duty caused injuries and losses to the injured party.
The duty owed depends on the classification of the plaintiff when the injury occurred, which may include:
Licensees: A licensee is someone the property owner gives consent to enter the property. The licensee is on the property for their own purposes, whether it's a social call or a sales call, etc. The property owner has a duty to warn the licensee of any dangerous conditions on the property known to the owner. The owner should make the property safe for visitors.
Invitees: An invitee enters the property with the owner's knowledge and permission. This is common for business owners who allow shoppers onto their property. Invitees are owed the highest level of care because they should be warned of conditions of the property that the owner knows about or should have known about.
Trespassers: A trespasser enters another person's property without authority or permission. The only duty owed to a trespasser is to not cause injury willfully, wantonly, or through gross negligence.
Generally, regardless of the plaintiff's classification, if someone's negligence or failure to warn caused the fire or explosion, they will be held liable for the injuries caused.
Who Is Responsible for Fires and Explosions?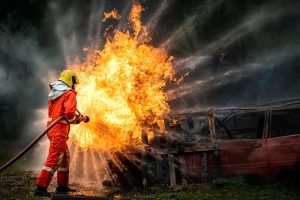 Several parties could be held liable for fire and explosion injuries because the incident could have occurred for various reasons. Cases can be brought against the following potential defendants in fire and explosion lawsuits:
Property owners: If the property owner failed to properly maintain their building or equipment and it caused the fire or explosion, they may be held liable for the losses caused by the fire or explosion.
Neighbors: If your neighbor is engaged in negligent conduct that results in a fire or an explosion that causes injuries or damage to your property, they could be held liable for the losses. For example, if your neighbor is using a barbeque in an enclosed space, causing a fire or explosion, they can be held liable for the losses resulting from the fire or explosion.
Gas and utility companies: Utility companies are responsible for ensuring that their lines are properly maintained, inspected, and repaired. If a gas leak causes an explosion because the utility company failed to inspect, maintain, operate, or repair their utility lines, they could be held liable.
What If My Neighbor's House Caught My House on Fire?
If your neighbor's house catches fire and the fire spreads to your home, your homeowner's insurance policy will cover the damages. However, if your neighbor negligently allowed the fire to spread to your home, they could be liable for the losses caused by their negligence.
Recoverable Compensation for Houston Fire and Explosion Incidents
If you were injured because of a fire or explosion, you might be able to receive compensation through the negligent party's insurance company. In some cases, you might need to file a personal injury lawsuit against the negligent party to recover compensation. Following a fire or an explosion, you may be able to seek compensation to cover the following tangible and intangible losses:
Past and future medical expenses
Reduced earning capacity
Property damage
Mental anguish
The value of your claim will depend on the circumstances of your case and the severity of your injuries. A premises liability lawyer who specializes in fire and explosion cases from our firm can investigate the accident and your losses and assess the value of your case.
Is There a Time Limit for Filing a Premises Liability Lawsuit in Houston?
You have a time limit to file a fire or explosion lawsuit against a negligent party. Texas allows two years from the date of the incident for an injured party to file a fire or explosion lawsuit against the at-fault party. Failing to file a lawsuit within the two-year time frame can limit your ability to recover compensation. In addition, if you file a lawsuit after the statutory deadline has passed, the opposing party will likely ask for a dismissal, which the court will almost always grant. If your case is dismissed, you'll be barred from recovering compensation through the court system.
What to Do After a Fire or Explosion Accident in Houston
After a fire or explosion incident, there are steps that you should take to protect yourself and strengthen your fire and explosion claim against the negligent party. Consider doing the following:
Seek medical attention
Take pictures of the injuries and damage caused to your property
Gather witness information
Contact Our Premises Liability Attorneys in Houston Today
If you were injured in a fire or an explosion, we understand that you might not know what to do next. Our experienced premises liability lawyers know how to investigate and manage fire and explosion cases to get you the compensation you deserve.
Contact Gibson Hill Personal Injury law firm in Houston today by calling us at (713) 659-4000 or contact us online for a free consultation to discuss your legal options.
Related reading: