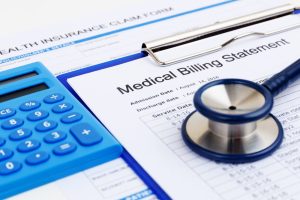 One of the first things people worry about after getting hurt in a car accident is how to pay their medical bills. Many can't afford the upfront costs. It can be overwhelming wondering whether you'll be able to cover the cost of your physical therapy, hospitalization, prescriptions, and other expenses.
Multiple options are available for paying your medical bills after a car crash. The at-fault driver's insurance company could provide a settlement to compensate for the injured party's losses. You might recover the compensation you need to avoid paying out of pocket.
However, settling a claim can take time. The insurance carrier might deny the claim or offer an inadequate settlement. That means you must find other sources to cover your medical expenses to avoid financial strain and debt.
Here we explain the sources you can use to pay your bills, how to hold the other driver financially responsible, and the role your health insurance might play.
Available Options to Pay Medical Bills After an Accident
In Texas, the person who causes a car accident should be liable for the injuries and losses of anyone injured by their conduct. You can file a claim with their liability insurance company for a settlement to cover your medical bills and other accident-related costs.
However, months can pass before you receive a settlement. Insurance companies want to save money by avoiding significant payouts. That means they might deny the claim or reduce the value if they find valid evidence to disprove your injury or dispute liability.
In the meantime, you can turn to your auto insurance and other options such as:
Personal injury protection (PIP) – PIP insurance is mandatory in Texas. However, every insurer must offer at least $2,500 in coverage. If you choose to include it on your policy, it can pay medical expenses, 80% of lost wages, and the cost of replacement services, such as household assistance, up to the policy limit.
Uninsured/underinsured motorist (UM) – UM insurance is optional. Insurance carriers must offer coverage, but you can reject it in writing. It covers medical bills and lost wages if the at-fault driver doesn't have insurance or enough coverage to pay your accident-related expenses.
Collision – Collision insurance can pay for repairing or replacing property damaged in the crash.
Medical payments (MedPay) – MedPay is optional coverage. If you want MedPay, you must request to have it added to your policy. It pays medical bills after a car accident up to the maximum limit.
Medical lien – Some medical providers and facilities will work with accident victims. You can ask for a lien if you have no other way of paying your bills. A medical lien is a legal agreement with a doctor promising to use the proceeds from your claim or lawsuit to pay what you owe so that you don't have to pay upfront for your treatment. 
Compensation for Medical Bills from the Liability Insurer
If you file a third-party claim or lawsuit against the at-fault driver, the money you receive might cover your medical care.
Sometimes, the insurance company realizes liability is obvious, and there is no way to argue against paying the claim. You can use the money you obtain from a settlement to pay more than your medical treatment. A liability insurance settlement might also cover:
Mental anguish
Lost earning capacity
Loss of household services
Physical impairment or disfigurement
Property damage 
Does Health Insurance Cover Car Accidents in Texas?
You can file a claim with your health insurance carrier to cover your medical costs. You might have to pay a deductible or co-pay while treating your injury. Medicare and Medicaid can also cover medical bills.
You must understand how health insurance claims work after car accidents. If someone else is at fault for your injury and you file a claim or lawsuit against them, the health insurance company can demand reimbursement through a subrogation claim. 
A subrogation claim demonstrates that the insurer has a right to receive reimbursement for the payments made for medical care. They can collect a portion of your insurance settlement or financial award from a lawsuit to reimburse them for money they paid on your behalf for your accident-related medical expenses.
Injured in a Car Accident? Call Gibson Hill Personal Injury for Help
Seeking compensation after a car wreck can be complicated and confusing. You shouldn't handle the process alone.
The car accident lawyers of Gibson Hill Personal Injury serve clients from all over Texas. We can explore all sources to cover your medical bills so you can focus on healing instead of worrying about the financial implications of treatment. We have car accident attorneys in Houston and Austin, but we're always just a phone call or message away.
If you sustained injuries in a car accident due to someone else's negligence, call us at 512-580-8334 for a free consultation.
Related posts: