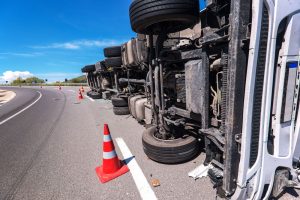 Fatigue can significantly impair a person's driving abilities. It interferes with judgment, reaction time, coordination, and vision. Additionally, a tired driver could fall asleep at the wheel and drift into oncoming traffic.
Fatigued driving is particularly dangerous when it involves a truck driver. Commercial trucks are massive and can weigh up to 80,000 pounds. During a collision, the extra weight exerts an extreme force on passenger cars and the occupants. An accident like this can lead to debilitating injuries and death.
Why Fatigued Driving Is Dangerous
Fatigue affects a driver's cognitive and physical functioning. It can cause a range of symptoms that prevent the driver from operating their commercial truck safely. The most common symptoms include:
Being easily distracted
Slower reaction time
Poor judgment
Inattention
Altered sensory perception
Blurry vision
Trouble noticing or understanding traffic signs and signals
Impaired motor skills and muscle control
Poor decision-making skills
Loss of coordination
Inability to recognize hazards
Loss of consciousness
Driving a commercial truck requires focus and attention at all times. It's a large vehicle that could cause destruction and catastrophic injuries in an accident. Any of these symptoms could cause the truck driver to lose control and crash into a nearby car, bicyclist, or pedestrian.
Common Causes of Fatigued Driving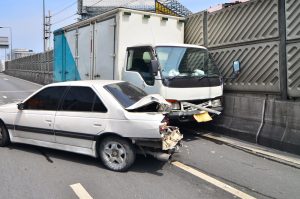 The Federal Motor Carrier Safety Administration (FMCSA) enforces hours of service regulations for truckers to combat fatigue and prevent accidents. These regulations include maximum driving limits, required breaks, and off-duty hours. Although obeying these regulations could help truck drivers get enough sleep and rest when necessary during a driving shift, fatigue can't entirely be prevented.
Truckers must spend ten hours off-duty before a driving shift. In theory, it seems like an excellent solution to avoiding driver fatigue. However, the FMCSA doesn't regulate what truck drivers do during their off-duty hours. A truck driver might have sleep problems, a busy schedule outside of work, or other challenges that prevent them from getting the rest they need to operate a motor vehicle at full-functioning capacity.
Some truck drivers turn to illicit or prescription drugs to stay awake at the wheel. The substances they use to avoid fatigue could end up leading to fatigue and other dangerous symptoms. For example, amphetamines can make a person feel alert but also impair their focus, reflexes, judgment, and other abilities that are necessary to drive.
Trucking companies might pressure their employees to meet delivery deadlines by violating the hours of service regulations. This can result in a truck driver spending more time on the road than their body and mind can handle. After a while, fatigue sets in, and they run the risk of falling asleep or making an error that places other people in harm's way.
If it's not the trucking company's idea, a truck driver might even choose to drive beyond the maximum driving limit to make money. Many aren't paid by the hour. Instead, their paycheck depends on the number of miles they have driven during each shift. If they're struggling financially, they might travel for longer than they should. Delays, such as heavy traffic, construction, or vehicle accidents, might encourage them to spend more time on the road.
How to Handle a Truck Accident if You Suspect Fatigue
It's often a challenge to prove that fatigue is a contributing factor in a truck accident. Evidence of a drunk driver is as simple as obtaining the results of a chemical test. However, showing that fatigue caused an accident is a bit more complicated.
If you suspect the truck driver's fatigue caused the crash, inform the investigating police officer at the scene. You might have noticed the truck drifting off the road or the trucker appearing tired or disoriented.
Law enforcement can't indicate liability on a police report, but they can include any statements made by the involved parties and who they believe was at fault. If you told them you think the accident was due to truck driver fatigue, they might write it in the report with any signs or symptoms you noticed.
Hire a lawyer immediately after the accident. Tell them what you think caused it so they can begin investigating. The trucker's logbook could be a vital piece of evidence in the case. It shows information, such as how many miles they have driven, the number of breaks they have taken, and the total time spent off duty within a twenty-four-hour period.
If the truck driver exceeded the maximum driving hour limit, didn't take necessary breaks, and drove well beyond their travel radius, it could indicate that fatigue played a part in the accident.
Contact Us
If you were in an accident involving a commercial truck and believe it was due to truck driver fatigue, contact Gibson Hill Personal Injury today.
We could help you hold them or the trucking company liable for their actions and pursue the maximum compensation you deserve.
Call us at 512-580-8334 for a free consultation. We are available 24/7 to speak with you.