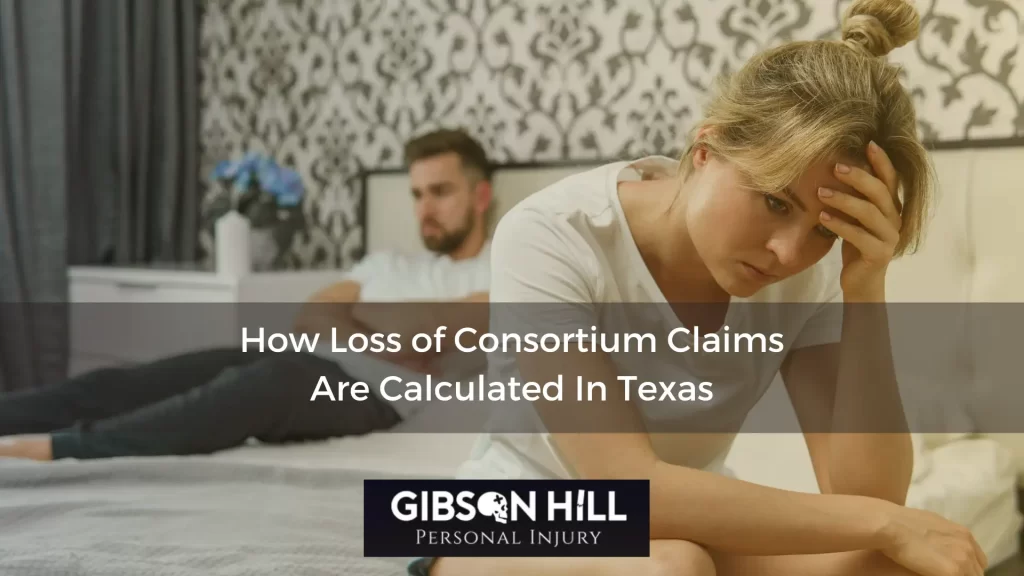 In your personal injury case, you may have heard your Texas personal injury attorney mention seeking compensation for "loss of consortium." What does this mean? Are you entitled to claim compensation for this?
Loss of consortium refers to the inability of a spouse to fulfill their intimate and emotional marriage duties. More specifically, one spouse may no longer be able to be intimate due to physical injury or emotional trauma. Other forms of loss of consortium could include being unable to provide love and emotional support from parent to child or vice versa. Texas permits victims to seek loss of consortium damages for these types of damaged relationships.
Even something as simple as being unable to contribute to the household could be considered a loss of consortium. If you cannot walk the dog, feed the kids, or sweep the floor, this could be a compensable loss.
Examples of Loss of Consortium Settlements
Texas law permits plaintiffs to seek non-economic damages that include loss of consortium.
An injured person's spouse, parents, or siblings could claim loss of consortium in situations like these:
Factors That Influence Loss of Consortium Award Amounts
Like any non-economic loss, the dollar value of your loss of consortium is subjective. There is no set formula for determining how much money should be included in a settlement or award for loss of consortium. However, an experienced Austin personal injury lawyer can properly value your non-economic losses when determining a fair settlement amount.
Some factors help an attorney calculate a fair amount for your loss of consortium:
How severe the injury is and the long-term prognosis for recovery
The stability and length of the marriage
living arrangements before the injury
The individual's contributions to the family (such as homemaking, providing income, etc.)
Activities shared before the injury
Age, health, and life expectancy of the individual
The family relationships at the time of the accident (was there marital discord? How active was the parent in the child's life? Etc.)
Who Can Sue for Loss of Consortium?
A spouse may request damages for loss of consortium in a claim or lawsuit. The suit must explicitly state the loss of consortium and with which party. Children and parents may also sue for loss of consortium. This may be loss of companionship of the child or the loss of parental guidance and supervision by the parent.
Siblings and other relatives cannot sue for a loss of consortium with the injured party.
Deposition Questions Related to Loss of Consortium
A loss of consortium claim must examine the intimate nature of your relationship with your spouse, parent, or child. You can expect that the deposition questions will, therefore, be personal and could be a little uncomfortable.
Depositions are an important part of the civil lawsuit process. They occur during the discovery period when both sides gather evidence for their cases and exchange certain pieces of information. A deposition is a formal witness interview conducted under oath. Each side may have a list of witnesses to depose. For loss of consortium claims, this could include you, your spouse, your children, and anyone with personal knowledge of your relationships.
The defendant may try to reduce the amount assigned to your loss of consortium by questioning your relationships. They, or rather their lawyer, may ask incisive questions during your deposition, such as:
Were you or your spouse having an affair?
Were you and your spouse separated at the time of the accident?
How often did you and your spouse argue?
How often did you and your spouse have intimate relations?
What kind of chores did you do around the house?
How did you financially contribute to the family?
What kind of activities did you do with your children?
Give examples of how you provided guidance and support for your children
How often did you argue with your child(ren)?
Do You Need Help Seeking Compensation for Loss of Consortium?
We can help. Contact Gibson Hill Personal Injury today for a free consultation with a Texas personal injury lawyer. You can call our offices at 512-580-8334.
Related posts
How Do I Know If I Have a Personal Injury Case?
How to Calculate the Value of a Personal Injury Claim
Dealing with PTSD From a Car Accident