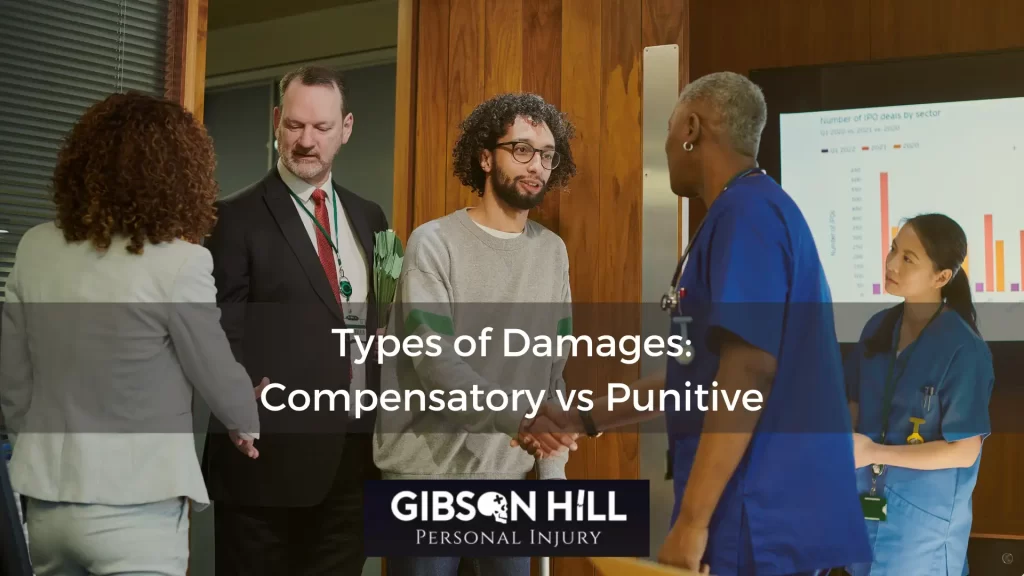 If you've been injured in an accident caused by the negligence of another party, you've probably considered filing a lawsuit. Perhaps you've already filed your lawsuit and heard your Texas personal injury lawyer talk about compensatory vs punitive damages. What types of compensation are you eligible for? Will you be able to collect punitive damages after an accident?
What Kinds of Damages Are There in a Texas Personal Injury Case?
Texas law outlines the definitions used in Texas personal injury cases. It also sets forth the conditions under which an injured party can seek compensation.
Generally, compensation, called "damages" in the law, falls into three categories:
Economic, also called special damages or actual damages. These are your pecuniary losses or the monetary losses you suffered after the accident. This can include your medical bills, lost wages from work, property damage, or loss of earning potential.
Non-economic damages or general damages. This money is intended to compensate accident victims for intangible losses. Pain and suffering, distress, emotional harm, and trauma are included here. You may also receive compensation for loss of enjoyment of life if you can no longer engage in your usual activities. You could receive compensation for loss of consortium if the injury affected your familial relationships.
Punitive damages. This is a form of economic punishment a jury may assess against a defendant whose actions are egregiously negligent or reckless. Texas law refers to these as "exemplary damages." These damages are not meant to be compensation for the plaintiff. They are intended to be a deterrent against similar behavior in the future by the defendant and others. To be eligible to request punitive damages, the wrongdoer must have acted fraudulently, maliciously, or with gross negligence.
You may be able to collect compensation for the full amount of your economic losses. You may also seek an appropriate amount of compensation for the effect the injury has had on your life. However, punitive damages are rarely awarded. Your lawyer can advise you about whether you might be eligible to pursue this money. The amount of punitive damages to be awarded is usually a decision made by a jury, but a judge must approve any punitive damages award.
Is There a Limit to Damages in Texas?
Yes. The state's laws set a cap on exemplary damages in Texas. It may be no more than twice the amount of economic damages awarded PLUS the total non-economic damages awarded (no more than $750,000). However, if the plaintiff suffered losses because the defendant committed a felony, then this cap may not apply.
There are no limits on economic damages in Texas. If you and your attorney can produce proof of your actual financial losses, you may be entitled to demand every penny. Non-economic damages are more subjective, however. Usually, the amount of non-economic damages awarded is based on a factor of the economic damages.
Texas law does have a couple of limitations on non-economic damages. In medical malpractice cases, the plaintiff's non-economic compensation is capped at:
$250,000 maximum for suits against a doctor or other healthcare provider
$250,000 maximum against a healthcare facility, up to a total of $500,000 if multiple facilities are involved
Total non-economic damages cap of $750,000 in medical malpractice suits
Do I Have to Pay Taxes on My Texas Personal Injury Settlement?
One of the most common questions our clients have is, "Is my personal injury settlement taxable in Texas?" As Texas does not have a state income tax, there is no state-assessed tax on compensatory damages in Texas. Nor is there a state-assessed tax on punitive damages.
The IRS won't assess tax on personal injury settlements or awards. However, punitive damages may be federally taxed. If you're unsure about whether your settlement or award will be subject to federal income tax, discuss your concerns with your Texas personal injury attorney. They'll know whether all or a portion of your compensation is taxable.
Have You Been Injured in an Accident? We Can Help
Are you curious about your legal options for seeking compensation after an accident? Contact Gibson Hill Personal Injury today at 512-580-8334 for a free consultation to discuss your case with an experienced Austin or Houston personal injury attorney. We fight for the maximum compensation for our clients, including punitive damages where they are appropriate. From start to finish, you are in good hands with our capable Texas legal team.
Related posts
How Loss of Consortium Claims Are Calculated In Texas
What Documents Do I Need for My Personal Injury Case?