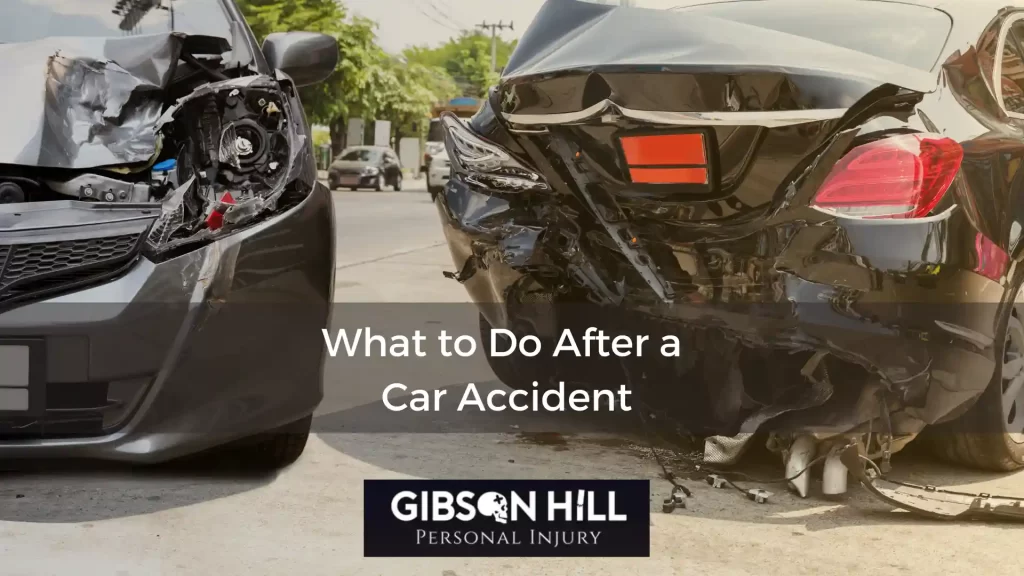 Car accidents happen quickly and can cause a lot of confusion. In the chaos after a collision, it is essential to act appropriately because what you do after an accident can make a massive difference when you file an insurance claim or personal injury lawsuit.
What to Do at the Scene of an Accident
After a collision, it's normal to feel overwhelmed and disoriented. These feelings can make it challenging to decide what to do. However, doing the following can help protect your legal rights:
Check to see if everyone is okay – First, you should pull over and check for injuries. Call 911 immediately to seek medical attention if anyone appears injured or dazed.
Report the collision – Even if there are no injuries, call the police to report the crash. The operator will need to know your location and may ask you to move your vehicle to a safer location to avoid blocking traffic. The police who arrive on the scene will likely create a police report. Police reports are valuable because they can help establish fault and the extent of the damage caused. You can obtain a copy of the police report on the Texas Department of Transportation's Crash Records Information System
Exchange information – While waiting for the police, gather the other driver's contact and insurance information. This includes each driver's name, phone number, license number, license plate number, insurance company information, and insurance policy number.
Take photos of the scene – Photos of the scene and injuries caused by the collision are vital to building a strong case. You should document as much as possible, including skid marks, damage to all vehicles, and anything else you believe could help your case.
Talk to witnesses – Get contact information from witnesses. Their statements can provide valuable information about the crash and help support your claim.
Don't admit fault – With adrenaline pumping, you may be inclined to apologize, but don't. The other party and their insurance can use anything you say against you to try and minimize their liability, so it's vital never to say anything that could be considered admitting fault.
Read more:
Accident Investigation Questions to Ask Witnesses
Witness statements can help establish fault when drivers have conflicting stories concerning how the collision occurred. Therefore, asking the right questions is vital to ensure your information is accurate. Some critical questions to ask are:
What did you see or hear?
Where were you when the collision happened?
Was anyone with you when the accident occurred?
Did you hear anyone say anything after the collision?
Did you notice if the other was texting, speeding, or driving recklessly before the collision?
Did you see anyone else who could also provide insight into what happened?
Reporting the Accident to the Other Driver's Insurance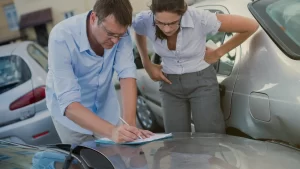 After determining which driver caused the collision, you should report the incident to the at-fault driver's insurance company. However, you should be careful about what you say when reporting the collision because you don't want to say anything that could harm your claim. For example, if you tell them that you're not injured, they could use that against you to reduce the compensation you receive.
Documenting all communication with the other driver's insurance company is helpful if there are disputes about what was reported. When logging your communication, you should include dates, times, the names of the representative you spoke to, and what you discussed.
Read more: Do I Have a Claim if I Was Injured by an Uninsured Driver
How Can a Car Accident Lawyer Help?
An experienced car accident attorney can help you seek fair compensation for losses. Common ways that a car accident attorney can help you include:
Investigating the collision – An attorney can review the facts of your case and gather evidence vital to establishing fault and determining the compensation you should seek. This evidence may include police reports, witness statements, expert opinions, accident reconstruction reports, and medical records.
Negotiating with the insurance adjuster – Insurance companies often assign an adjuster who reviews the claim, investigates the collision, determines liability, and negotiates a settlement. When negotiating the settlement, the adjuster will likely try to minimize the payout to protect their employer's bottom line. An experienced attorney can negotiate with them to ensure you get a fair settlement.
Representing you in court – If negotiations aren't fruitful, you can take your case to trial. A skilled car accident lawyer can fight for your best interests and present a strong case for maximum compensation.
Contact Gibson Hill Personal Injury for a Complimentary Consultation
If you suffered injuries in a car crash in Texas, the experienced car accident attorneys of Gibson Hill Personal Injury could help. We understand the toll a collision can take on your life and are ready to fight for justice.
We offer free consultations to discuss your case and provide guidance on the best path forward. Don't go through this stressful time alone. Call us today at 512-580-8334 or fill in our online contact form for a free and confidential case review. Our attorneys are ready to help you pursue the compensation you deserve.
Read more: