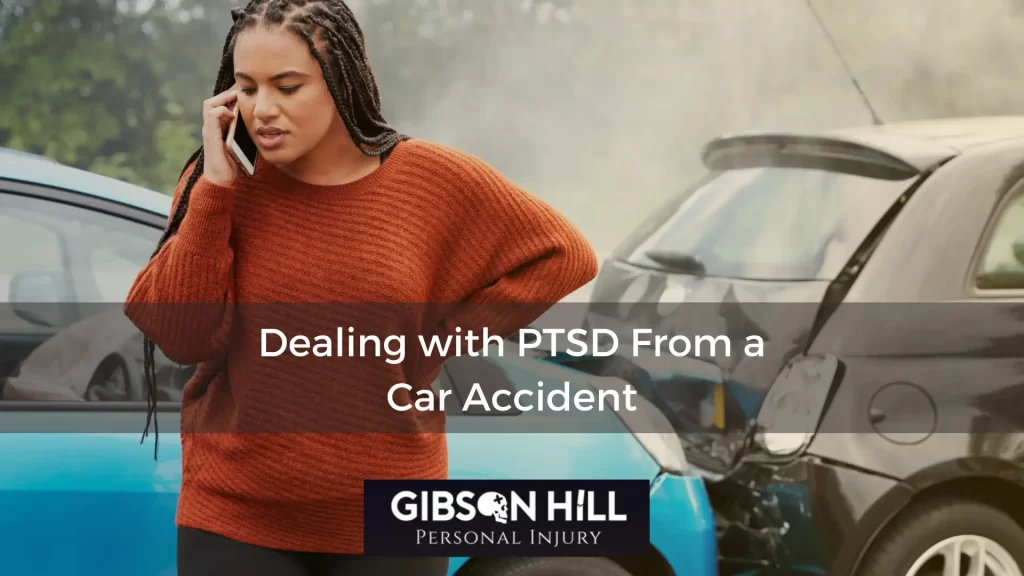 Injuries from a Texas car accident aren't limited to bruises and broken bones. In a study published in the Journal of Nervous and Mental Disease, the authors reported that between 39 and 55 percent of people involved in motor vehicle accidents developed post-traumatic stress disorder (PTSD). PTSD from car accident affects all areas of your life, from your ability to work to your relationships. You may need therapy to help you manage PTSD symptoms.
A car accident settlement can provide the money you need for mental health care. The Texas car accident attorneys from Gibson Hill Personal Injury can help you learn more in a free consultation. Contact us today at 512-580-8334
What Is PTSD?
The National Institute of Mental Health defines PTSD as a disorder some people develop after experiencing a traumatic, frightening, or emotional event. Many people experience fear and trauma immediately after a wreck. Those whose symptoms persist in the weeks following the crash may be diagnosed with PTSD from car accident.
What PTSD After a Car Accident Looks Like
Symptoms of PTSD don't emerge immediately after a car accident. They usually present within one to three months after the event. To be diagnosed with PTSD, you must have experienced specific symptoms for longer than one month:
One or more avoidance symptoms (avoiding a car or the location)
Two or more reactivity or arousal symptoms (feeling tense, easily startled, having trouble concentrating, insomnia)
One or more re-experiencing symptoms (flashbacks, recurring thoughts, physical stress symptoms)
Two or more mood or cognition symptoms (deliberate social isolation, loss of enjoyment of usual activities, feeling guilt or anger)
As part of PTSD diagnosis, your symptoms must also interfere with daily life and be unattributed to stress or relationships. Some people with PTSD may develop depression or substance abuse issues, which a mental health professional can also address.
How to Deal with PTSD from a Car Accident
Invasive thoughts and feelings can overwhelm your life. You might have trouble concentrating on school or work. Professional mental health care can help you manage your PTSD symptoms and heal, but the process takes time.
Cognitive behavioral therapy (CBT) may benefit many people with PTSD. It helps people examine their thoughts and change the way they think. This, in turn, can help them change their behavior. It's commonly used for anxiety-type disorders like PTSD or substance abuse.
Your recovery may be based on co-occurring conditions, like depression, substance use, or anxiety. Healing may take anywhere from six months to a year. But don't put PTSD recovery on a timer. Everyone is different, and you should allow as much time as you need to heal.
Can You Get Compensation for PTSD Caused by a Car Accident?
Yes, you and your attorney can pursue compensation for accident-triggered PTSD. For example, you may be in therapy for PTSD, or your doctor might prescribe anti-anxiety medications. Your settlement can include compensating you for your therapy bills and the cost of medication.
Car accident victims can also seek non-economic compensation for the impact the trauma and emotional distress has on their lives.
Compensation for Emotional Distress
Non-economic compensation is intended to compensate accident victims for the intangible losses they experience after the wreck. Although you can't buy "loss of enjoyment of life" at the store, it still has value in a car accident lawsuit. The emotional distress and effects of PTSD impact your life and could damage your relationships or career.
Texas personal injury statutes recognize the life-altering damage of emotional distress and permit victims to pursue compensation for it.
What is the Average Settlement for a Texas Car Accident?
Car accident settlements all have varied factors that contribute to their value. Settlements range from a few thousand dollars to over a million, so it's tricky to determine a true average for Texas. However, as a rule, the worse the injury and the more permanent the disability, the higher the settlement.
Why You Should Hire a Lawyer for Your Car Accident Case
An attorney experienced in car accident cases can properly value your case and determine an appropriate value for your non-economic losses. Proving that your PTSD symptoms developed due to the car collision can be tricky since the onset is delayed. An attorney may use an expert witness to prove the link between the wreck and your PTSD.
Contact Us After a Car Accident. We Can Help
Do you need assistance seeking compensation after a car wreck? Can a settlement provide the money you need for PTSD treatment? Contact Gibson Hill Personal Injury today at 512-580-8334 for a free consultation with an experienced Austin or Houston car accident lawyer.
Related posts
How to Calculate the Value of a Personal Injury Claim
Top Tips for Organizing Medical Bills from Your Accident