Austin 18-Wheeler Accident Lawyers
If you sustained injuries in an 18-wheeler accident someone else caused, do not hesitate to contact Gibson Hill Personal Injury. You might be entitled to financial compensation from the person or company responsible for the collision.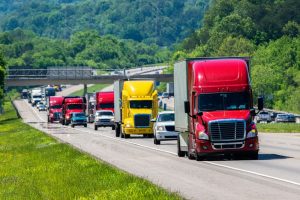 An 18-wheeler can cause significant damage during an accident with a small car. The massive size and weight aren't the only dangers. Many commercial trucks contain hazardous materials or large items that can injure the occupants of other vehicles.
Gibson Hill Personal Injury has represented injured clients in 18-wheeler crash cases since 2013. We are ready to help you take on the negligent party and hold them liable for their misconduct.
Call us today at (737) 249-6300 for your free consultation with an Austin 18-wheeler accident lawyer to learn more about what we can do for you.
Most Common Causes of 18-Wheeler Accidents
The cause of an 18-wheeler collision often depends on multiple contributing factors. A thorough investigation is necessary to determine who was at fault and how their actions led to the crash.
The most common causes of 18-wheeler accidents include:
Driving under the influence – Anyone operating a commercial motor vehicle with a blood alcohol concentration (BAC) of 0.04 percent or higher is under the influence of alcohol. This is a much higher standard than the legal limit under state law. Drunk driving impairs a driver's normal faculties and causes a range of symptoms that prevent them from navigating roadways safely.
Inadequate vehicle maintenance – Regular maintenance on an 18-wheeler is crucial. The driver and motor carrier are responsible for routine inspections and maintenance to ensure their 18-wheelers are in good working condition. Damage and defective parts can cause the vehicle to malfunction.
Inexperienced driver – Commercial drivers must undergo extensive background checks, testing, and training to operate an 18-wheeler correctly. An unqualified driver likely won't know how to handle adverse weather, road hazards, or emergencies. They could lose control of the 18-wheeler and crash into a nearby car.
Speeding – Driving an 18-wheeler faster than the speed limit is reckless. The violent impact of a collision between a large truck and a car can cause debilitating injuries or death to the occupants of the smaller vehicle.
Fatigued driving – Research shows a significant factor contributing to motor vehicle collisions is fatigue. According to the National Sleep Foundation, drowsy driving causes over 6,400 fatalities every year in the United States. Since commercial drivers spend up to eleven hours on the road in a single shift, fatigue can become an issue and interfere with physical and mental functioning.
Failure to check blind spots – Commercial vehicles like 18-wheelers have four blind spots. Drivers must check the appropriate blind spots before changing lanes, turning, or merging. They could collide with a car in their path if they don't.
Tailgating – Eighteen-wheelers require a greater stopping distance than smaller vehicles. Commercial drivers should never follow a car too closely, or they might be unable to stop in time to avoid a rear-end collision.
Distracted driving – According to the National Highway Traffic Safety Administration, 3,142 people died in 2020 because of distracted driving. Distractions interfere with a driver's ability to notice dangerous situations and react appropriately in time to prevent an accident.
Poorly loaded cargo – Federal regulations establish the proper securement systems for cargo. Loading items onto an 18-wheeler incorrectly can cause them to shift during transport or fall off the back of the trailer.
The Gibson Hill Personal Injury legal team has experience investigating 18-wheeler accidents and locating evidence to prove what happened. We can determine the cause of the crash and who we can hold responsible for your injuries and losses. You should contact us immediately after an accident so we can represent you in your case.
Establishing Liability for an 18-Wheeler Accident
Determining liability after a commercial vehicle crash can be challenging. Multiple parties might share fault depending on the circumstances. Although the trucker was at the wheel, someone else could be just as much to blame for what happened.
The most common parties liable for 18-wheeler crashes include:
Driver – Sometimes, the 18-wheeler driver is solely at fault for an accident. The injured party could hold the trucker liable whether they exceeded the speed limit, ran a red light, or changed lanes without checking their blind spots.
Manufacturer – Manufacturers must supply customers with vehicles and parts in good working condition. A faulty braking system, recalled tire, or damaged steering column can prevent the 18-wheeler from functioning correctly.
Trucking company – A commercial driver's employer might be at fault for an accident if they engaged in negligent hiring practices. Staffing shortages and retention issues can create problems for motor carriers. They might skip background checks on prospective employees when they desperately need drivers. This could result in inexperienced, unlicensed, or dangerous drivers on the road.
Maintenance worker – The maintenance crew must maintain each 18-wheeler in the fleet. They should top off fluids, rotate the tires, and check for potential safety hazards. Forgetting to complete a necessary maintenance check or failing to repair a damaged part could lead to an accident.
Cargo loaders – Sometimes, a team of people is responsible for loading cargo onto an 18-wheeler. They must ensure the vehicle stays within weight and size limits and securely fasten all items, so they don't come loose during transport.
Owner of the cab or trailer – The owner of a trailer or cab could be a separate entity from the motor carrier. It's the owner's job to perform maintenance. If a crash occurs and evidence shows the owner missed a scheduled maintenance appointment or didn't replace a recalled part, they could be liable.
Another motorist – Sometimes, no one involved in the operation of an 18-wheeler is at fault for a collision. Another motorist entirely could be to blame. Someone else might have blown through a stop sign or swerved into another lane, causing a chain reaction involving other cars and the commercial vehicle.
If someone else causes an 18-wheeler accident in which you are injured, reach out to Gibson Hill Personal Injury. Whoever is at fault should be financially responsible for your injury. You should not pay out of pocket for your medical treatment and other expenses if your actions didn't contribute to the crash.
Compensation for Injuries in an 18-Wheeler Accident
Federal law dictates that every motor carrier must purchase and maintain liability insurance for each commercial truck in their fleet. The required coverage depends on the type of freight being transported and the vehicle's weight.
You can file a claim with the liability insurance company if the driver or trucking company is at fault for the collision. You might also be able to file a lawsuit.
Either way, the compensation you recover could cover:
The cost of hiring someone to perform household chores or childcare
Physical therapy, hospitalization, ambulance services, and other medical expenses
Lost wages
Lost earning capacity
Physical impairment or disfigurement
Mental anguish
Property damage
You might also be able to pursue exemplary damages in a lawsuit. This type of financial award punishes the defendant for their actions and deters similar misconduct in the future. For the court to make this award to you, you must show clear and convincing evidence of the at-fault party's gross negligence, fraud, or malice.
Statute of Limitations for 18-Wheeler Accidents
In Texas, the statute of limitations allows a two-year timeframe for the injured person to file a lawsuit against the at-fault party. That means you have two years from the date of the 18-wheeler collision to file your lawsuit for compensation.
Speak to a Trusted 18-Wheeler Accident Lawyer Today
Gibson Hill Personal Injury cares about the people we represent. You will be our top priority and receive personal attention when you hire us. We will be your advocates and fight to try to achieve a favorable outcome in your case.
If you sustained an injury in an 18-wheeler accident due to someone else's negligence, call Gibson Hill Personal Injury at (737) 249-6300 for your free consultation. Let a knowledgeable and trusted Austin 18-wheeler accident lawyer help you secure the money you are entitled to for your injuries and suffering.