Were you hurt in an 18-wheeler accident? Was it because of someone else's negligent conduct? If so, contact Gibson Hill Personal Injury immediately. We might be able to represent you in a case against the at-fault party and recover compensation on your behalf.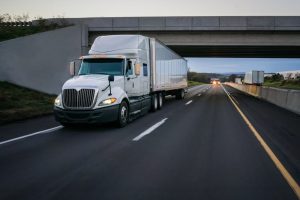 Large commercial vehicles like 18-wheelers can weigh as much as 80,000 pounds with a full cargo load. Many contain flammable materials, oversized items, and hazardous waste. Accidents involving 18-wheelers can be catastrophic and cause debilitating injuries and fatalities.
Gibson Hill Personal Injury has the skills and resources to handle complicated cases. You can count on us to protect your rights and aggressively pursue the money owed to you for your injuries.
For a free consultation to learn more about your legal rights, call us at (713) 659-4000 to speak with a Texas 18-wheeler accident lawyer today.
Common Causes of 18-Wheeler Accidents
A range of circumstances can arise that lead to an 18-wheeler accident. Various factors can contribute to a crash, and determining a cause can be a complex process. More than one person might be responsible.
The most common causes of 18-wheeler collisions include:
Distracted driving – Driver distractions take a person's hands, eyes, or focus away from the task at hand. Distractions prevent commercial drivers from recognizing hazards and reacting quickly enough to avoid collisions. According to the National Highway Traffic Safety Administration, distracted drivers were involved in accidents that injured 324,652 people and killed 3,142 people in motor vehicle crashes.
Poor vehicle maintenance – Maintaining an 18-wheeler is critical to ensuring that it runs properly. If the driver or trucking company fails to replace a recalled part or repair damage, the vehicle could malfunction and cause the driver to lose control.
Loading cargo incorrectly – There is a system to follow while loading cargo onto a trailer. All items must stay securely in place during transport. Using faulty straps or an incorrect number of straps could cause the load to shift and throw the 18-wheeler off balance. Cargo might fall off the truck and create obstacles for other drivers.
Speeding – Exceeding the speed limit is dangerous no matter what type of vehicle a person drives. Speeding in an 18-wheeler can have devastating consequences. High-speed accidents involving commercial vehicles can be deadly.
Tailgating – Since 18-wheelers require a significant distance to come to a complete stop, big rig drivers should never tailgate. Following a car too closely will likely prevent the trucker from braking or swerving in time to avoid a crash.
Drunk driving – Alcohol impairs driving abilities. Understanding traffic signs, noticing hazards, and using good judgment are more challenging when the driver is under the influence. Federal law prohibits anyone from operating an 18-wheeler with a blood alcohol concentration (BAC) of 0.04 percent or more. That's half the legal limit under state law.
Failure to check blind spots – An 18-wheeler has blind spots on all four sides. They extend farther than the blind spots on small cars. Drivers must check their blind spots for vehicles traveling around them before moving in any direction.
Unqualified driver – An unqualified 18-wheeler driver doesn't have a commercial driver's license, adequate training and testing, or experience driving a commercial vehicle. Unqualified drivers are more likely to cause a collision because they don't know how to operate an 18-wheeler correctly.
Fatigued driving – Commercial drivers can legally spend up to eleven hours on the road. This might lead to fatigue and prevent them from driving their 18-wheeler safely. Fatigue is dangerous and causes symptoms similar to those of drunk driving, such as a slower reaction time, poor decision-making, and impaired motor skills.
At Gibson Hill Personal Injury, we know how traumatic it is to get hurt in an accident that isn't your fault. The 18-wheeler driver or other negligent party should be held liable for your injury. Let us investigate the cause of the crash and pursue legal action on your behalf.
Who Is Liable for an 18-Wheeler Accident?
Multiple parties could be liable for an 18-wheeler collision. The parties often held liable for an 18-wheeler accident are:
Driver – The commercial driver might be the only person responsible for the crash. Any type of negligent behavior could mean they are at fault for someone else's injury.
Motor carrier – Even though the trucker was at the wheel at the time of the collision, their employer could be at fault for numerous reasons. The motor carrier could be liable for knowingly hiring an unqualified driver, failing to provide adequate training, or forcing their employees to exceed the maximum number of driving hours.
Another driver – When a crash involves three or more vehicles, another motorist could be to blame instead of the 18-wheeler driver. The other driver's actions might have caused a chain reaction that led to the crash.
Manufacturer – The manufacturer of 18-wheelers and their parts is responsible for ensuring they don't contain defects or damage. The manufacturer could be liable if they made an error during the design, manufacturing, or marketing stage of constructing their product.
Cargo loading company – Cargo loaders must load items onto 18-wheelers according to federal regulations. Exceeding the weight limit or using defective tiedowns could create problems for the driver. If items shift, it could throw the entire vehicle off balance, making it harder for the driver to maneuver around cars.
Maintenance worker – Maintenance workers routinely inspect and maintain 18-wheelers. They check for damage, replace defective or recalled parts, and ensure the vehicle is in good working condition. If they fail to do their job and an accident occurs, they could be at fault.
Trailer or cab owner – Sometimes, the motor carrier and the owner of the cab or trailer are separate entities. The owner must maintain their cab or trailer, so it performs as intended. Inadequate maintenance could contribute to an accident.
We recommend that you do not attempt to handle your case alone.
Contact Gibson Hill Personal Injury, and we will review the circumstances of the crash to determine which parties were at fault. We can obtain all available evidence and create a strategy to hold the at-fault party liable.
Compensation Available in an 18-Wheeler Accident Case
Whether you file an insurance claim or lawsuit, you could recover compensation for your:
Lost wages
Lost earning capacity
Emergency room bills, rehabilitation, prescriptions, and other medical expenses
Mental anguish
Costs of childcare, household assistance, and other necessary help due to the injury
Physical impairment or disfigurement
Property damage
Every motor carrier must purchase insurance for their 18-wheeler with minimum limits of liability. The weight of the truck and the type of freight it contains determines the required liability coverage. You could file a claim with the insurance company if the motor carrier or commercial driver caused the crash.
If you file a lawsuit, you might be able to recover exemplary damages. You must prove that the at-fault party acted with malice, gross negligence, or committed fraud to receive this type of financial award. Instead of compensating you for your injury, an award of punitive damages aims to punish the defendant for their actions.
Statute of Limitations in an 18-Wheeler Accident Case
In Texas, the statute of limitations for 18-wheeler accidents allows a two-year timeframe to file a lawsuit. That means you must file your lawsuit against the driver, motor carrier, or another negligent party within two years of the crash date. Once the timeframe passes, you could lose your right to pursue compensation in court.
Injured in an 18-Wheeler Accident? Contact Gibson Hill Personal Injury Today
Gibson Hill Personal Injury has fought for the rights of our clients since 2013. We will provide the quality legal representation and one-on-one attention you deserve. Our team is ready to help you seek the maximum possible compensation you're entitled to so you can heal and move forward with your life.
If someone's misconduct caused your injuries in an 18-wheeler accident, call Gibson Hill Personal Injury for your free consultation with a dedicated Texas 18-wheeler accident lawyer at (713) 659-4000. We're available 24/7 to speak with you about your case.