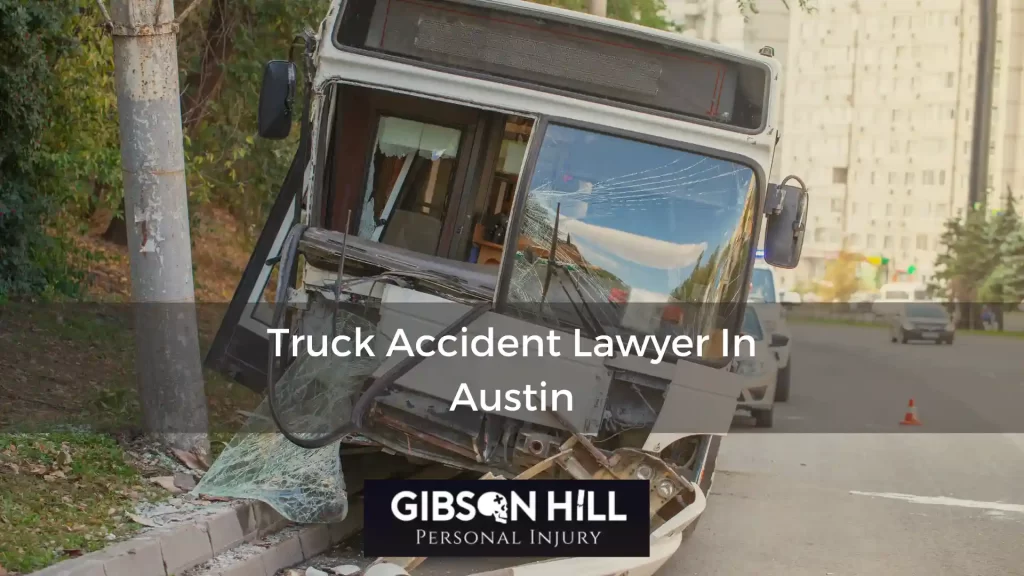 Have you or a loved one been injured in a serious truck accident in Texas? If that has happened to you, the Austin truck accident lawyers at Gibson Hill Personal Injury are here to help. Our team can help you find answers, recover compensation, and achieve justice in your personal injury claim.
Truckers take on a huge amount of responsibility when they get behind the wheel. Their large vehicles can create devastating accidents when drivers fail to follow traffic laws. An accident with a large truck can cost you your health, work capacity, and quality of life. Our team is dedicated to fighting for the rights of all motorists and will hold distracted, impaired, or otherwise negligent or reckless truckers responsible for their actions.
For many of us, driving is a necessity of everyday life. Driving nonetheless can be risky, and accidents can happen at any time. However, roads are made much more dangerous when we share them with truckers who ignore safety practices.
Truck drivers should be adequately trained and expected to prioritize safety. When they fail in that responsibility, they can cause catastrophic accidents. As proud Texans, we believe strongly in protecting the rights of those in our community, especially those who have been injured by irresponsible truck drivers. Our dedicated attorneys can put our experience and skill at your disposal. We will handle all the details of your case while you focus on recovering from your accident. To set up a free consultation with one of our Texas truck accident lawyers, call us today at (737) 249-6300 or reach out to us online.
Do I Need a Truck Accident Lawyer?
If you (or a loved one) have suffered injuries in an accident with a truck, you have every right to hold the responsible party accountable. One wrong move in an 18-wheeler or any other large truck can cause severe injuries and property damage. Truck drivers have an enormous task and are asked to execute many difficult maneuvers. While not easy, they are required to do so with caution and care.
When truckers cause accidents, they usually have powerful corporations and slick defense lawyers to back them up. A common tactic is to assign blame to the victim of the accident or otherwise avoid liability. This attempts to reduce the compensation trucking companies owe to victims, despite their drivers being at fault.
The trucker who victimized you will not be facing the legal battle alone, and neither should you. Hiring an attorney can prevent trucking companies and their lawyers from blaming you for the accident or using procedural trickery to avoid paying restitution.
An aggressive legal advocate can gather evidence and build a case on your behalf to make sure you are awarded the full compensation you deserve. While you and your loved ones focus on recovering from the accident, you should not have to worry about fighting for just compensation. Now is not the time to stand alone; let a lawyer take up the fight for you.
Steps You Should Take Following Your Truck Accident
If you were the victim of a commercial truck accident, you may feel overwhelmed and at a loss of what to do next. There are a few crucial steps you can take to protect your rights and help ensure you have a strong case:
Report the crash to law enforcement. Call 911 if you sustained injuries and wait for an officer to arrive. They will investigate the scene and may determine who was at fault in the accident. They will also create an accident report, which should become available within ten days.
Talk to bystanders. Speak with anyone who saw the crash occur, including the occupants in other vehicles. Write down their names and phone numbers. They might be able to confirm the events that led to your accident for your injury claim or provide witness testimony if your case goes to court.
Collect accident scene evidence. Take pictures of the vehicle damage, broken car parts, debris, skid marks, and anything else that may show how the crash occurred. Also take photos of any visible injuries.
Go to the hospital. Don't wait before seeking medical treatment. Insurance companies will use a gap in treatment as evidence that you didn't get hurt or don't require medical care.
Follow up with all medical providers. If your initial treating physician refers you to follow up with other doctors, follow their instructions. Undergo imaging tests, surgeries, or physical therapy. Continue with your treatment until all medical providers release you from care, or you make a full recovery.
Maintain records. Keep copies of all documents associated with the truck accident. That includes medical records, prescriptions, operative reports, and billing statements. You should also keep detailed notes of all of the doctors and treatment facilities you go to.
Hire a lawyer. Seek legal representation from an Austin truck accident attorney at Gibson Hill Personal Injury. We will investigate your accident and work to gather evidence that proves you deserve full financial compensation.
What Does an Accident Investigation Look Like?
The investigation is essential in proving liability after a truck accident. When you hire Gibson Hill Personal Injury, we will gather crucial evidence that may be challenging to obtain without legal recourse. We will:
Review the accident report to determine who's at fault.
Request a copy of the at-fault party's liability insurance policy to determine how much coverage is available.
Obtain all your medical records to show the injuries you sustained and a timeline of the treatment.
Collect billing statements, receipts, and invoices for the total costs incurred from the accident.
Speak to witnesses and get their statements to send to the insurance company.
Collect essential documentation from the trucking company, such as:

Driver's logbook
Truck's data recorder, or "black box"
Load manifest
Truck's maintenance logs
Driver's training history
Toxicology reports

Work with experts, such as medical experts, financial experts, and accident reconstruction specialists, to help us build a solid case.
Our Austin truck accident attorneys have endless resources to track down key witnesses and locate crucial evidence. We will create a strategy to build a strong case and reach a favorable outcome. We never back down from a fight and will aggressively pursue the maximum financial award you deserve.
What Are the Damages Available for Injuries?
Truck accident victims typically end up incurring substantial damages, or losses. Damages fall under two categories: economic and non-economic. Economic damages refer to actual expenses, while non-economic damages are the intangible losses suffered from an injury, such as pain and suffering. When you file a claim or lawsuit, you can seek the following:
Past and future medical bills
Pain and suffering
Property damage
Emotional trauma
Out-of-pocket expenses
Lost income and loss of future earnings
General inconvenience
When jury members calculate your case's value, they might have to refer to various factors contributing to the accident. Non-economic damages can be difficult to monetize, so they will review the information below to come up with a fair number:
Type and severity of the injury
Total insurance coverage on all available policies
Effect of the crash on daily life
Inability to support or care for family members
Duration of recovery
Total medical costs
Sufficient evidence proving who was at fault
If a full recovery or disability resulted after the injury
Your Austin truck accident lawyer will ensure you receive the maximum compensation available. You shouldn't have to pay out of pocket for any of your expenses. When we're reviewing your case, we will seek a financial award that covers all your past and future damages.
Most Common Causes of Truck Accidents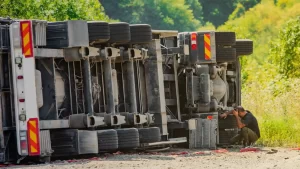 Most commercial truck collisions are the result of driver error or trucking company negligence. The most common causes include:
Fatigued or drowsy driving – When someone gets behind the wheel when they're tired, operating their vehicle safely can be a real challenge. They might have a hard time staying awake and won't react appropriately to an emergency.
Improperly loaded cargo – Trucking companies must utilize securement systems that keep cargo in place. If they use damaged tie-downs or don't adhere to weight and size restrictions, loose cargo could create hazards for other drivers.
Drunk or drugged driving – Consuming drugs or alcohol is dangerous. It leads to poor decision-making skills, reduced reaction time, altered sensory perception, and decreased motor skills.
Distracted driving – Visual, manual, and cognitive distractions take a motorist's attention away from the task at hand. One of the most common types of distractions is texting while driving.
Negligent hiring procedures – If the trucking company doesn't perform a background check or confirm new employees have a valid commercial driver's license, they may hire an unqualified driver who is a danger to others on the road.
Speeding – Exceeding the speed limit is reckless behavior. When a commercial truck is barreling down the road, the truck driver won't have enough time to come to a complete stop or maneuver to avoid a hazard.
Unsafe passing or merging – Due to the length and size of 18-wheelers, tractor-trailers, and other types of trucks, drivers of these trucks must ensure there's enough time and room to change lanes. The trucker should use their turn signal and check all blind spots before proceeding.
Defective parts – If any parts on a truck are damaged or have defects, they can lead to a malfunction and a devastating crash.
Dangerous roads – If there's a construction area, potholes on the road, or anything else that increases the risk of an accident, the driver must slow down and safely maneuver around them.
Adverse weather conditions – Driving in snow, sleet, rain, or strong winds can cause the truck driver to lose control and collide with another vehicle, if they don't take necessary driving precautions.
Tailgating – Following someone too closely makes it impossible to avoid a rear-end accident if the driver ahead must make a sudden stop or slow down for traffic.
Most Common Types of Truck Accidents
Truck drivers can cause accidents in a variety of ways. Speed aside, the size and weight of their vehicles can cause serious injuries and damage when safety is not prioritized. Our firm has an in-depth knowledge of the laws surrounding trucking accidents and can help build a successful personal injury claim or lawsuit regardless of what type of accident you are involved in.
If truck drivers fail to operate their vehicles with caution, they can be liable for a wide variety of accidents, including the following:
All of these scenarios can lead to devastating property damage and massive physical injuries. Holding drivers and their employers responsible for their actions through a personal injury claim and, if necessary, a lawsuit is your legal right if you have been injured through no fault of your own. A personal injury attorney can seek to maximize your compensation and prevent trucking companies from shifting the blame on to you, the victim of their driver's irresponsible actions.
Common Injuries Suffered From Truck Accidents
Injuries can range from minor to severe when a passenger vehicle collides with a commercial truck. Due to the size and weight difference between a car and a large truck, the occupants in a small car can become trapped in a collision, suffering life-threatening crush injuries, or end up with permanent physical or mental disabilities.
The most common injuries associated with truck accidents include:
Head and skull injuries
Ejection injuries
Concussion
Loss of limb or amputation injury
Spinal cord damage
Crush injuries
Internal bleeding
Paralysis
Broken bones
Unfortunately, injuries sustained in commercial truck collisions can lead to permanent damage. If you suffer a broken bone that doesn't heal properly, you could end up with decreased mobility. Internal organ damage might require extensive surgery that causes loss of bodily function. Accident victims could also become paralyzed or suffer from a disabling condition that requires ongoing physical therapy or assistance in completing routine tasks.
You deserve compensation for the suffering you endured, and Gibson Hill Personal Injury will hard to ensure you receive the maximum amount available.
What Is the Cost of an Austin Truck Accident Lawyer?
Our Austin truck accident lawyers take all cases on contingency. That means you won't have to pay upfront fees or costs to receive quality legal representation. We know the financial burden you're already facing. Your accident left you with painful injuries, the inability to work, and a mountain of expensive medical bills.
We don't want to add more stress to your life. We will work hard to reach a favorable outcome in your case and won't expect payment of our legal fees unless we recover compensation. If we lose your case, you won't owe us any money.
We also provide an initial consultation for free. There's no risk in meeting with us to discuss the details of your truck accident. We will review your case to determine the legal options available and create an effective strategy to hold the at-fault party accountable for their actions.
Number of Fatalities by Truck Accident Type
% of fatal crashes by cargo body type
Legal Deadlines for Filing A Case
When you file an insurance claim, you have to comply with the insurance policy's deadline. Most insurance companies provide a timeframe for initiating a claim after a motor vehicle accident. If you don't adhere to the deadline, you could lose your right to compensation from the insurance company.
Lawsuits always come with a strict deadline known as a statute of limitations. The statute of limitations in Texas is two years. You only have two years from the crash date to file. If the statute passes and you try to pursue legal action, the court will most likely dismiss your case.
The only exceptions to this rule are:
The defendant left the state before you could file suit. Their absence won't count towards the two-year deadline, and the clock will begin upon their return.
You were mentally incompetent or under the age of 18 at the time of the accident. The clock will only start once you become mentally competent or turn 18 years old.
Navigating the Accident Claims Process
The person who causes a truck accident is usually financially responsible for the victim's damages under the fault system in Texas. The truck driver should have liability insurance with coverage required by law. The minimum limits are as follows:
Under 10,001 lbs. and transporting non-hazardous material: $300,000
Over 10,000 lbs. and transporting non-hazardous material: $750,000
$1 million if the truck contains hazardous material
$5 million for other toxic substances
The trucking company and other entities should also carry liability insurance with minimum limits. We will file your insurance claim and gather the necessary evidence to prove the settlement amount you deserve. If the insurance company is willing to negotiate, we will aggressively seek the maximum coverage that compensates you for all of your damages. If they deny your claim or offer an unfair settlement, we will be fully prepared to go to court.
Truck Accident Lawsuits in Austin, TX
If you want to sue the insurance company or at-fault party for damages, there's a legal process you must follow. Your Austin truck accident attorney will guide you through each step and answer all of your questions along the way.
Step 1: Prepare legal documents. We will prepare the complaint that includes details about the case, who was at fault for the accident, and the legal actions against them. We will also need to prepare a summons that indicates their obligation to show up in court for the civil action they're facing.
Step 2: We will file the documents with the courts using the electronic filing system. Once the clerk signs off, we will need to find a process server to deliver the documents to the defendant.
Step 3: Answer and discovery. The defendant will have 20 days from the date they receive the complaint and summons to file an answer. At that time, we will begin the discovery process. Both sides will request evidence from the other and file documents that the plaintiff and defendant must respond to. This step might also include depositions, where all parties involved in the crash will have to answer questions about the case under oath.
Step 4: Schedule mediations. We can meet with the defense attorney and attempt to reach a settlement agreement to avoid going to trial.
Step 5: If the mediation is unsuccessful, we will proceed to trial and argue your case in front of a jury and judge.
Frequently Asked Questions About Truck Accidents in Austin
When you or a loved one has been injured in an accident with a truck, you are dealing with great uncertainty. You may be overwhelmed by being unable to work, the physical and mental demands of recovering from your injuries, and simply trying to make ends meet. We are here to help you deal with all of your concerns. At Gibson Hill Personal Injury, we have a sincere passion for serving our community. In an effort to honor that passion, here are the answers to some questions that personal injury clients often pose:
Contact Us Today
At Gibson Hill Personal Injury, we take protecting and upholding the rights of our community members very seriously. If you have been injured by a negligent or reckless truck driver, our legal team is here to provide a full spectrum of assistance. We can help you build a case and recover the compensation you need to care for you and your loved ones. We know you have suffered a great deal, and our team will guide you with compassion and care.
No amount of money can erase your pain or change the past. However, compensation is your right if you have been injured by an at-fault truck driver and can be critical to getting your life back on track. To set up an appointment in our Houston office for a free consultation with a Texas truck accident attorney, call us today at (737) 249-6300 or reach out to us online.