Texas Attorneys for Truck Accidents Caused by Defective Truck Parts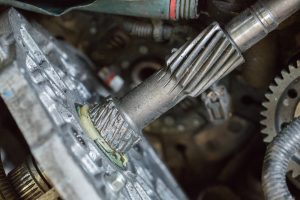 Most of the goods that we buy in stores or online travel in commercial trucks at some point. We share the road with these powerful machines and expect them to operate safely. Sadly, this does not always occur. In 2020, the Texas Department of Transportation (TxDOT) reported 32,580 crashes involving commercial motor vehicles.
If you were injured in a truck accident in Texas caused by defective truck parts, you might be entitled to compensation. You should discuss your case with an experienced Texas truck accident attorney.
Contact Gibson Hill Personal Injury now at (713) 659-4000 to speak with one of our compassionate lawyers. You should not have to be financially responsible for an accident you did not cause.
What Happens When a Truck Part Fails?
Commercial trucks are made of many components, each of which must be in good working order for the truck to operate safely on the road. A defective truck part can lead to an unsafe situation that is a recipe for disaster. When such a part fails, it can easily cause a severe accident. This is especially true of trucking parts that involve systems such as:
Wheels and tires
Axles
Braking system
Steering system
Engine
Hydraulics
Suspension
Trailer
Lighting
It's important to note that this is not a comprehensive list. In fact, a defective truck part can potentially be found anywhere on a truck. A defect in any system on a truck puts the nearby vehicles, drivers, and passengers at risk of being involved in an accident with the truck.
What Injuries Can Result from a Defective Parts Truck Accident?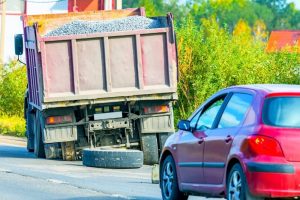 A truck accident can cause many types of injury. These injuries may be like those sustained in a passenger car accident. However, injuries resulting from a truck accident can be more severe because of the large size of commercial trucks and the great amount of force they generate when they are in motion. The resulting injuries may include:
Head and neck injury
Broken or fractured bones
Nerve damage
Damage to internal organs
Paralysis
Post-traumatic stress disorder (PTSD)
Lacerations and cuts
Burns
Scarring
These injuries can have long-lasting impacts and may result in permanent disability.
Who Is Liable for a Truck Accident Caused by Defective Parts?
Each accident is unique and depends on a variety of factors. These parties could be responsible for a defective parts truck accident:
The trucking company, if they knew about a defective part and did not take corrective action
The driver of the truck, if they failed to conduct required inspections
The company that performed maintenance on the truck, if they failed to replace a defective part during routine maintenance
The company that manufactured the truck part could be liable for the accident. When a part fails, it could be because of one of three types of defects:
Defects in manufacturing: These are unintended flaws or errors that result during fabrication or assembly, such as brake pads created from substandard raw materials.
Defects in design: These are flaws inherent in the design that make it unsafe, such as a calculation error that results in an axle that is of insufficient strength.
Defects in marketing: This is also called "failure to warn" and refers to the manufacturer failing to provide proper safety information or warnings.
Any of these defects can lead to a truck accident that can occur without warning.
Why Do I Need an Attorney?
Pursuing compensation for your losses after a truck accident is a lengthy and complex process. Multiple parties could be involved. Insurance companies and your lawyer will investigate who is at fault for the accident and what happened. They'll collect a significant amount of documentation, which may include:
The police report from the accident
Photos from the accident scene
Truck inspection reports
Black box data
Truck maintenance records
Medical records
You need a legal team with the resources to build a strong case for you. You must choose a lawyer who has successful experience dealing with insurance companies and negotiating fair settlements for their clients.
Insurance companies are known for using misleading tactics to take advantage of truck injury victims. They may make settlement offers that are too low. An insurance company may hope you're desperate and eager to settle. They may also assume that you are unfamiliar with all the components of compensation to which you may be entitled. You might be eligible for compensation for:
Medical bills
Physical therapy
Prescription medication
Future ongoing medical care
Loss of income
Lost future earning capacity
Pain and suffering
Disfigurement
Loss of enjoyment of life
An experienced attorney will be able to evaluate each settlement offer to determine whether it is fair. They can handle all negotiations for you and will advise you whether any settlement offer is fair.
You may think you can save money by not hiring an attorney. You would avoid paying legal fees, so that seems reasonable. However, truck accident victims who choose to handle their case on their own typically receive less money than if they had hired a lawyer.
Why Choose Gibson Hill Personal Injury?
We have built our firm on the core values of empathy, creativity, reliability, and professionalism. Our goal is to achieve the best possible results for our clients in each case we take on. The defective truck part lawyers of Gibson Hill Personal Injury know how to stand up to insurance companies to fight for you.
We are proud to share the testimonials of our prior clients. We will bring this same level of tenacity and aggressiveness to your case. Your initial consultation is free, and you will pay no upfront charges when you hire Gibson Hill Personal Injury. In fact, there are no fees whatsoever unless we recover compensation for you.
Contact Gibson Hill Personal Injury Today
If you've been hurt in a truck accident in Texas that was due to defective truck parts, you might be entitled to receive financial compensation. You need to contact an experienced defective truck parts attorney as soon as possible.
Call (713) 659-4000 today to discuss your case with a Gibson Hill Personal Injury attorney. You can also submit a contact form online, and we will be in touch to schedule a free consultation.