Were you hurt in a motorcycle accident in Houston? If so, you could be owed significant compensation if your accident was someone else's fault. Turn to an experienced motorcycle accident lawyer at Gibson Hill Personal Injury to discuss your rights and legal options right away.
Motorcycle riders are still an overrepresented group when it comes to traffic accidents and fatalities on the roads. According to numbers from the National Highway Traffic Safety Administration, in 2018, 4,985 motorcyclists lost their lives on the road.
The dangers of a collision with a car or truck can't be overstated. When a negligent driver hits a motorcyclist, the impact can have devastating consequences for the rider. With relatively little in the way of protection compared to a passenger vehicle, motorcyclists involved in accidents can suffer catastrophic injuries that may impact them for the rest of their lives.
At Gibson Hill Personal Injury, our team of experienced Houston personal injury lawyers has the resources it takes to fight for the rights of injured motorcyclists. Sharing the road means that everyone should be treated fairly, and negligent drivers should be held accountable for their actions. At Gibson Hill Personal Injury, we are dedicated to pursuing justice and ensuring that you get the compensation you deserve after an accident with a reckless driver on Texas roads.
If you or a loved one has been injured in a motorcycle accident, call our office at (713) 659-4000 to schedule a free consultation.
Why Hire a Motorcycle Accident Attorney?
Motorcycle accident victims typically sustain painful injuries, receive expensive medical bills, and often can't return to work for a length of time as they focus on healing. An experienced Houston motorcycle accident lawyer can create a plan that gets you the compensation you need. We will investigate the crash, collect relevant evidence and witness statements, and aggressively negotiate a fair settlement with the insurance company.
We are not afraid of insurance companies. They often use intimidation tactics to scare claimants into accepting less compensation than they deserve. We will fight for the maximum financial award necessary to pay for your total expenses and losses. If the insurance company doesn't want to play fair and offer just compensation, we'll be fully prepared to take them to court to fight for full compensation.
Steps to Take After an Accident
What you do after a motorcycle collision could affect the outcome of your insurance claim or lawsuit. While you're at the crash scene, there are important steps you can take to protect your right to maximum compensation.
Step 1: The first thing you should do after an accident is to report it to law enforcement. Leaving the scene when there are injuries or fatalities is a crime. An officer will arrive to perform an investigation and write an accident report.
Step 2: Take photographs to document the accident scene. Take pictures of your bike, other vehicles involved, and any visible injuries you sustained. If there's glass on the road or broken car parts, take pictures of that as well.
Step 3: Ask other people for their version of events. If there are witnesses, write down their names and phone numbers so they can confirm what happened for your insurance claim or lawsuit.
Step 4: Get all other drivers' insurance details. Write down their names, phone numbers, insurance company name, and policy number.
Step 5: Seek medical care after leaving the accident scene. Tell your doctor about all the symptoms you're experiencing so they can provide an accurate diagnosis of your injuries. If they refer you to follow up for imaging tests, physical therapy, or appointments with specialty providers, follow their orders. Continue treating until you recover, or your doctors place you at maximum medical improvement.
Step 6: Get a damage report from an auto body shop for an estimated value of the cost to repair your motorcycle.
Step 7: Hire a Houston motorcycle accident attorney.
Step 8: Report the crash to your insurance company. Insurance companies require initiating a claim within a specific timeframe. If you miss the deadline, you could lose your right to a settlement.
What Does an Accident Investigation Look Like?
Gibson Hill Personal Injury has the experience, knowledge, and skills to perform an adequate investigation into a motorcycle accident. We know you're struggling to recover and will help you hold the other driver liable for the harm they caused. We will begin our investigation by obtaining evidence to prove someone else's negligence caused the crash. We'll collect:
Statements from eyewitness
Photos
Accident scene evidence
Video surveillance footage
Your medical records and medical bills
All available insurance policies and disclosures
Accident report
Repair estimates for your motorcycle and other vehicles involved
Crucial documentation from the trucking company, including driver logs, truck maintenance reports, load manifest, truck's black box, truck driver's training history, and toxicology reports
We will make sure to file your claim with the appropriate insurance company by the deadline. After completing our investigation, we will send a demand letter to the insurance company along with the evidence we found. The demand letter will include information, such as:
Where and how the crash happened
The name of the at-fault party
The injuries you sustained
All doctors and medical facilities you went to for treatment
The estimated cost of past and future treatment required
Settlement amount we're seeking
If the insurance company refuses to settle for the amount we believe is fair, we will move forward with a lawsuit.
Damages You May Be Entitled to Following an Accident
Every motorcycle accident has its own set of circumstances. These circumstances can impact the amount of damages that a driver may be awarded. An experienced attorney is always your best resource for determining the compensation of damages you may be able to expect from your case.
Texas is a "modified comparative fault" state. That means that a jury must look at two factors when determining damages, the total dollar amount of the damages, and what percentage of the fault lies with each driver. For example, if a jury were to find that the victim is 20% responsible for causing an accident, the victim would be entitled to the total amount of damages minus 20%.
The "modified" in modified comparative fault is an important distinction to take note of. In Texas, if you are found to be more than 50 percent at fault for the accident, you cannot recover any financial damages.
So, what type of compensation could you expect from an accident injury case? Again, it depends on the circumstances of the accident itself. However, these are the most common types of compensation a victim may expect to recover in the state of Texas:
Current medical bills
Future medical bills related to the accident
Loss of income
Loss of future earning capacity
Property damage
Physical impairment or disability
Pain and suffering
Mental anguish
Disfigurement
It is understandable to be overwhelmed following a significant accident. While you may be hesitant to ask for help right away, it is important to note that Texas does put a time limit on your right to bring forth a legal claim. Victims have two years from the date of the crash to pursue legal action. The sooner you seek out the help of an experienced personal injury lawyer, the stronger your case may be. You are giving an attorney the ability to quickly secure valuable evidence before it is lost or potentially destroyed.
State laws may also allow some victims of motorcycle accidents to recover what is known as punitive damages, depending on the circumstances of the crash. Punitive damages may be awarded in addition to compensatory damages, or the compensation you receive to cover things like your medical expenses.
The difference between compensatory damages and punitive damages is that punitive damages are meant to be a form of punishment. Punitive damages may be harder to pursue because you must prove that a driver acted with malice or gross negligence. An experienced personal injury attorney will be able to review the circumstances of your case and determine if you qualify to pursue punitive damages.
Most Common Causes of Motorcycle Accidents
Unfortunately, motorcyclists face dangers every day they're on the road. Reckless drivers, poor road conditions, and numerous other hazards could cause a devastating crash.
The most common causes of motorcycle accidents include:
Most Common Types of Motorcycle Accidents
Due to the small size of motorcycles, one of the most common reasons cited for crashes is other drivers simply not seeing a motorcyclist before changing lanes or making a move. It could be because a driver failed to check their blind spot or was distracted by a phone call or text.
Accidents also happen when drivers become aggressive and refuse to yield or give the right of way to a motorcyclist. While there are a variety of factors that can lead to an accident, these are some of the common types of accidents involving motorcycles:
Left-turn crashes – The size of a motorcycle can mean that it is much less visible to other vehicles, especially in a left turn situation.
Lane changes – If a driver is not paying attention to the road or fails to check their blind spots, they can easily miss seeing a motorcyclist when they try to change lanes.
Distracted driving – Phone calls, texting, eating, using a navigation system, and a variety of other things can distract a driver from paying attention to the road. This is a dangerous behavior that can have dire consequences for motorcyclists since they can be harder to spot than a car.
Car doors – Drivers not paying attention to their surroundings can also cause serious accidents when they open the door to their parked car in the path of an oncoming rider.
DUI – Those who drive under the influence of alcohol or drugs do not have the judgment or reaction times needed to keep motorcyclists safe.
Road hazards – Hazards on the road, such as potholes, gravel on the pavement, or slick surfaces, can result in a motorcycle accident.
Speeding – Speeding drivers have less time to identify motorcyclists on the road, less time to identify possible hazards, and less time to react to hazards.
Lane splitting – Lane splitting can pose a hazard to motorcyclists due to their close proximity to moving cars and less room to maneuver.
Head-on collisions – A head-on collision is especially dangerous for a motorcyclist, who is often flipped onto the hood of the passenger vehicle.
Common Injuries Suffered In Motorcycle Accidents
Data from the National Highway Traffic Safety Administration finds that motorcycle drivers are 28 times as likely as passenger car occupants to die in an accident. With so little in the way of protection, motorcyclists involved in collisions can easily find themselves being thrown from their bike, crushed by an oncoming car, or even worse. Victims who survive a serious motorcycle accident can face a long and painful recovery filled with doctor's visits and significant medical bills.
Some of the more common injuries that a motorcyclist may suffer include:
Concussion
Brain injury
Neck and spine injuries
Road rash
Burns
Fractured bones
Soft tissue damage
Damage to internal organs
Cuts and bruises
Wrongful death
Time in the hospital is only one piece of the recovery puzzle. If the accident resulted in serious injuries, victims might need follow-up care and rehabilitation. This can come in the form of occupational or physical therapy. A victim may need medical devices like a wheelchair to get around while they heal, and they may need changes made to their home to accommodate their new way of living. Medical bills don't stop when a victim leaves the hospital. In fact, hospital bills may be just the beginning.
The physical injuries aren't the only concern injured riders can face following an accident. There is a tremendous amount of anxiety and stress that victims may endure as they face the prospect of paying for expensive hospital bills. Severe injuries tend to require time away from work, and a lack of paychecks needed to keep up with bills related to daily living, not to mention medical bills.
Gibson Hill Personal Injury makes it our goal to help victims of motorcycle collisions recover the compensation they deserve following an accident with a negligent driver. An accident shouldn't cripple victims and leave them trying to recover not only their physical health, but also their financial health.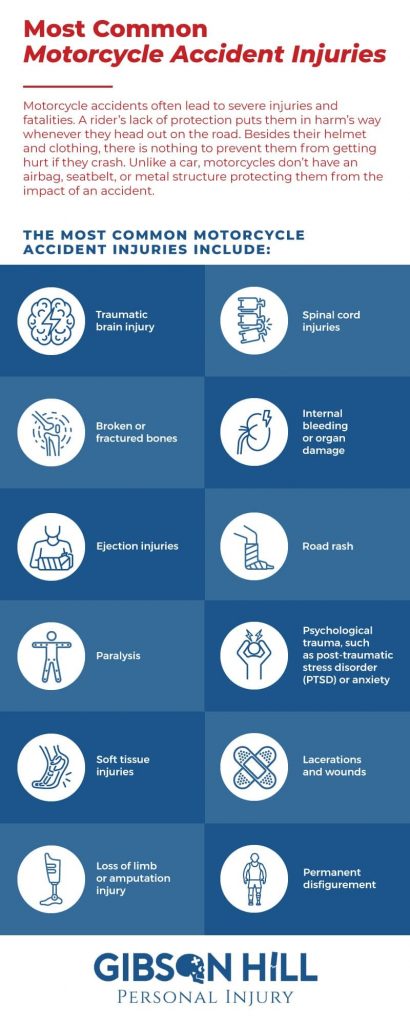 What Is the Cost of a Motorcycle Accident Lawyer?
When you're thinking about hiring an attorney to help you with your case, you might be nervous about paying for additional bills, when you're already taxed with medical costs and other expenses.
At Gibson Hill Personal Injury, we know you're already dealing with medical bills, lost wages, and other expenses associated with your motorcycle accident. We don't want to add more financial strain to your life. That's why we take cases on contingency. We won't charge you upfront fees or costs. If we win your case, we will collect our legal fees from your insurance settlement or favorable jury verdict. If we lose, you won't have to pay us anything.
Motorcycle Accidents Statistics by Year
Total Fatalities by Age Group
Motorcycle Accident Deadlines and Statutes
Texas law requires that you file insurance claims and lawsuits within a specific period. Most insurance policies state that you must initiate a claim within a reasonable timeframe. If you get hurt in a motorcycle accident, you should refer to the at-fault driver's liability policy to determine how much time you have.
On the other hand, if you want to file a civil lawsuit, you must follow the statute of limitations for Texas. The statute of limitations for motorcycle accidents is two years. You will only have two years from the collision date to file your lawsuit. If the two-year statute passes, you could lose your right to compensation. A judge may look at your lawsuit and dismiss your case because you missed the deadline.
Accident Claims Process
Insurance claims are different for each individual. Some take only a few weeks to resolve, while others can take years. The length of your case will depend on multiple factors involved. When Gibson Hill Personal Injury files your claim, we will work diligently to close out your case so you can move forward with your life.
Liability is extremely crucial in any claim. If liability is apparent, your case may be more straightforward. However, if there are conflicting statements from other drivers and witnesses, it will take time for the adjuster to investigate the cause of the crash and review the evidence they find.
No matter how long the process takes, it always follows the same steps:
Step 1: File the insurance claim.
Step 2: Gather crucial and comprehensive evidence.
Step 3: Send demand letter and evidence to the insurance company.
Step 4: Assertively negotiate for a fair settlement.
Step 5: Sign a release agreeing to the settlement terms.
Step 6: Recover the settlement check in a timely manner.
Step 7. If the insurance company fails to offer a fair settlement, prepare your case for court.
Speak to a Dedicated Houston Motorcycle Accident Lawyer
At Gibson Hill Personal Injury, we understand that you are not only experiencing physical pain, but you are probably suffering from emotional trauma as well. Accidents are frightening experiences and can leave victims feeling powerless and paralyzed, unsure where to turn to. Our team of seasoned Houston personal injury attorneys will take the time to guide you through the legal process and handle your case with compassion.
Many victims are nervous about the financial burden of paying their medical bills and hesitate to contact a lawyer for fear of incurring more debt. However, we work on a contingency basis, which means you won't owe us a thing unless we win your case. At Gibson Hill Personal Injury, we are committed to pursuing the legal rights of motorcyclists and making sure they recover the compensation they are owed.
Whether at the negotiating table or in the courtroom, our experienced attorneys work diligently to earn you the financial reward you need. We have the resources to gather evidence, build a strong case, and hold responsible parties accountable for their actions. If you or a loved one is the victim of a motorcycle crash, contact our office today at (713) 659-4000 for a free case review. Take the first step toward getting the compensation you deserve.
Motorcycle Accident Lawsuits in Houston
Filing a lawsuit involves multiple steps and adhering to strict state laws and deadlines. If you make a mistake or miss a deadline, you could lose your case. An experienced Houston motorcycle accident attorney will walk you confidently through each step, and stand by your side throughout the entire process.
The first step in any lawsuit is to prepare the documents to file with the court:
A complaint is the first document that initiates legal proceedings. It includes the plaintiff and defendant's names, the claim being brought against the defendant, and money damages being sought.
A summons is sent to the defendant, so they know that they're required to appear in court for the complaint made against them.
After drafting the legal documents, we will file them using the court's electronic filing system. We will have to wait for the court clerk to sign off on the documents before we can serve the defendant.
Once the clerk signs the documents, we will have to hire a process server to deliver them to the defendant. The defendant will have 20 days to respond upon receipt of service.
When they file their answer, the discovery process will begin. During discovery, attorneys for the plaintiff and defendant will file the following requests:
Request for admissions – Asks the answering party to admit or deny each statement.
Request for production – Request copies of documents and evidence from the opposing attorney.
Interrogatories – Review details about the case that the plaintiff and defendant must respond to and sign in front of a notary public.
During the discovery process, we can also schedule depositions. During a deposition, the defendant will have to answer questions under oath. A court reporter will type a transcript that each attorney can review to help them build their cases.
At some point, we might meet the opposing parties for mediation. During mediation, the plaintiff, the plaintiff's attorney, the defendant, the defendant's attorney, and a mediator will try to settle the case out of court. If we can reach a fair agreement, the case won't proceed any further. If we can't, we will move forward to trial.
Houston Motorcycle Accident FAQs
We've provided answers to some of the questions we most often receive about motorcycle accident claims. We're available to answer all of your questions at a free consultation.