Ty Gibson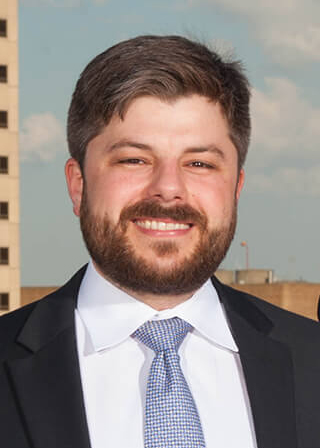 Ty was born and raised in the heart of the Pineywoods in Longview, Texas. Making his way to Houston to attend law school and ultimately founded Gibson Hill PC in 2013.
While attending South Texas College of Law, Ty personally managed a personal injury docket at a local law firm. This was Ty's initial exposure to personal injury law, personal injury clients, and the skills necessary to cultivate a good attorney-client relationship, and ultimately a passion for assisting those who have been injured.
Ty handles each client's case as if it is a mission, knowing that each and every case will have their own set of obstacles that need to be addressed. This style of practice requires an open channel of communication with the client. This is essential in ensuring clients secure the outcome they deserve. This type of advocacy on behalf of individuals has turned countless denied claims into a victory on behalf of the injured party.
In addition to assisting those injured by the negligence of others, Ty has had the opportunity to represent businesses and hospitals all over the State of Texas on business matters of all types.
It is the relationships that are forged by assisting those in need through a troubled time that gravitate Ty to all clients in all legal matters. This is what has turned a business into a passion for Ty.
Ty has also been selected to The National Trial Lawyers Top 40 Under 40.