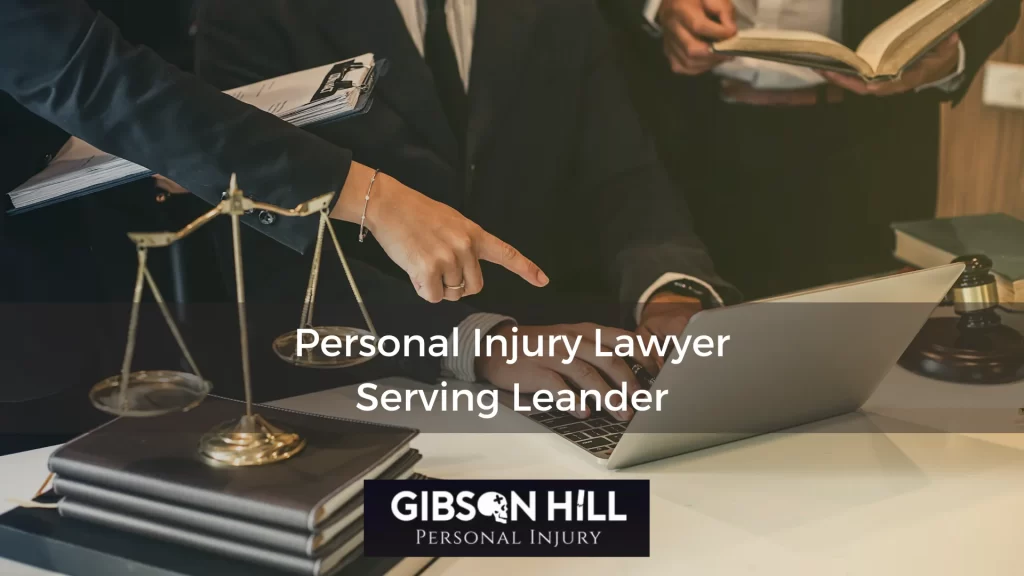 If you've been injured due to another person's carelessness in the Leander area, you need an attorney to help you with your insurance case. An accident is always followed by forms. The doctors need things to be filled out to send to the insurance company, the insurance company needs documents to be completed to send to the doctor, and you just want to heal whatever was hurt in the accident.
At Gibson Hill Personal Injury, we understand all that. You have enough to worry about, especially if you are unable to work and trying to figure out how the bills are going to be paid. We want to help you get the compensation from the party who injured you without going through so much anxiety and stress. Contact us at (713) 659-4000 so we can review your case and get you the legal assistance you need.
Practice Areas
No matter where you were injured, you deserve compensation for the pain and suffering you must endure due to someone else's misconduct. We can help you with personal injury cases of all types, including:
We can provide assistance with workplace injuries, workers' compensation questions, Jones Act issues, and other worksite injury questions. Reach out to us with any accident concerns before you file an insurance claim.
What Should I Do After an Accident?
The first thing you should do after any accident is to seek medical attention. Even if you feel like you weren't injured, you should let a doctor check you out and make sure you're all right. The adrenaline rush after an accident can mask signs of injuries, and some kinds of injuries, like head trauma, can take hours or even days to develop.
When you are still at the accident scene, you should try to gather information about the accident and the people and vehicles involved in the accident. The information you get will depend on the nature of the accident, but you should always gather:
The other party's name, address, and insurance information
Vehicle description, including make, model, and color
License plate number
A description of anyone else with the other party, such as passengers in the vehicle
If you can take photos of the scene, you should try to take them with your own phone. Get several angles of the accident scene and close-ups of the accident site itself. Try to show the lighting of the area at the time of the accident. Never post these photos or comment on your accident on social media.
For instance, in a car accident, you want to show the location as it was during the time of the accident, whether it was dark or light, and whether there were any streetlights in the area. If you suffered a slip and fall, you want to show whether the area is well-lit or dark and if the item that you slipped on could be seen before you walked over it.
If you're not able to get pictures at the time of the accident, try to go back and get photos at the same time or under the same conditions as the accident took place. Show any important landmarks or hazards. Even if the scene has been cleaned up, try to get the same lighting conditions as those at the time of the accident.
If there were witnesses to the accident, try to get their names and contact information at the time. Don't depend on people giving accurate information to the police or management. People are very reluctant to be witnesses. If you don't get it right away, you will probably not be able to find them later. Always be mindful of what you say while speaking to people at the scene.
Once you have all this information, you can give it to your attorney. Even if you're not sure you need it, you will have it in case you want it later. You should have an attorney review your insurance documents before you send them in. Many insurance claims are denied because of missing support documentation or incorrect paperwork. Have someone review the packet before you send it to the insurance company. Even better, turn the entire process over to your Gibson Hill Personal Injury attorney and let them handle all the deadlines and documentation.
Why Should I Hire Gibson Hill Personal Injury?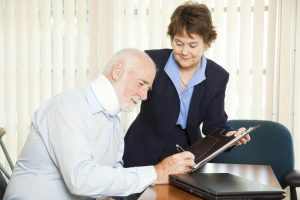 Even if you don't think you need an attorney right away, having an attorney review your insurance claim before you send it to your insurance company can save you time and effort. If your claim is denied, your attorney will already know the case and be prepared to appeal it or take the case to court as needed.
In most cases, a lawsuit cannot be filed until you have "exhausted your administrative remedies." That means that the court will not accept a lawsuit until you have filed an insurance claim, the claim has been denied, and gone through the appeal process described in the insurance policy. This is true whether the insurer is your own or the other party's. You may also file a lawsuit if the claim was accepted, but the settlement negotiations with the insurance company have come to an impasse.
Having an attorney who is familiar with your case means that we will already know the details of your case if it is denied, so we'll be ready for the appeal to the insurance company. Appealing an insurance claim can be more complicated than just sending it back. Our team will have all the documents prepared to file with the company and the court so that you don't lose any time.
About Us
Gibson Hill Personal Injury has offices throughout Texas. No matter what type of injury you have suffered, our team will give you the representation you need and work to get you the compensation you deserve. When you come to our offices, our legal team will give you our undivided attention. We'll work with you to get you the best outcome in your case.
Don't worry about having to pay us right away. We take cases on a contingency-fee basis. That means we don't get paid until we get compensation for you. If you don't get any money, neither do we.
Contact Us
If you've been injured due to another person's carelessness or negligence and want to know how to proceed, give Gibson Hill Personal Injury a call at (713) 659-4000 for a free and confidential consultation. We'll review your case and recommend the best alternatives for your claim. Whatever you decide, our attorneys will be there for you. Call us today.