If you sustained injuries in an accident due to someone else's negligent, careless, or intentional actions, do not hesitate to contact Gibson Hill Personal Injury. You might be entitled to compensation from the at-fault party for your medical expenses and other costs.
Gibson Hill Personal Injury understands the financial strain of getting hurt in an unexpected accident. Someone else behaved carelessly and placed you in harm's way. It's entirely disruptive to your daily routine when you have to spend time attending doctor's appointments. For many, the cost of treatment is too expensive to afford. Receiving bills you can't pay can lead to crushing medical debt.
A serious injury can lead to a range of complications and affect every part of your life. You might not be able to complete basic tasks on your own, return to work, or care for yourself. If you need to hire people to assist with household chores and other responsibilities, it's an added expense.
The at-fault party should be liable for your injury and the losses you incur due to the accident. Gibson Hill Personal Injury is ready to represent you in your case and seek the maximum compensation you deserve. We will create a personalized strategy to meet the unique needs of your circumstances and try to reach the best possible outcome.
Call Gibson Hill Personal Injury for your free consultation with one of our Kyle personal injury attorneys at (713) 659-4000 today.
Why Choose Gibson Hill Personal Injury?
Pursuing a personal injury case without seeking legal representation can be overwhelming and stressful. Cases involving traumatic brain injuries, pedestrian accidents, product liability, and other scenarios take time to prepare. You will likely receive much less compensation than you are entitled to or nothing at all if you don't let an experienced lawyer help you.
Gibson Hill Personal Injury can take on the responsibility for your case and complete every step on your behalf. You can count on us to handle everything for you, from gathering evidence to negotiating an insurance settlement. Our trial lawyers aren't afraid to pursue a lawsuit and take any matter to court if necessary.
When you hire us, we will treat you as a priority and remain in your corner from start to finish of your case. You can depend on our team to provide the support and guidance you need to get through this complex process. We will be your advocate and fight for the justice you deserve.
Personal Injury Cases We Handle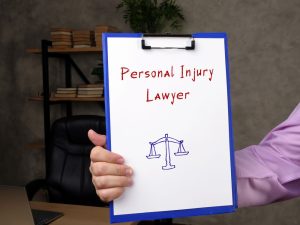 The Kyle personal injury attorneys of Gibson Hill Personal Injury represent injured clients in various personal injury cases, such as:
You should reach out to Gibson Hill Personal Injury immediately after the accident, even if you sustained a minor injury. Some minor injuries require medical care, and the expenses you incur should not be your responsibility if your actions didn't contribute to the accident.
Compensation in a Personal Injury Case
You could file a claim with the negligent party's insurance carrier if they have a liability policy. Liability coverage pays for an injured party's medical bills, lost wages, and other costs. When you file your claim, you could recover a settlement to compensate you for your accident-related losses, such as:
Loss of household services
Physical impairment or disfigurement
Mental anguish
Lost wages
Lost earning capacity
Property damage
You could also receive exemplary damages in a lawsuit against the person or company responsible for causing the accident. The court might award this form of compensation to you if you show clear and convincing evidence of the defendant's fraud, malice, or gross negligence.
Frequently Asked Questions
Gibson Hill Personal Injury knows that the steps involved in an insurance claim and lawsuit can be complicated. Many people don't know how to handle the aftermath of an accident or what's involved in preparing a personal injury case.
Our personal injury attorneys in Kyle, TX, want you to feel prepared for the legal road ahead. We have answered the most common questions our clients ask for you here so you know what to expect.
What should I do if I can't afford legal fees?
One of the most common concerns accident victims have is the cost of hiring a lawyer. Some choose to pursue a case without one because they think they can't afford the legal fees. However, seeking legal action without legal representation is a mistake. Any error you make could negatively affect the outcome of your case.
Gibson Hill Personal Injury understands the economic burden of sustaining an injury in an accident. We don't want to add to the costs you have already incurred. We take cases on contingency, so you're not responsible for upfront fees or costs. We won't collect our legal fees unless we recover compensation for you.
Is there a deadline to file a personal injury lawsuit?
Yes. Texas has a statute of limitations that allows a two-year timeframe to file a personal injury lawsuit. That means you have two years from the date of the accident to initiate your lawsuit against the at-fault party.
When should I hire an attorney?
You should hire a Kyle personal injury attorney from Gibson Hill Personal Injury before pursuing a case against the negligent person or entity. Contact us immediately after the accident to discuss what happened with us and learn about your available options.
We can prepare a strategy to seek the financial compensation you need to cover your losses. While we investigate the incident and gather evidence, you can focus on recovering from your injury. You should not have to worry about handling everything yourself. Let us relieve your burden and find a way to hold the at-fault party liable.
Contact Us
At Gibson Hill Personal Injury, we have represented injured clients in Texas since 2013. We will provide the one-on-one attention and representation you need to get through this challenging experience. You can count on us to protect your rights and fight by your side until the end.
If you suffered injuries in an accident someone else caused, contact Gibson Hill Personal Injury right now.
Our team is available 24/7, so you can reach us when you need us the most. Call (713) 659-4000 for your free consultation with one of our dedicated and trusted personal injury lawyers in Kyle, TX.