Texas Lost Load Accident Attorneys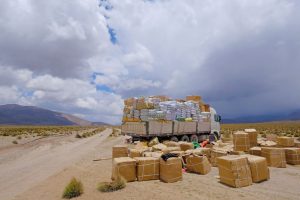 If you were following a commercial truck and got hit by something that flew out of the back of the trailer, you probably suffered a serious injury in the crash. Now you're dealing with medical treatment and the bills that go with it. You might not even be able to return to work yet, so there's worry about your household expenses, too. What do you do? If you were injured in an accident because of a load that fell off of or out of a commercial truck, you might be entitled to compensation for your injuries.
Most of the time, you never think about the cargo a big rig is carrying. It's safely inside the trailer. But what about open-bed trailers, flatbeds, or tankers? What happens when something goes wrong, and their load gets loose? Accidents. Sometimes just annoying or even amusing, like a news report of a load of cows falling out of a truck in Russia. But more often, it is very serious.
If you've been injured in a lost load accident caused by the driver's carelessness or negligence, you should hire a lawyer now. Call the Texas truck accident lawyers of Gibson Hill Personal Injury at (713) 659-4000 to find out what you can do to recover the compensation you deserve after a lost load accident in Texas.
What Is a Lost Load Accident?
When a truck leaves a loading dock or shipping yard, the cargo is supposed to be secured according to federal and state guidelines. The Federal Motor Carrier Safety Administration (FMCSA) has issued strict guidelines about how a load needs to be secured to avoid any unnecessary movement of the cargo.
Whether inside or outside of a trailer, cargo is supposed to be secured by tiedowns and "dunnage" (material placed between the cargo and the sides of the trailer) to prevent the cargo from shifting. The FMCSA has detailed requirements for various kinds of cargo, even things like boulders and logs.
A lost load accident happens when the cargo has not been secured properly, and the restraints fail, allowing part or all the load to come loose and fall into the roadway. The load can also shift, causing the trailer to tip over, causing a rollover accident. In the case of tankers, the load can escape containment, leading to a hazardous gas or liquid spill.
Why Do Lost Load Accidents Happen?
Drivers are required to stop within 50 miles of their starting point to check the tiedowns and other restraints and make sure the load is secure. Then they should stop periodically and make certain the load has not shifted and that the tiedowns are secure throughout the trip.
If the tiedowns are insufficient to hold the load, or if they come loose, the cargo can break free at that point. Other causes for lost load accidents include overweight or out-of-balance loads coming loose during turns, items coming off the trailer on curves or going downhill, and the entire load coming loose because of a rollover accident.
Even if other drivers are not struck by the cargo falling off, the items may cause accidents as drivers attempt to avoid obstructions in the roadway. Even a small object like a tire can hit with tremendous impact as it leaves the back of a truck traveling 60 miles per hour, and larger objects can block entire lanes, forcing cars to swerve around them.
Who Is Liable in a Lost Load Accident?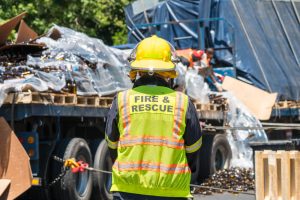 Because so many people are involved in placing and keeping a load on the back of a truck, more than one party may be liable in a lost load accident. The duty is not solely the driver's to make sure the load is properly tied down. Any of the following parties could share liability in an accident where the cargo broke loose from the trailer:
The driver may have failed to check the tiedowns or may have been driving too fast for conditions causing the load to shift unpredictably. Drivers are responsible for notifying their company if they notice restraints are broken or insufficient for the load.
The trucking company is responsible for ensuring drivers are fully trained in securing loads and checking them according to federal and state regulations. The company is also responsible for keeping the truck maintained and equipped with the proper amount of tiedowns and other devices.
The shipping company may be liable if they initially secured the cargo with inadequate or damaged loading straps or insufficient dunnage to keep the load from moving. If they were aware the load was improperly balanced or had inadequate securing devices, they could be liable for any accidents.
The manufacturer of the tiedowns or loading straps could bear some liability if their equipment failed and caused the load loss.
If an accident is caused by an object that fell off a truck, these parties are still responsible, even if the driver is no longer in the area. If you find yourself in an accident because the road was blocked by debris from a truck that has left the scene, you should consult a lawyer about your next course of action.
What You Should Do After a Lost Load Accident
If you have been involved in a lost load truck accident, the first thing you should do is seek medical attention. Get the driver's name and information and the name of the trucking company. If there is a different name on the trailer, you should get that as well. If you can get the license plate numbers of the truck and trailer, you should get both of those. Remember that often the truck and trailer are licensed in different states and may be owned by different parties.
The responding law enforcement agency will give you an incident number that you can use to obtain the police report. After you have all this information, you should consider speaking to an attorney. An attorney can take over your insurance claim, so you don't have to carry that burden while you heal. The attorney can advise you on the best way to proceed in your case.
Contact Us After a Lost Load Accident
At Gibson Hill Personal Injury, we want to see our clients get the compensation they need after a lost load accident. Our team will manage your insurance claim for you and provide the insurance company with everything necessary to start your claim off right. We will negotiate your settlement and, if it becomes necessary to file a lawsuit, our attorneys will be ready to get your case into court right away.
Call Gibson Hill Personal Injury at (713) 659-4000 for a free and confidential consultation or with any questions you have about your case.