Texas Truck Rollover Accident Lawyers
When you're injured in a crash with a commercial truck, your initial reaction is shock. That shock is even greater if you are involved in a rollover accident with a big rig. You'll have to deal with all sorts of medical treatment to heal your injuries, and medical bills will follow. If your injuries were so severe that you can't work, you'll also be worried about how you're going to pay your regular living expenses, let alone those medical bills that seem to be piling up.
Being on the road with big rigs and semis can be dangerous. According to the Federal Motor Carrier Safety Association (FMCSA), there are more than 100,000 truck accidents per year, with over 5,000 fatalities. Because Texas's economy depends on these trucks delivering cargo to and from the port cities of our state, there are more trucks on Texas highways than almost anywhere else in the country.
If you were injured in a rollover truck accident you believe was caused by the negligence or carelessness of the driver, don't go through this alone. The Texas truck accident attorneys at Gibson Hill Personal Injury can help. Our team can help you pursue the compensation you deserve for the injuries you have suffered and work to get you money to cover all your accident-related medical expenses. Contact us at (713) 659-4000 today.
What Is a Rollover Accident?
You may have seen a semi lying on its side or corkscrewed on an exit ramp with the trailer nearly upside down in the roadway. This is called a rollover accident. Rollover accidents account for about 9% of all fatal accidents nationwide.
Most of these rollover accidents happen on curves, especially on- and off-ramps, when the driver is traveling too fast for the curve. When a vehicle travels around a curve, centrifugal force causes it to "lean" away from the direction of the curve. If the vehicle is traveling too fast, these opposing forces can cause it to flip over, especially if the vehicle has a high center of gravity, as big rigs do.
Other causes of rollovers include high winds, over-steering, or over-correcting after an error (such as swerving back after drifting out of a lane) and misjudging the degree of a grade. If a driver has bad brakes or poorly-inflated tires, any of these errors can lead to a rollover when the driver tries to brake or slow down.
Who Is Liable for a Rollover Accident?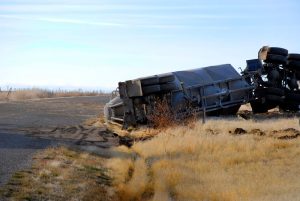 There may be several parties responsible for a rollover accident. The driver may not be the only one at fault for the truck flipping over. The mechanics of the accident need to be considered in determining liability.
If you have been involved in an accident with a big rig, your attorney will get information about all parties involved and investigate every possible entity who may have been responsible for your injuries.
What Should You Do After a Rollover Accident
Rollover accidents are among the most serious types of accident because the trailer often falls flat on its side, or, as the FMCSA describes it "one or more vehicle quarter turns about the longitudinal axis." If a car is trapped under the trailer, the passengers will suffer massive injuries and likely require extraction by the fire department.
If you have been involved in such an accident and are able to gather information, you should attempt to do so. If you cannot, you should try to delegate someone to obtain information or acquire it afterward. The first concern after this type of accident is always to seek medical care. You should also get, if possible:
The driver's name and information.
The trucking company name and ID number. This is usually on the door of the truck. Get the truck's license plate number, if possible.
The trailer ID number and license plate number. If the trailer is owned by a shipping company, there may be a name or number on the trailer.
Photographs of the truck and trailer at the scene.
Photographs of the location, including any road signs or warning signs.
Photographs of the cargo if it spilled or broke loose from the trailer.
You should receive an incident number from the responding law enforcement agency at the scene. If you must be transported to an emergency room, try to recall the name of the agency so that you can get the documentation afterward. If you can, get reports from other responding agencies, such as fire or EMS.
Following the accident, you should hire a lawyer.
Contact a Rollover Truck Accident Lawyer Today
If you've been involved in a truck rollover accident, you should contact an attorney immediately. Even if you aren't sure you want to file a lawsuit, you may have questions about the complexities of filing multiple insurance claims. That's the last thing you should be worried about now. You focus on healing and let us do all the work on your claim or lawsuit.
At Gibson Hill Personal Injury, we believe you deserve fair compensation for the injuries you received due to someone else's negligence. If you were hurt because another driver was careless, we want to help you get the justice and money you are entitled to.
Our team will make sure the investigation gets done, and the paperwork gets filed for your insurance claim. If a lawsuit is needed to get compensation for your injuries, our attorneys will be at your side from beginning to settlement or trial. No matter what it takes, Gibson Hill Personal Injury will be there for you.
If you have been the victim of a rollover truck accident, don't wait. The statute of limitations in Texas allows accident victims two years to file a lawsuit in their case, even for a serious accident like a truck rollover.
Give us a call at (713) 659-4000 or fill out our online form for a free consultation. We will work to get you the compensation you deserve.