Texas Tailgating Truck Accident Attorneys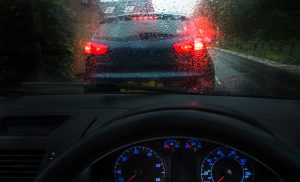 If you sustained an injury in a tailgating accident due to a negligent truck driver's misconduct, do not hesitate to contact Gibson Hill Personal Injury to learn about your available legal options. You might be entitled to compensation for necessary medical treatment and other expenses.
Tailgating occurs when a driver follows the rear of someone else's vehicle too closely. There isn't enough space between the two cars for the motorist behind to brake and avoid a collision should the front vehicle stop suddenly. Commercial trucks require a much longer stopping distance than other vehicles, and tailgating prevents truck drivers from avoiding a rear-end accident.
Rear-end collisions between commercial trucks and small cars are often catastrophic. The occupants of the smaller vehicle typically suffer more severe injuries than truck drivers. The violent nature of a tailgating accident could have deadly consequences. According to The Insurance Institute for Highway Safety, 68 percent of fatalities in large truck crashes in 2020 were the occupants of non-commercial vehicles.
At Gibson Hill Personal Injury, we have experience taking on trucking companies and their insurance companies in liability claims. We know how to hold others liable for our client's injuries. You should not have to pay out of pocket for your incurred costs when your actions didn't contribute to the crash.
Our Texas truck accident attorneys are ready to pursue compensation on your behalf. We will advocate for your rights and fight for the justice you deserve. You can count on us to provide personalized attention when you hire us and remain by your side until the end.
Call Gibson Hill Personal Injury for your free consultation at (713) 659-4000 today and learn more about what we can do for you.
Common Causes of Tailgating Accidents
Texas Transportation Code § 545.062 requires drivers to maintain an "assured clear distance between the two vehicles" when following another vehicle so that, considering the highway conditions, speed of the vehicles, and traffic, they can safely stop without crashing into the preceding vehicle or veering into a person, vehicle, or object on or near the highway.
Tailgating commonly occurs when various contributing factors exist, such as:
Traffic congestion
Road rage
Poor road or weather conditions
Driving under the influence
Some truck drivers tailgate because they're rushing to get to their destination. Although riding the bumper of the vehicle ahead seems like the best way to navigate slow-moving traffic, it puts people in danger. Truckers don't have the time or distance to come to a complete stop when necessary if they follow another driver too closely.
Common Injuries in Truck Accidents Caused by Tailgating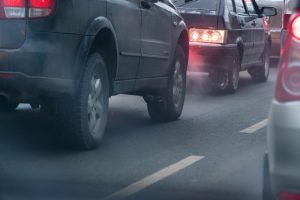 Injuries from tailgating accidents can be debilitating. The initial impact of a truck colliding with the back of a small car can cause severe physical harm. Subsequent injuries can also occur from flying debris, ejection from the vehicle, or the body's sudden change in direction.
The most common injuries that occur in tailgating truck accidents include:
Loss of limb or amputation injury
Dislocated joints
Internal bleeding
Whiplash
Broken bones
Nerve damage
Burn injuries
Spinal cord injuries and paralysis
Electrical shock
Organ damage or failure
Pelvic injuries
Back and neck injuries
Physical injuries aren't the only issue victims face after a truck accident. Emotional and psychological injuries are common. Some people develop depression from sustaining a disfiguring injury or permanent scarring after necessary surgery. Others become fearful of driving and experience symptoms of post-traumatic stress disorder (PTSD).
Recovering after a tailgating truck accident can be a challenge. Many people require ongoing treatment of physical injuries and counseling to address the psychological damage.
Compensation for a Tailgating Truck Accident
Federal law requires motor carriers to purchase liability insurance for their commercial trucks. Coverage must be for the minimum required limits based on the weight of the truck and the type of freight it transports. For example, a truck over 10,000 pounds carrying non-hazardous materials must have $750,000 in liability insurance.
In Texas, the negligent truck driver should be liable for your injury and resulting losses. You could file a liability claim and recover a settlement to compensate you for your accident-related losses, such as:
Physical impairment or disfigurement
Lost wages
Lost earning capacity
Mental anguish
Loss of household services
Property damage
If you file a lawsuit, you might also receive exemplary damages. This form of compensation is available if you provide clear and convincing evidence of the defendant's gross negligence, fraud, or malice.
Some truck accidents lead to fatalities, especially when they involve tailgating. If your loved one died in an accident someone else caused, you could pursue a wrongful death case.
A surviving spouse, child, or parent can file a lawsuit and recover compensation for losses, such as:
Loss of companionship, love, society, and comfort
Lost earning capacity
The mental pain and anguish surviving family experienced
Loss of inheritance, including what the deceased could have saved and left to the family if they survived
Lost services, advice, care, counsel, support, and maintenance the deceased would have provided to family
Statute of Limitations for a Tailgating Truck Accident
In Texas, the statute of limitations allows a two-year timeframe to file a lawsuit against another person after an accident. That means you must file your lawsuit within two years of the crash date to seek compensation in court.
Contact Us
The award-winning Texas tailgating truck accident attorneys of Gibson Hill Personal Injury have a reputation for success. We work on each case personally and develop close relationships with our clients. You can expect to be our top priority while we represent you in your case.
We are available 24/7 to speak with you. Our legal team believes in ongoing communication. You can reach us whenever you need us to ask questions, address your concerns, or get a status update. Unlike other law firms, we place value on quality customer service.
At Gibson Hill Personal Injury, we understand the financial burden of a truck accident. You don't have to worry about additional costs to retain our legal services. We don't expect upfront payment from our clients. We won't collect our legal fees unless we recover compensation for you.
If you sustained an injury in a tailgating truck accident due to someone else's negligence, call Gibson Hill Personal Injury at (713) 659-4000 for your free consultation with one of our Texas truck accident attorneys.