Texas Tire Blowout Truck Accident Lawyers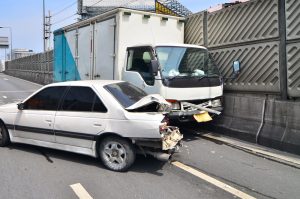 Tractor-trailers serve an important role in our economy. They transport goods and materials for businesses and consumers, so we must learn to share the road with them. However, large trucks can also be very dangerous, even deadly, when not properly operated.
There are few things more terrifying or destructive than an 80,000-pound semi-truck careening out of control next to you on the highway because it has suffered a tire blowout. The negligent party should be held responsible when their actions hurt you or others.
If you or a loved one were involved in an accident with a large truck caused by a tire blowout, you need an experienced attorney who understands these complicated cases and stops at nothing to pursue the compensation you deserve. That's what you will find with Gibson Hill Personal Injury. Our Texas truck accident attorneys are tireless advocates for our clients. We will handle your case with efficiency, tenacity, and compassion.
Contact Gibson Hill Personal Injury today at (713) 659-4000 or using this online form for a free consultation with one of our tire blowout attorneys.
Truck Accident Statistics
According to data from the FMCSA, large truck crashes caused 5,005 fatalities in 2019. As a result, federal and state governments have passed numerous laws and regulations to govern their operations and maintain safety on our roads. For example, federal regulations dictate the tread groove depth, inflation pressure, and much more for the tires on large commercial motor vehicles.
In 2007, the Federal Motor Carrier Safety Administration (FMCSA) and the National Highway Traffic Safety Administration (NHTSA) conducted a study to examine the reasons for fatal and nonfatal crashes involving trucks weighing over 10,000 pounds. Based on their analysis of 120,000 large truck-involved crashes that occurred nationwide over a two-year span, tire problems contributed to six percent of crashes.
When truck drivers, trucking companies, truck parts manufacturers, and others involving in the trucking industry fail to comply with those laws and regulations, their negligent actions could cause devastating and deadly accidents.
What Happens in a Tire Blowout?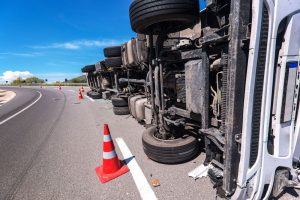 A tire "blowout" generally refers to a tire that has burst, resulting in a rapid loss of pressure. A tire blowout is not the same thing as a flat tire. Flat tires typically happen gradually. A blowout, on the other hand, happens suddenly and violently.
When a tire blows out, you may hear a loud "bang," followed by a "whoosh" as air rapidly rushes out of the tire, and then a flopping sound as the tattered tire rotates around the wheel. You will also see the driver struggle to control the vehicle, which may swerve side to side, vibrate, or slow down.
If you were involved in an accident with a truck due to a tire blowout, call 911 immediately. Then collect evidence.
When a tire blows out on a large truck, the driver may lose control of this 80,000-pound rig, causing the truck to run off the road, crash into adjacent vehicles, roll over, jackknife, dislodge its load, or otherwise cause mayhem on a crowded road.
If you were injured or suffered property damage in an accident that was not your fault, you may be able to seek compensation through a personal injury claim.
Send us a message today to discuss your claim and learn more about how to file a personal injury lawsuit.
Why Blowouts Happen
There are many factors that contribute to tire blowouts:
Driver error: Often, the cause of truck accidents leads back to the driver. Tire blowout accidents are no different. Whether it's fatigue, poor driving, like texting while driving, improper maintenance, improper braking or exceeding speed, time, or weight limits, truck driver behavior frequently contributes to tire blowout accidents.
Improper tire inflation: Tires must be inflated to a specific pressure. When tires are underinflated, weak spots can develop on the sides, raising the risk of a blowout. Improperly inflated tires could be a result of driver negligence, skipped maintenance, leaks, outside temperatures, or altitude.
Uneven tread: Tires that have not been properly maintained and rotated will wear down unevenly. This uneven tread increases the likelihood of a blowout.
Heat: There is a reason that tire blowouts happen more frequently during the summer. Heat generated from hours and hours of driving on sunbaked roads can weaken the integrity of the tire, leading to a blowout.
Too much or imbalanced weight: Tires are designed to carry a certain amount of weight. Trucks carrying loads that exceed the tire loading restrictions or that are imbalanced and strain one or a few tires more than others, are at risk for blowouts.
Old or faulty tires: Tires that are defective or simply old and worn out are at greater risk for blowouts. If an old or defective tire causes a blowout accident, the driver, trucking company, or tire manufacturer could be held responsible.
Road hazards: Potholes, debris, curbs, and other hazards on the road could contribute to a tire blowout. Road hazards are further exacerbated when inexperienced or inattentive drivers are behind the wheel.
Regardless of the reason why it happened, if you or a loved one were involved in a truck accident due to a tire blowout, contact Gibson Hill Personal Injury immediately to discuss your case. We can advise you on how to speak with the insurance companies as well as how to request the police report and understand it.
Liable Parties in Tire Blowout Truck Accidents
Most tire blowout truck accidents are caused by entirely preventable contributing factors, which begs the question, "who should be held responsible?"
Driver: Truck drivers play a consequential role in maintaining safety on our roadways. They are responsible for following the rules and regulations associated with their training, driving hours, alcohol and drug usage, daily inspections, etc. Failure to do so could have a life-changing impact on others. For example, failure to check their tire pressure could result in a tire blowout that causes a multi-car crash on a busy highway.
Trucking company: Trucking companies that own fleets of trucks are responsible for the proper maintenance of those trucks. If a trucking company fails to rotate tires at the appropriate frequency, that company could be held liable for a tire blowout accident.
Truck maintainers: Sometimes, it's the mechanic who skips steps or falsifies records to save time and money. If a truck mechanic's negligence or wrongdoing contributes to a tire blowout accident, they could be held responsible for the resulting devastation.
Truck or truck parts manufacturer: Defective parts, such as brakes or tires, on trucks can contribute to accidents like tire blowouts. The manufacturer of the truck or the defective parts could be held liable when their products cause harm.
Contact Gibson Hill Personal Injury Today
Tire blowout truck accidents can be frightening, destructive, and even fatal. The lawyers of Gibson Hill Personal Injury work hard to serve our clients during such stressful times. We aim to be empathetic, creative and reliable, and to get the best possible results for our clients, to ensure that they do not get hurt twice.
If you or a loved one were involved in a tire blowout accident, contact us immediately to discuss your case. You can call Gibson Hill Personal Injury today at (713) 659-4000 or send us a message online to get a free consultation. Our experienced Texas truck accident attorneys are ready to help you seek the compensation you need to recover from these devastating accidents.